Basic Provisions of Systems Theory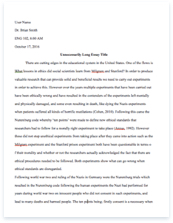 The whole doc is available only for registered users
A limited time offer! Get a custom sample essay written according to your requirements urgent 3h delivery guaranteed
Order Now
A system is comprised of individual, interconnected parts. Systems are affected by these parts and take on new characteristics that the parts themselves do not possess. Likewise, these parts are affected by the systems that they are associated with. Each affects the other constantly and continually. Systems, which range from microsystems to macrosystems, are resilient and, when disrupted in some way, have the ability to return to a balanced state. Resilience is affected by biological, psychological, and social functioning.
Describe how key terms of systems theory may apply to your social work practice.
These terms apply because they allow us to consider individuals in regards to the many systems they are associated with. With the client, we decide which systems are most helpful or hurtful to them, in order to resolve whatever issues that the client is facing. Additionally, associating with these systems results in the formation of identity, which affects how individuals interpret what is around them. This, in turn, affects their actions, which may or may not align with their best self, according to them. This knowledge, then, can aid us in our work of helping these individuals. Resilience, as a characteristic that we can aid individuals in identifying within themselves and utilizing accordingly, is also a key takeaway.
How does systems theory address issues of diversity, power, privilege, or oppression?
Resilience may be expressed differently depending on the systems with which an individual is involved. Examples of systems could include groups associated by age, race, religion, sexual orientation, etc. The nature of these systems can either be helpful or hurtful to individuals depending on the amount of access to resources that they have. Unfortunately, we know that not all systems share equal or equitable access to these resources. For those without access, resilience may be more difficult, which can maintain the cycle of oppression that many systems experience.
What critiques or cautions do you have for use of systems theory in social work practice?
This theory emphasizes social functions, thereby deemphasizing individual functions. Individuals and their personal identities are diminished. Rather, individuals become one with the systems with which they are associated, despite the fact that they may not identify with that system's nature. This theory also implies that, in order to resolve an individual issue, the systems with which an individual is in are directly involved, which may or may not be the case.
What questions do you have about applying systems theory to social work practice?
How can this theory be integrated into a micro practice setting?
What is the place of the individual according to this theory? What does this theory have to say about individual autonomy/independence?
If individuals are apart of a system not of their own choosing and they no longer wish to be apart of that system, what is the recommended course of action?
Related Topics