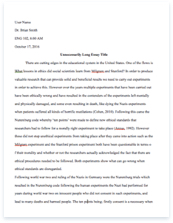 The whole doc is available only for registered users
A limited time offer! Get a custom sample essay written according to your requirements urgent 3h delivery guaranteed
Order Now
I. Introduction and Problem Statement
Aveeno manufacturers skin and hair care products and is a subsidiary of the pharmaceutical and consumer goods conglomerate, Johnson & Johnson. The brand prides itself on using natural, high-quality ingredients in their products to help consumers attain the best skin and hair. American brothers, Albert and Sidney Musher, founded Aveeno in 1945 when their experiments on raw cereal lead to the discovery of an oatmeal bath that effectively treated the skin condition eczema. The brothers later used the Latin word for oat, Avena sativa, when deciding a name for their product. Their most recent products are known to treat poison ivy and oak, chickenpox, hives, sunburn, and other skin and hair conditions. Since the brand's inception in 1945, Aveeno has grown to manufacture special hair and skin care products for mainly women and babies, though there is a small niche of men customers.
Aveeno's current marketing strategy emphasizes the brand's dedication to its natural and scientific origins. The company adopted the tagline "Active Naturals" in its marketing campaigns and fully lists out the main ingredients the company uses such as oats, soy, wheat, and seaweed on its website. Given the company's devotion to its use of natural products, Aveeno prides itself on its responsibility to caring for the Earth's natural resources and giving back to the community. The brand's marketing directly appeals to women and conscious customers who make an effort to know the products and brands they are using. Aveeno's website is heavily saturated with the company's celebrity endorsements such as Jennifer Aniston. The company currently uses a mix of television ads, social media, celebrity endorsements, and online advertising to gain and reach customers.
The company is having a hard time gaining overall sales because they are competing in a heavily saturated market of beauty and cosmetic products and its competitors also offers similar products at similar prices. Aveeno has a hard time differentiating itself from its competitors that also sell products made from all-natural ingredients and are celebrity endorsed. As well, Aveeno competes in a market that is heavily driven by brand and customer loyalty, meaning that when one customer finds a brand he or she likes, he or she often sticks with it. Customers have a hard time finding value in Aveeno's prices, especially when the company has faced allegations over its use of organic and natural ingredients. As well, though Aveeno does have a steady male customer base, the company's current marketing strategy ostracizes its male customers. Despite Aveeno's trouble with its market targets and pricing, it still has strong brand recognition, since customers are more likely to continue purchasing and using a product if it seems to be working on them. Aveeno uses this along with celebrity endorsement and other means of advertising and marketing to continuously attract a steady flow of customers. II. SWOT Analysis
Aveeno's mission statement, according to its website is: "to help inspire you to discover natural beauty and well-being (Aveeno 2014)". Aveeno's Moisturizing Lotion has widespread recognition among pharmacies and the media, helped by its celebrity endorsement, Jennifer Aniston. In numerous TV sports and video broadcasts, Aninston is shown going through her daily routine and ultimately culminating in her picking Aveeno over other competitor brands. This brings some sort of relatable quality to brand from the customer. The results have been very favorable. Reports have shown that since 2013 their sales have increased worldwide (Johnson & Johnson Annual Report 2014). Having a very familiar face broadcast your product is very beneficial. Jennifer Aniston has been known for her healthy approach to life and her disposition to get others to join her in being healthy and having beautiful skin.
Therefore when she teamed up with Aveeno, she stated that she supports the products it sells like its moisturizing lotion, due to the natural and beneficial ingredients it possessed (The Inquisitor News). Another strength that Aveeno possesses is the image it portrays to its customers. Aveeno offers a high-quality product with a scientific background, giving its customers confidence and a sense of trust when customers are using the product. The brand prides itself on its use of natural and organic ingredients and thus includes the environment and the community as part of its corporate social responsibility plan. For example, when customers see moisturizing lotion, they see more than present hydration for their skin, they see future benefit. Aveeno's Moisturizing Lotion focuses on achieving superior performance in an important customer benefit area valued by a large part of the market and it cultivates strengths that will contribute to it unique representation. As well, given Aveeno's history and origins starting back from 1945, the brand has developed a considerably large and devoted customer base to sell its product to. One of Aveeno's weaknesses is its product pricing. Aveeno Moisturizing Lotion is about $11 to $13 while other moisturizing lotions are about $8 to $10 (Aveeno, 2014).
Price plays a huge role in the decision-making process of the customer. For instance, students might decide to buy L'Oreal's lotion instead in order to save money. A single mother might also consider the same choice even though her preference might be toward Aveeno's Moisturizing Lotion. However, price is not the only problem. Many companies operate with low volume and high price margins and they do well financially. This strategy does not work for Aveeno Moisturizing Lotion, as it is a nondurable good that normally is consumed in one or few uses. The appropriate strategy would be to make the "product available in many locations, charge a small markup, and advertise heavily to induce trial and build preference"(Kotler, 2014). As stated earlier, Aveeno Moisturizing Lotion is on point with respect to having the product available in many locations and advertising heavily. However, it does not charge a small markup cost. This in turn can discourage customers and lead to overall sales to not be as high possible. As well, Aveeno is weak in its targeting to men.
Though the company has released a shaving gel for men, the majority of ads and media released by Aveeno feature women and babies (Aveeno's main demographic). There have been cases of Aveeno's male customers complaining to the company about the lack of its released male products available in stores. These actions indicate that there is a clear market for Aveeno to capitalize in, however, given its current marketing campaigns, Aveeno seems to completely isolate its male market. This gives Aveeno a great opportunity, though, since there is clear interest in Aveeno's products. The brand can potentially look into creating products specifically targeted towards men such as special lotions and shampoos. This will allow Aveeno to compete against its competitors, many of which have released their own products for men. Aveeno believes that nature is key to making life beautiful. As a result, the brand is dedicated to making sustainable strides for a better planet. "The brand hopes to inspire consumers to start making their own personal strides in sustainable practices" (Aveeno, 2014). Aveeno announced that it is launching the Aveeno Sustainability Guide Widget.
The widget is a fun and unique way to empower consumers to live a more sustainable lifestyle by gauging their daily impact on the environment. Downloadable from the Aveeno Facebook, the Aveeno Sustainability Guide Widget lives on the consumer's desktop and educates them on how to better reduce, reuse and recycle (Aveeno, 2014). This presents a huge opportunity for Aveeno as this could potentially increase their brand equity with respect to them having a "natural" brand and therefore allowing customers to build trust with them and want to purchase a product like the moisturizing lotion. Another opportunity that Aveeno has been exploring with respect to its products like the Moisturizing Lotion is Aveeno Beauty Brigades. These groups are being formed across the country and provide consumers with an easy opportunity to drop off their empty Aveeno Brand Product Tubes to be 'upcycled.' In turn, the Aveeno will pay two cents to the non-profit organization or school of one's choice for each tube received (Aveeno, 2014).
Customers feel as hough using the moisturizing lotion for example has benefit not only for them but also for others. This as result helps increase sales and in turn profits. As well, this reinforces Aveeno's dedication to the environment, community, and the natural ingredients it uses in its products. One threat facing Aveeno is the threat of intense segment rivalry and substitute goods. Aveeno moisturizing lotion already contains numerous, strong, or aggressive competitors like Neutrogena and L'Oreal which also specialize in selling lotion that is beneficial to the skin. This is a clear threat because it has led to price wars, advertising battles, and new-product introductions—making competition more expensive (Kotler, 2014). Neutrogena for example, has used familiar celebrity faces such as Kerry Washington and Jennifer Garner to broadcast its "natural" lotion. Aveeno's competitors can leverage their celebrity endorsements by picking people who are more popular and well recognized in a specific target market they are interested in obtaining. Customers can be swayed to different products based on the smallest differences.
For example, high prices can sway customers to purchase another lotion that offers relatively the same thing. Therefore, Aveeno must strive to increase market share through careful positioning and differentiation. As well, this is where brand loyalty and recognition play a part, because those who are familiar and know of the brand are more likely to buy the product. Another possible threat for Aveeno is government regulation and lawsuits filed against the company. Because Aveeno places such a heavy emphasis on its natural and organic ingredients, any governmental rulings or lawsuits filed against the ingredients or the way the product was produced can harm Aveeno's brand image. As well, lawsuits that claim that the products are not working can also harm the brand's image, because it attributes bad media and false claims onto Aveeno. Aveeno needs to work to ensure that the brand and the company can avoid all false claims and bad publicity. III. Porter's Competitive Forces Analysis
For Aveeno, the threat of new entrants is low due to high entry barriers. Johnson & Johnson is a well-established business that falls under the personal care segment as well as the pharmaceutical industry. The barriers to enter this industry are considered the highest to penetrate in the U.S. These segments require high capital investment in order to enter the market. Emerging companies struggle with capital requirements, financial resources, regulatory policies, and research and development. Top companies like Johnson & Johnson have manufacturing capabilities that are hard to replicate and have patents that guarantee product protection with large marketing budgets to defend their brands. New entrants should expect a sharp retaliation from Johnson & Johnson and other top competitors within the segment. However, though it is hard to enter the market, it should be noted that Aveeno has already numerous competitors such as Neutrogena, Jergen's, L'Oreal, Olay, etc. The raw materials to manufacture Aveeno lotion are not difficult to obtain for an established company like Johnson & Johnson so the bargaining power of suppliers for Aveeno is high.
However, in a case where the availability of Aveeno's natural and organic ingredients are threatened, bargaining power for Aveeno is lowered, because these ingredients are the backbone of Aveeno's products. Since Johnson & Johnson is a strong business entity, it doesn't rely on a concentrated pool of suppliers so suppliers pose little to no threat to Aveeno lotion or Johnson & Johnson. The suppliers for Aveeno's ingredients could be easily substituted for another. As well, given Aveeno's dedication to science, the company can find new alternatives to developing their product. Consumer bargaining power for Aveeno is high. Since lotion is an extremely small portion of consumer costs, consumers tend to become more price sensitive. Lotion has extremely limited potential and capability because its primary purpose is to nourish and moisturize skin. There's only so much a moisturizer can do in comparison to products that pay for themselves by improving performance or cutting costs significantly. Other competitors within the personal care segment can manufacture lotions that serve the same purpose and can sell them at a competitively lower price.
The threat of substitutes for Aveeno is moderate to high. Aveeno differentiates itself from other brands with its natural oatmeal formula that is clinically proven to protect and moisturize skin, giving it a naturally healthy look, but other than that, Aveeno, as a lotion doesn't have much more to offer. There are many other drugstore brands that sell moisturizers of similar quality at a competitively lower price. The main purpose of a moisturizer is to moisturize. Although some consumers prefer Aveeno to other brands because it is the most effective moisturizer for them, the cost for consumers to switch from Aveeno to another moisturizer is low with minimal difference in product performance. Aveeno competes with other brands such as Jergen's, Olay, Burt's Bees, etc., all of which offer similar products to those of Aveeno.
Competition between Aveeno and other well-established companies that specialize in the personal care market segment is moderate. Companies that manufacture the same kinds of personal care products as Johnson & Johnson, like Unilever, are Aveeno's main competitors in the market. However, Aveeno remains as one of the leading drugstore brands with high consumer reviews. It has an expanded brand line that offers a wide variety of personal care products that venture outside the limits of lotion. As well, Aveeno's strong brand loyalty helps retain a large and loyal customer base who are committed and devoted to the product. IV. Strategic Implications for the Marketing Mix
Aveeno's product line consists of skin and hair products. These products have a target market that includes all ages of women, men, and children. Aveeno products consist of all natural ingredients, which promote healthy and beautiful hair and skin. Consumers who use Aveeno's products can benefit with long lasting and anti-aging results, as well as natural ingredients, which react well to irritated and dry skin. Aveeno makes moisturizing and cleansing products for all skin types such as dry, irritated, sensitive, eczema and anti-itch, anti-aging/firming, dark spot control, as well as redness and acne prone skin. Their products are dermatologist recommended and deliver clinically proven results. Aveeno is very focused with regards to being eco-friendly by using biodegradable ingredients in their products. They contribute to sustainability and help reduce waste while their packaging is made from recycled and recyclable materials. Their goal is help reduce waste and to limit the carbon footprint we leave on Earth.
Aveeno's continued dedication to its product and the science and ingredients behind it can help differentiate the product from its competitors. Aveeno can be bought in most drugstores or retail stores that sell health and beauty products such as CVS, Walgreens, Costco, Wal Mart, Stop & Shop, etc. Their products can also be purchased online on their personal website or other online retailers' site. They are easily accessible and available almost anywhere. Aveeno is an American company that is manufactured and produced by Johnson & Johnson in the United States. Capitalizing on Aveeno's product placement is important, because it allows the brand to be featured in even more areas. When competing in a heavily saturated market, accessibility is key.
The prices of Aveeno products vary from brick and mortar stores and online retailers. The highest price the lotion is sold at CVS Pharmacy for $12.99 for the largest bottle that is 18 oz. Walgreens came in second with a cost of $11.99 for the same bottle. Even though Aveeno is sold in many drug stores and is supposed to be price friendly, it seems that the cheapest alternative is sold where many consumers can't physically get to it. Many consumers may not want to pay the prices, so they might turn to a cheaper alternative that they could get without having to go far or get the product online. Price is very important when considering Aveeno's product, because customers want to be paying the right amount for the product's value, while at the same time, the product should have a comparable price to its competitors. Therefore, Aveeno needs to determine the price at which is fair to value the product but is also competitive amongst the other brands in the market.
To help differentiate the product, Aveeno should heavily rely on promoting its product to highlight the differences between Aveeno and its competitors. The brand can continue using celebrities like Jennifer Aniston to promote their products to a wide variety of consumers; however, Aveeno should also consider using celebrities that will appear to a younger audience and a male audience. Doing this can attract new markets to Aveeno. As well, given the recent fad in younger generations for organic and natural products, Aveeno could potentially find a new market in younger generations. Also, social media like Facebook and Instagram gives the brand a chance to promote their products quickly, market to a wider audience, and interact with their consumers on a more personal level. As well, this can help Aveeno attract a younger audience, many of whom are on many different channels of social media.
Aveeno can also use brand recognition of its parent brand, Johnson & Johnson, which is promoted as a family brand, to strengthen its name. Johnson & Johnson has been around since 1886 and produces many common household brands like Band-Aids, baby shampoo and lotion, and even Aveeno's competitor Neutrogena. Since the company is associated with a worldwide brand, many of the people who use Johnson & Johnson products may be more inclined to buy the product due to its association. As well, Aveeno has a rich and deep history dating back to 1945. This allows them to connect to an old customer base, many of whom have developed a strong brand loyalty. Aveeno needs to maintain this brand loyalty and encourage these relationships to foster. V. Conclusion
For Aveeno to gain a better market share, higher profits, and more success, it needs to focus on its brand loyalty and product differentiation. Because Aveeno competes in a market with many competitors who offer similar products and prices, Aveeno needs to work hard to maintain its strong customer base since 1945 and deliver a good, enjoyable product for customers to use. Aveeno can do this by strengthening its marketing campaigns, specifically its celebrity endorsements and social media marketing. As well, Aveeno can look into developing new products or capturing new market segments such as men and the younger generation. The company's pride of using natural and organic ingredients in its products can also work to the brand's advantage, because it coincides with the recent trend of natural and organic. However, potential threats such as lawsuits, competitors, etc. can harm Aveeno's chance of succeeding in the market. Nevertheless, Aveeno's strong corporate social responsibility, brand loyalty, history, and marketing attribute to Aveeno's continued success for over 65 years.
Works Cited
"Aveeno® Active Naturals Daily Moisturizing Lotion." – CVS.com. Web. 11 Nov. 2014. . "Aveeno Launches Sustainability Guide Widget." Aveeno Launches Sustainability Guide Widget. Web. 16 Nov. 2014. . "Aveeno Moisturizing Lotion." Aveeno at Target. Web. 13 Nov. 2014. . "Aveeno – Walmart.com." Walmart.com. Web. 15 Nov. 2014. . "Jennifer Aniston Endorses Skin-Care Line For Aveeno." The Inquisitor News. Web. 16 Nov. 2014. http://www.inquisitr.com/487256/jennifer-aniston-endorses-skin-care-line-for-aveeno/ "Johnson & Johnson History." Johnson & Johnson Family of Companies. Web. 5 Nov. 2014. . "Johnson & Johnson – Investor Relations – Annual Report & Proxy Statements." Johnson & Johnson – Investor Relations – Annual Report & Proxy Statements. Web. 16
Related Topics