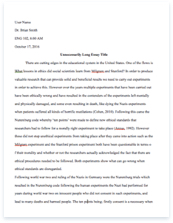 The whole doc is available only for registered users
A limited time offer! Get a custom sample essay written according to your requirements urgent 3h delivery guaranteed
Order Now
As a manager, quarterly meetings are imperative in order to keep every manager as well as employee, aware of how the company is doing productively as well as financially. In these meetings each manager is called upon to address the District Manager, Regional Manager, Store Managers as well as all AT&T Stakeholders for the west coast market the presentation is to address both internal and external channels of business. Managers inside the company as well as stakeholders outside the company are in attendance of quarterly meetings. One of the topics discussed is year over year numbers as well as month over month numbers. Store managers are required to present a presentation of the stores current standings financially, how much foot traffic they receive, how many new accounts are activated, upgraded, optional features tacked on accounts as well as an action plan to increase opportunities. When addressing the panel of managers I prepare a power point presentation with all of my stores financial information as well as my action plan and profit per opportunity.
When addressing the managers, the characteristics I have to consider is, what this meeting is going to accomplish, how to address the individual interests of each manager and give each individual the information I assume they will appreciate and anticipate to see pay forward. Each manager is looking to see what I have prepared to share. In the retail world, everyone's paycheck is at stake. Therefore, everyone wants to know how you are going to secure yours as well as everyone else's. The channels of communication for a meeting such as this are considered face to face. The presentation is given in front of all the managers while you stand and go through each topic of discussion. While giving the presentation another communication channel used is electronic. The presentation I prepare is power point which is transmitted from my lap top onto a projected screen in front of the room where everyone can view it. Each slide displays footnotes for me to reflect on the information of each slide as well as giving the panel a chart so they can visually understand the figures I have calculated. The charts communicate where my store was a couple years ago in both financial as well as customer volume.
Year over year projections are displayed as well as month over month charts in order to display what my stores average is and what the projections of my store look like. While I go through each slide I speak using the notes I made for myself as well as bullets reiterating my points. In quarterly meetings it is appropriate to use electronics and prepare a presentation because it shows that a manager is prepared to address any issues or concerns and is completely aware of how their store is operating and how to operate it. Verbal face to face communication is also the most appropriate channel of communication to use because you are able to show the managers how confident you are as a manager by expressing body language as well as verbally addressing all managers in a professional manner. The meeting is more personable as each meeting occurs, managers get to know one another as well as communicate on a more regular basis and share thoughts and ideas. While I communicate to all of the managers, I observe my own ethical standards as well as what I perceive to be others standards as well.
In a business such as the one I work in, organizations are always competing for the highest profits as well as to be the best in the market. Considering my audience I know they want to hear how I plan to effectively meet or exceed financial projections implemented from the calculations I have done. As a manager I try to communicate clear direction as well as goals. Direction and goals is directed to everyone, but most importantly, to the AT&T stakeholders. AT&T is always interested in how we are going to proceed in business; where as my district manager and regional manager want to hear the financial standings of the presentation. To the managers on a the store level, I offer my ideas and suggestions of how I am going to go about business and how I plan to make my mark on the map, In order for my presentation to go over smoothly, I have to get a feel for my audience so I can effectively set the tone of my presentation. I am a very outspoken individual with a sense of humor. I enjoy lifting the tension and the elevating the mood of the group, and incorporate a little bit of laughter. The diversity of the group is a mixture of individuals who are business professional, being serious when they need to be serious, stress important points of interest, and enjoying a little bit of humor as well.
Keeping the diversity of the group in mind, I can effectively communicate and deliver a presentation to hit on all topics and interests of the group in the meeting. Effective communication across both channels is necessary for a business to thrive. Internal communication keeps a business viable. Without communication between all levels of the business, directives cannot be completed, slowing the growth of the business. External communication is the lifeblood of a business. Without clear communication of a company's products to customers, a business will not grow. (Francis, 2009) The quarterly managers meetings are an effective way for all managers internal and external to communicate. Having the presentations take place in a face to face communication channel allows a clear form of communicating information from one side of the business to the other.
Allowing all stakeholders and managers to be present gives each manager the opportunity to speak with almost everyone involved within the organization and business. Some companies do not interact with certain levels within their company such as the VP, Board of Directors, ect. Fortunately my company welcomes the communication between one another. The face to face communication also allows us to communicate on a more personable level. The fact that if I have any questions, I have all of my higher up's phone numbers and can contact them whenever I have a question is exceptional open means of communication.
References
Business Communication. (2007, May). Retrieved from http://www.family-business-experts.com/business-communication.html Francis, K. A. (2009, July). Importance ofCcommunication Channels. Retrieved from http://smallbusiness.chron.com/importance-business-communication-channels-117.html Importance of Business Communication Channels. (2009, july). Retrieved from http://smallbusiness.chron.com/importance-business-communication-channels-117.html K.A. Francis, Demand Media
Why Good Communication is Good Business. (2005, December). Retrieved from http://www.bus.wisc.edu/update/winter05/business_communication.asp
Related Topics