Attitude toward evidence based practice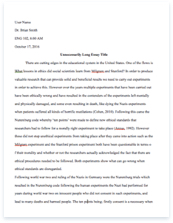 The whole doc is available only for registered users
A limited time offer! Get a custom sample essay written according to your requirements urgent 3h delivery guaranteed
Order Now
You are interested in nurses' attitudes toward EBP. Which method do you think would work best to obtain this information: a questionnaire, a face-to-face interview, or a group interview? Defend your answer. Nursing research and evidence-based practice nursing sometimes begins, with a nursing research committee. Creating interest in nursing research is the first step to developing a nursing research committee or evidence practice council. Leadership need to give a push to increase participation for research and evidence-based practice in the units (Fowler, Leaton, Baxter, McTigue, & Snook, 2008).Written communication about nursing research posted in units can cause an interest, and recognition of nurses that is involved in research and evidence-based practice can raise the awareness among nurses. Having a nursing research committee or a council can help in generating an interest and be able to evaluate nurse's attitudes towards evidence-based practice in nursing units.
In a study that was done about nurse's attitudes nursing research, in a leading major institution in nursing research hospital in New York, that had 1700 nursing staff, it was noted that when a questionnaire was sent, only 470 returned and it represented 28% of the nursing force. (Smirnoff, Ramirez, Kooplimae, Gibney, & McEvoy, 2007).Study was done in 2000 in a tertiary hospital and was done with the help of nursing research committee. Questionnaires can reach a large group number, and the data can be compared with various institutions and be benchmarked by other organization. For collecting a survey in 2014, regarding evidence-based practice among nurses; I would like to use a questionnaire on the online survey, which can be sent to all the nurses in the hospital.
Timeframe for collection of questionnaires needs to be notified to nurses. Generation of the nurses using computers has increased since 2000, because of the ease of study tools that can be used. As the audience is nurses, they have the availability of computers and are educated, although education may be in different levels. With an online survey, different nurses who working different capacities with and both night and day shift can be included. Advantages of an on online survey questionnaire
1. It can be sent to a larger group within a shorter time.
2. Anonymity of the test can allow them to answer.
3. Best method to assess attitudes and behaviors
4. Can provide information about participants' internal meanings and ways of thinking.
5. Can administer to probability samples.
6. Quick turnaround.
7. Moderately high measurement validity (i.e., high reliability and validity) for well-constructed and validated questionnaires, if it can be verified by a senior researcher.
8. Closed-ended items can provide exact information needed by researcher.
9. Open-ended items can provide detailed information in respondents' words.
10. Analysis of data is easier with close ended questions in the questionnaire.
11. Useful for exploration as well as confirmation
12. It can be sent to different facilities at the same time. Weaknesses of questionnaires
1. Usually must be kept short.
2. Reactive effects may occur (e.g.; interviewers may try to show only what is socially desirable).
3. Nonresponse to selective items.
4. People filling out questionnaires may not recall important information.
5. Response rate may be low for mail and email questionnaires.
6. Open-ended items may reflect changes in verbal ability, obscuring the issues of interest.
7. Data analysis can be time consuming for open-ended items.
8. Measures need validation.
Weaknesses of interviews or group interviews
1. In-person or group interviews, usually, are expensive and time consuming for researcher 2. Reactive effects (e.g., respondents may try to show only what is socially desirable). 3. Investigator effects may occur; untrained interviewers may distort data because of personal biases and poor interviewing skills. To find group moderators, that can skillfully control the crowd is challenging. 4. Interviewees may not be able to remember information and may lack self-awareness. 5. The respondents may be not forthcoming or may be not honest for interview. 6. Data analysis can be time consuming for open-ended items. 7. Data that is collected through audio taping or by writing need to be decoded by researchers. 8. Interview questions should be worded with clarity and without bias.
References:
Fowler, S., Leaton, M. B., Baxter, T., McTigue, T., & Snook, N. (2008). Evolution of Nursing Research committee. Journal of Neuroscience Nursing, 60-63. Grove, S. K., Burns, N., & Gray, J. (2013). The Practice of Nursing research:Appraisal,Synthesis,and Generation of Evidence. St.Louis,MO: Elsevier/Saunders. Polit, D. F., & Beck, C. T. (2012). Nursing Research Generating and assessing evidence for Nursing practice. Philadelphia: Wolters Kluwer Health /Lippincott Williams&Wilkins. Smirnoff, L., Ramirez, M., Kooplimae, L., Gibney, M., & McEvoy, M. D. (2007). Nurses attitude toward nursing research at a metropolitan medical center. Applied Nursing Research, 24-31. Bonus Table 1 Strengths and Weaknesses of Tests. (n.d.). Retrieved from http://www.sagepub.com/bjohnsonstudy/bonus_materials/additional_tables/StrengthsandWeaknessesofDataCollectionMethods.pdf_br
Related Topics