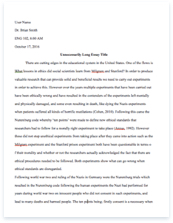 The whole doc is available only for registered users
A limited time offer! Get a custom sample essay written according to your requirements urgent 3h delivery guaranteed
Order Now
Summary of Read-only participants a case for student communication in online classes By Shakera Bennett Grand Canyon University UNV 501-Intro to Graduate Studies in the College of Education September 12, 2012 Carrie ODonnell, Instructor Learning communities are no longer limited to the classroom. Online classes are becoming more prevalent in this day and age. As these online classes grow in abundance, the issues that affect the traditional classroom are now issues that occur in online communities. In the article, Read-only participants a case for student communication in online classes, authors Nagel, Blignaut, and Cronj (2009) tackle reasons why participation is an underlying cause for successful class completion. With the use of a learning management system (LMS), students activity in their online classroom can be traced. It is easy to detect students who are lurking and not participating opposed to students who are actively engaged.
The LMS also tracks a students progress and performance in a class where community needs to be built in order to lead the way to active participation. As an active participant, the authors prove that students have a better average than Read-only participant (ROP) students. Their interactions promote understanding and enable them to have a collaborative learning environment. The authors states that these active learners develop critical thinking skills and a great retention for learning. Being an active participant also informs the instructor (who is also an active part of the classroom) of any misconceptions or difficulties that the student may have. Read Only Participation students, however, face different outcomes. Some feel that by doing the basics their needs are met and they are satisfied whereas other factors come into play.
The authors suggest that some ROPers are procrastinators, not technically savvy (or tech savvy with bandwidth issues), and/or feel isolated and miss classroom structure. Another aspect is the excessive use of the English language where many students are actually Non-English speaking students. In addition, facilitators who are ROPers themselves provide a greater deficit to the student. A study was conducted at the University of Pretoria in South Africa on 22 students with ages ranging from 30 to 50 years. The students had several assignments including the creation of a rubric to score online behavior. The observation concluded that there were three grade groups distinction, pass, and fail.
Related Topics