Argumentative Essay On An Issue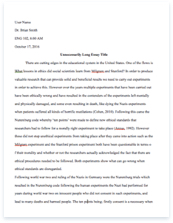 The whole doc is available only for registered users
A limited time offer! Get a custom sample essay written according to your requirements urgent 3h delivery guaranteed
Order Now
Argumentative Essay Australian Swimmers and Bodysuits: should they be worn in competition? An issue that has been debated lately is weather or not the Olympic athletes should be able to wear the full bodysuits. This debate started in May this year, just before the trials for the swimming team, who were to compete in the upcoming Sydney Olympic games.
The bodysuits are being produced by Speedo and Adidas. They are made out of mainly Lycra, blended with a number of other materials. Nothing that could help an athlete cheat. They are intended to reduce the drag in the water and support the swimmers muscles while in motion. There are no hidden flippers, motors or propellers. There are certain styles of the swimsuit. Full body, only legs, long legs and no arms, and all of them have been approved by the FINA (international amateur swimming association) and gradually by the CAS (court of arbitration for sport) Even after all these organizations have given the okay for the swimsuits to be used and declared that the swimmer isn't cheating by wearing one, people still complain that these swimsuits are unfair and shouldn't be used. Australian swimming champion, Kieren Perkins said, "Swimming is not about those with the best scientists racing for each other." But still people are arguing that these bodysuits are giving an unfair advantage to those who wear them.
Wearing these bodysuits is no different to wearing the average swimsuit. It is not as if it has little propellers or flippers pushing them through the pool and ahead of all the other swimmers. These bodysuits don't come with a "Win your race or your money cheerfully refunded" notice attached to it.
The swimmers still need to use the same amount of power and effort to propel themselves down the pool as all the other swimmers do. If anything wearing these new swimsuits would be like wearing an extra pair of clothes. If you've ever tried swimming in clothes then you would realize that it a lot harder.
Grant Hackett, another Australia swimming champion, said that, "The suit makes me feel better, it makes me think I'm going through the water faster. The psychological boost is amazing." I believe that anything that boosts someone's confidence and makes them feel better can't be bad.
If other countries and swimmers are so worried about being beaten by someone wearing a new bodysuit, why don't they get their swimmers to wear them as well? They have been approved so it shouldn't matter if they do or don't.
One of the Olympic symbols is the dove. This also is a sign of peace. The Olympics aren't meant to be for debating. If it was people wouldn't find it as interesting. The Olympics is about sports and sportsmanship. People shouldn't be arguing about something as trivial as a swimsuit that has already been approved by all the big swimming and Olympics organizations.
All the people who are so concerned about weather or not it is cheating, won't really be enjoying the Olympics. They won't be cheering the Olympians on. They will be waiting for one of the swimmers to get disqualified so they can say, "I told you so." It's people like these that wreak large events for everybody else. Everybody should sit back and cheer their country on and enjoy all the hard work that has been put into producing an event like this.
In conclusion, I believe that Australian swimmers should have the right to choose weather or not they wear the bodysuit. If they choose to wear it, it doesn't mean they are cheating in anyway at all. They are doing what gives them an extra boost of confidence to make them win that race. And having an athlete win a medal for Australia, at an Olympics, without cheating or being on drugs isn't anything to complain about.
Related Topics