Applied Medical Anthropology: Towards a Holistic Medical Approach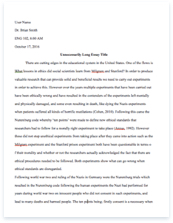 The whole doc is available only for registered users
OPEN DOC
Pages: 4
Word count: 918
Category: Medicine
A limited time offer! Get a custom sample essay written according to your requirements urgent 3h delivery guaranteed
Order Now
Introduction
The Society for Medical Anthropology defines the term "medical anthropology" as a subfield of anthropology that draws upon social, cultural, biological, and linguistic anthropology to better understand those factors which influence health and well being (broadly defined), the experience and distribution of illness, the prevention and treatment of sickness, healing processes, the social relations of therapy management, and the cultural importance and utilization of pluralistic medical systems.
This is a very broad field of inquiry, but as we have begun to discover since the 1980's an important one.  Medical Anthropology allows mankind to examine and evaluate all the disparate medical systems that have been developed by the different cultures in the world and begin to use them in concert with Western medicine, or biomedicine, for more effective treatment regimes.  Ethnographic studies of native methods of healing, and understanding concepts of health in various cultures have been the main thrust of medical anthropology historically (Barnard 359).
Importance of Medical Anthropology
Why is this work necessary? Doctors following the Western form of practice, biomedicine, have become increasingly isolated from their patients. Either distracted from them by new technological diagnostics, or fearful of encountering a litigious patient many doctors spend a minimal amount of time with a patient (Konner).  Indeed it seems as if today's physician is focused on surrounding himself with more and more sophisticated diagnostic machinery, despite the fact that 85% of the information for a diagnosis comes from patient interviews and history workups (Konner).
In contrast traditional practitioners often put a great deal of focus on the psychological needs of a patient; sometimes even coming to a family's home (Gadit 71).  Clearly the two types of systems are generally complementary and not exclusive, though some traditional practices should be dropped since they are physically dangerous to the patient.
The study of native healers such as shamans to compare the effectiveness of traditional and biomedical treatments is another branch of investigation (Barnard 359).  These types of studies found that traditional types of treatment sometimes have equivalent or better effectiveness than typical western approaches.  This is especially true in the field of psychiatry, for patients not suffering from organic disorders (Barnard 359).   Native healers were better able to address the psychological needs of their patients. By doing this they are better able then typical biomedicine practitioners to tap into the incredible self-healing capacity of human beings known to biomedical science as the placebo effect, sometimes dismissively (Gadit 85). Traditional medicines could help fill a gap in the western approach; biomedical practice is weak on what might be termed the bedside manner.  A pluralistic approach would be a more holistic one, and address the both the mental and physical needs of a patient (Gadit 85). It is this promise that Medical Anthropology attempts to define and apply to medical systems around the world
For this reason Medical Anthropology has become very important to world health. It has helped ease misunderstandings of medical matters between members of different cultures.  Ethnographic studies have improved upon our understanding of different conceptualizations of sickness.  Various programs that attempted to administer medical services without understanding local culture in developing nations or multi-ethnic groups in developed nations have failed repeatedly (Barnard 359).
These failures have fueled an increased awareness in the health profession how necessary it is to pay attention to the social and cultural factors involved in public health.  Medical anthropologists are to help identify and overcome cultural barriers to biomedical treatment that may exist in a native population.  Today, they also work on refining methods of applied anthropology for specific health problems in a community.  Community research tends to focus on the discrepancies in concepts of what causes disease between biomedical approach and traditional beliefs (Barnard 360).
Consequences
One possible outcome of the ethnographic study of native medicine is the inclusion of a traditional practitioner on a modern medical team.  Such a pairing would offer patients a whole person approach to treatment that is sorely needed in western medicine.  Additionally, it would ensure that biomedical procedures are only used when clearly indicated and maintain maximum effectiveness by reinforcement through traditional methods.
Another potential impact that is made possible through medical anthropology is greater acceptance of western practices in the non-western world.  Through understanding of native concepts of sickness and illness a western practitioner could explain treatment in terms a patient might understand (Barnard 360), or alternatively pair up with a native practitioner to handle the psychological experience of illness while he deals with the biomedical systems.
Medical Anthropology, therefore functions reduce the ethnocentrism of the medical community.  This is an important function. Presenting a possible treatment in a way that is culturally acceptable to a patient increases the likelihood that prescribed treatment will be followed and therefore more effective (Society).  Re-designing clinical social organizations to meet the needs of the people they serve is another important function.  By allowing a cultural component in the design, administration, and use of medical resources we can maximize their use among non-western people (Barnard 360).
Works Cited
Barnard, Alan and Jonathan Spencer. Encyclopedia of Social and Cultural Anthropology.
New York: Routledge 1998.
Gadit, Amin A. and Val Reed. "Uses and Limitations of Ethnotherapy." International Journal of Mental Health. 33.2 (Summer 2004)  pp. 54–95.
Konner, Melvin. "Have We Lost the Healing Touch?" Newsweek 137.26 (06/25/2001) p77.
Society for Medical Anthropology. 21 May 2005. <http://medanthro.net/index.html> 22 May 2005 
Related Topics