Additional Support Needs and the Medical and Social Model of Disability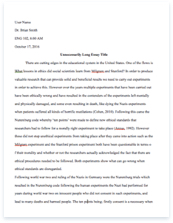 The whole doc is available only for registered users
A limited time offer! Get a custom sample essay written according to your requirements urgent 3h delivery guaranteed
Order Now
The Additional Support for Learning Act was introduced in Scotland in November 2004. This Act introduced the concept of additional support needs and placed the responsibility for identifying, planning and making provisions for children with complex or multiple additional support needs onto educational authorities. This essay is going to discuss additional support needs and the ways in which they can impact on pupils learning. In order to do this, two pupils with additional support needs were observed in a mainstream Scottish high school to see how they experienced school life. Firstly, this essay will address the concept of additional support needs, as well as discussing the needs of the two pupils observed. Then a description of both the pupil deficit and social models of disability will be provided before being discussed in relation to the pupils observed. This will enable the adequacy of these models in developing an understanding of pupils needs and helping produce effective responses to be assessed.
Additional support needs are the needs of an individual pupil for support above which is normally provided in a regular school. These can vary, lasting from one day, to a week, to needs which are long term or permanent. "Pupils have additional support needs when they experience barriers to their learning, achievement and full participation in the life of the school. These barriers may be created as the result of factors such as the ethos and relationships in the school, inflexible curricular arrangements, and inappropriate approaches to learning and teaching. The barrier or barriers may also relate to pupils physical, sensory or intellectual disabilities, to emotional and social needs, challenging behaviour, autistic spectrum disorders and communication difficulties, and to chronic illness and absence from school." (HMIE, 2004:1) The concept of additional support needs is linked to the policy of inclusion is general.
This is a key educational policy in Scotland which was introduced in the 1990's to include all children in mainstream schools. The Scottish Executive released a report in 2005 which outlined their commitment to enabling all children to thrive and achieve their full potential. They state that schools are expected to 'strive for the inclusion of all children and young people'. "We want all children and young people to have opportunities to achieve and to make their individual contribution to society. Support for pupils must be designed to respect children's and young people's integrity, strengthen their individual capabilities and value their contributions." (Scottish Executive, 2005:36) In the report they include standards for provision of personal support. These include factors such as; making opportunities for children to develop the knowledge, skills and attitudes needed to seek information and support throughout their lives, helping them make informed choices, and providing opportunities for them to be involved in both the school and local community. (Scottish Executive, 2005:10-11)
They assert that personal support should be inclusive and help all young people to benefit from education 'whatever choices and experiences they face'. Inclusion took over from 'integration' which placed children into mainstream schools but failed to focus on the quality of their learning experiences in these schools. Allan (2013) argues that inclusion was introduced to rectify this error and ensure that learning experiences improved and participation in classrooms increased. He states that inclusive policies help eliminate barriers that thwart participation in schools. These barriers can be environmental (location or layout of school which make access difficult), structural (the way the school operates such as timetabling and assessments) or attitudinal (negative behaviour such as bullying or condescending expressions). In order to see if inclusive policies make a difference and eliminate barriers, two pupils were observed in a school setting.
Pupil A was the first pupil observed. He was a 15 year old boy but in an S2 class, therefore, he was a couple of years older than the rest of the pupils. He was identified as having social, emotional and behavioural needs (SEBN). He was easily frustrated, could be stubborn and immature and was prone to anger which sometimes caused him to lash out (though this was directed at surfaces such as tables and walls and not at people). He was described as exhibiting 'challenging behaviour'. This was attributed to his home life as there were issues with his living situation and with drug use in his family. He was currently staying with his grandmother. As well as SEBN, this pupil also had dyslexia. He had issues with reading, writing and spelling. These issues were identified in primary school and a profile was created after the primary liaison between the primary and secondary schools to discuss any needs and concerns.
These needs experienced by the pupil had a large impact on his learning. He was already a few years behind pupils his own age (he should have been in an S4 class) and his social emotional and behavioural needs meant that he was often distracted and absent from class. He had been excluded on numerous occasions and was also excluded during the spell of observation for swearing at a teacher. Pupil A had a support assistant in all his classes to help with reading, writing and motivation. He was given access to a laptop for any tasks that included extensive writing. His teachers would differentiate their lessons in order to include him in lessons and help with his dyslexia. They were told to treat him equally with no exception. When his behaviour became very unmanageable he was taken to behaviour support by the Personal Support Assistant. Pupil A was not always able to cope with the structure of the school day and so was given a flexible curriculum. For example on a Thursday he would take part in outdoor activities instead of attending a language class.
He would also occasionally spend time in the support centre instead of class too. The majority of support that Pupil A received was served in house. He had support assistants and attended Reading Boost twice a week (a club to help pupils boost reading skills) and was also provided with a flexible timetable and curriculum. There was also a Safe Haven that he could go to if he needed a time out. However, he also received community learning where a lady would come into the school to deliver anger management. He was frustrated that he had a support assistant with him in all classes and was aware that he was 'different' from other pupils and had labels placed upon him, which equally frustrated him. Pupil B was an S3 girl whose needs included dyslexia and dyscalculia. Her main issues were with spelling, numbers, some problems with reading, and organisational issues linked to her short term memory. Pupil B didn't have a support assistant but one could be requested if required (or she could go to the support centre).
One of the main problems she experienced was when she was required to undertake a lot of writing. Again a laptop was provided in these situations and a scribe was also provided for any tests. She was given extra time to complete tasks/answer questions and lesson were again differentiated to accommodate her needs. As Pupil B struggled when copying large amounts of information from the board, she was provided with printed hand-outs when required. She was given coloured strips to highlight text and enable her to read more easily. A calculator was also provided in her maths classes as she struggled with counting, calculation and recognising mathematical symbols. She could also experience organisational issues as her needs affected her short term memory and she had some issues with timing. Homework also had to be differentiated and she was encouraged to attend the homework club.
Her dad and sister were severely dyslexic also, and her mother had dyslexia too (although not as severe) so she had better support with homework if she attended this club. Pupil B (and Pupil A) also attended 3 workshops a term which provided them with information on dyslexia and taught them independent learning strategies. They were made aware that these needs were permanent and so were given techniques that could help them, not just through school, but throughout their everyday lives. As well as the workshops, Pupil B also received one to one support in maths to help with her dyscalculia. She also attended Reading Boost to help improve her reading skills. Before assessing how effective the medical and social models are in understanding pupil's needs and producing effective responses, the features of both models will have to be discussed. The medical model reduces disability to impairment in the mind or body and locates the problem within the individual.
It looks to experts in the medical profession to solve the problem by defining and treating it. (Humphrey, 2000:63) Learning difficulties are said to originate from neurological or physical conditions in a child who has a learning impairment. In terms of education, the focus is on the child, who can be 'altered' with treatment to adapt to their fixed social environment. (Llewellyn and Hogan, 2000:158) In education, this model is used to identify 'special' needs and provide resources and funding to support them. However, although this can be beneficial, it can also give students with additional support needs a different status to other pupils and cause them to be labelled. People with learning needs can be viewed in negative ways which impact on their self-esteem and can lead to feelings of inadequacy. (Atherton et al, 2011:14) For example, when frustrated and unable to cope, Pupil B would state that she couldn't complete the task because she was 'stupid' or 'thick'. Gable (2014) claims that the medical model is repudiated by inclusive education for its capacity to limit participation.
Students are often withdrawn from classrooms into specialist units which can lead to segregation and exclusion. Discussions about classroom practice are also largely neglected in this model. Despite this the medical model still dominates classroom practice and Allan (2013) argues that this silences pupils and makes them 'mere recipients of provision'. Teachers are told to look out for certain characteristics in children which fit a particular diagnosis. No guidance is offered in how to undertake cultural changes in their practice which can be a problem. (Allan, 2013: 791) It has received negative press as it seeks to change those with learning disabilities and bring them up to expected norms. Yet there are undoubted conditions, such as downs syndrome, which impact on learning and cannot be ignored. This model provides a good understanding of certain disabilities drawn on clinical evidence and so will continue to influence educational practice for this reason. (Skidmore, 2004:3)
The social model arose as reaction against the medical model. It redefines disability in terms of a disabling environment. (Humphrey, 2010:64) Although it understands impairment in medical terms, it is viewed as part of culture and history and not a 'natural' phenomenon. Pupils with impairments are disabled by society which produces barriers to their learning. (Hughes and Paterson, 1997: 328) Society was created for non-disabled people, which can exclude those with disabilities. In education, the social model tries to explain the processes that exclude pupils with learning difficulties and highlights the conditions that need to be changed in order to increase participation. It is society that is the focus for change and not the individual with learning difficulties. (Goodley, 2010:212) It recognises that difficulties in learning emerge from the way the school is organised. If schools are restructured, then barriers to learning will be removed and school will be able to meet the educational needs of all pupils. (Skidmore, 2004:8)
This model is more aligned with inclusion as it looks at how practices can be altered to include all pupils. Although this model lacks empirical evidence and is based on hypothetical theories, there is some evidence that shows restricting practices improves attainment (Skidmore, 2004:8) It makes it no longer possible to assume that children with additional support needs can be segregated. The medical model was rather useful when looking at the pupils with dyslexia and dyscalculia. This model identified the 'condition' and specific learning needs of the pupils. It is recognised that these are neurological disorders affecting the brain which cause pupils to process information differently. This enabled appropriate support to be provided such as the provision of laptops to help with spelling and writing, the provision of a calculator and supported study in maths and the provision of a scribe in any class tests. Pupil B was also provided with coloured strips to help with reading.
Without the medical 'diagnosis' there wouldn't have been access to funding for extra support and technology to help these pupils. These are also recognised as permanent conditions which enabled the pupils to be taught independent learning strategies that they could use throughout their lives. However the social model was more useful as although it recognises that dyslexia and dyscalculia are neurological conditions, they view this in terms of them processing information differently to others (visually). So instead of the problem lying with the individual, this model see's the school as the problem. Cooper (2006) argues that dyslexia is not the disability; the disability arises when someone is expected to process information like everyone else and is unable to do so. He states: "We would argue that dyslexia is an experience that arises out of natural human diversity on the one hand, and a world on the other where the early learning of literacy, and a good personal organisation and working memory is mistakenly used as a marker of 'intelligence'.
The problem here is seeing difference as a deficit" Viewing dyslexia in this light enables lessons to be differentiated to accommodate the varying needs of pupils, extra time to be given to pupils and teachers to adapt their PowerPoints (text, colour) to suit the needs of those experiencing dyslexia. It allowed hand-outs to be provided to Pupil B who struggled to copy from the board. It wasn't the pupil who had to adapt, it was the teacher and the school. The medical model was not as useful when looking at Pupil A experiencing social, emotional and behavioural needs. This pupil wasn't identified as having any specific medical/mental health issues. It was useful when providing funding and access to anger management and behaviour psychologists as these were issues that can be addressed by this model. However, as no specific 'condition' was present, it was harder to view this pupil through the lens of this model. The social model was again more useful when analysing Pupil B as there were structural barriers to his learning. The curriculum and timetabling were an issue that impacted his learning and so he was provided with a flexible curriculum and timetable to accommodate his needs.
A support assistant was provided for motivation to help overcome attitudinal barriers. Teachers and other pupils had low expectations of Pupil B and so this helped him reach his learning potential. Some teachers gave him too much attention and this was also an attitudinal barrier that had to be overcome. Teachers were told to treat him with no exceptions as he did not appreciate the extra attention. Sayer (1992) argues that theories hold 'practical adequacy' when they produce understanding of the world and are 'fit for purpose'. They become the basis for practice if they produce effective action. Even if they hold limited knowledge, they will still be 'practically adequate' if they support some level of practice. He argues that the reason models co-exist in western systems of education is due to the adherence to a partial theory of education. Gable (2014) argues that barriers in education are due to the endurance of the medical model alongside resistance to the social model in the education system.
He uses Allan's concept of 'interstanding' (2010) to show that disability cannot be reduced to a single level of understanding. Interstanding looks at what happens between various ideas when theories are tested and evaluated in practice. This helps practitioners to move from merely understanding disability to carrying out practices that make a difference to students with additional support needs. (Gable, 2014:87) He states: "The conflicting theories impede delivery of meaningful responses to students with disabilities as teachers have to deal with a divided professional knowledge base." (Gable, 2014:89) Llwelellyn and Hogan (2000) argue along similar lines claiming that 'debates about supremacy of models detract from strengths of their use' (Llewellyn and Hogan, 2000:163) Models should be used as a tool to help solve problems and just because one model may fit better than another, does not mean that the latter should be refuted. Tripp (1993) agrees stating that 'the greatest disaster in modern education is an over-dichotomised theory/practice relation'.
He argues that academics embark on theories without respecting the realities of classroom practices and teachers often disregard theories as trivial or irrelevant. If teachers used theories/models when thinking about their practice, then it should improve and they will create better solutions. (Tripp, 1993:16) Alan (2013:793) claims that research has shown that the biggest barriers to inclusion are teachers themselves. Conflicting theories, pressures and restraints make it difficult for them to work inclusively. The Scottish Executive (2005:6) states that teachers who take the time to get to know children and respond to them sensitively as individuals are the ones who will make the biggest impact on those with additional support needs. They will be the ones who help them thrive and reach their full potential. Hogan (2003) proclaims that teaching is 'way of life' and 'an occupational commitment to a form of action that has an authority of its own and responsibilities of its own'.
Teaching is commitment to learning and, therefore, teachers should commit to providing opportunities for all children to reach their potential and tailor needs of individual pupils, constantly evaluating their practice to ensure that it is inclusive for all. In conclusion, additional support needs can have a large impact on pupils educational experience, as was demonstrated through the observation of the two pupils above. In order to ensure that the needs of every pupil are met, teachers have to use theories and models to help create practices that are inclusive and enable every child to reach their full potential. The medical and social models are both useful tools when planning for additional support needs. Pupils should not be shoehorned into one model or another. Just because one model may fit the individual better than other does not mean that is 'truth' or 'fact'. Every pupil is different and has varying needs.
Each model has its strengths and weaknesses and as long as teachers can use these models to guide their practice and not get bogged down by conflicting theories and trying to choose a model/theory that works for them, then they should produce effective responses to meet the needs of every child. If they constantly evaluate and modify their practice to suit the needs of the individuals in their classrooms then they should begin to improve and help every child reach their potential. This is when their teaching will become truly inclusive. It may be challenging but if they embrace this and make teaching their 'way of life' then the support they provide will meet the care and needs of pupils who require additional support.
Reference List
Allan, J, (2013) "Inclusion for All?" from Bryce, T Humes, W Gillies, D & Kennedy, A, Scottish Education Referendum, Edinburgh: Edinburgh University Press, pp.787-795 Atherton, H., Crickmore, D., Gates, B (2011) Learning Disabilities: Towards Inclusion, Edinburgh: Churchill Livingstone. Cooper, R. (2006) A Social Model of Dyslexia, London: South Bank University. Gabel, S and Peters, S (2004) Presage of a Paradigm Shift? Beyond the Social Model of Disability Toward Resistance Theories of Disability, Disability &
Society, 19:6, 585-600. Gable, A (2014) Disability Theorising and Real-world Educational Practice: A Framework for Understanding, Disability & Society, 29:1, 86-100. Goodley, D (2001) 'Learning Difficulties', the Social Model of Disability and Impairment: Challenging epistemologies, Disability & Society, 16:2, 207-231. HMIE (2004) How Good is Our School? Inclusion and Equity part 2: Evaluating Education for Pupils with Additional Support Needs in Mainstream Schools, Edinburgh: HMIE Hughes, B and Paterson, K (1997) The Social Model of Disability and the Disappearing Body: Towards a Sociology of Impairment, Disability and Scoiety, 12:3, pp 325-340 Humphrey, J (2000) Researching Disability Politics, Or, Some Problems with the Social Model in Practice, Disability & Society, 15:1, 63-86 Llewellyn & Hogan (2000) The Use and Abuse of Models of Disability, Disability & Society, 15:1, 157-165 Scottish Executive (2005) Happy, safe and Achieving their Potential, available at: http://www.scotland.gov.uk/Publications/2005/02/20626/51543 Skidmore, D (2004) 'Traditions of Thinking about Learning Difficulties' in Inclusion: The Dynamics of School Development, Maidenhead: The Open University Press, pp 1-11. Tripp, D (1993) Critical Incidents in Teaching: Developing Professional Judgement, London: Routledge
Related Topics