About Family Guy – Adult Animated Situation Comedy Show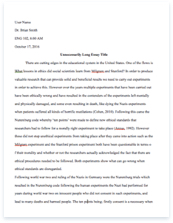 The whole doc is available only for registered users
A limited time offer! Get a custom sample essay written according to your requirements urgent 3h delivery guaranteed
Order Now
Funny, twisted, and politically incorrect, Family Guy is an adult animated situation comedy show that consists of parents Peter and Lois, their children Chris, Meg, and Stewie, and their humanized dog Brian. Family Guy is anything but traditional. The show thrives on frustrating the audience's expectations, using an unorthodox structure and format, and presenting the majority of its humorous moments by poking fun at some of the most sensitive and taboo cultural issues and stereotypes in our society today. In analyzing season 5, episode 14 of the show, titled "No Meals on Wheels", we see firsthand examples of how despite all of these conflicting notions, Family Guy still manages to simultaneously provide both humor and social commentary.
Irony plays a huge role in the show, and is a basis for the title. With a title like "Family Guy", it is expected that the show will feature some sense of family values, especially from Peter, who would be the "family guy" in this instance. This of course is not the cause, as Peter proves without fail every episode that he is an incompetent father and has horrible family skills. In this way, the whole premise of Family Guy is centered around, and based on irony.
Presuppositions play a huge role in the humor of Family Guy. Many of the jokes told in the show make allusions to historical and cultural events. Without prior understanding and knowledge of these topics, the jokes of Family Guy would not be perceived in the intended way and hence would not even be funny. In the episode, during the scene where Peter and Brian are watching an episode of America's Next Top Model, where the host of the show, Tyra Banks yells at the contestants about how talented, famous, and successful she is, followed by a giant iguana leaping from her throat to eat the models. This creates a sense of humor in a unique way it makes the audience more satisfied by as the situation doesn't end in a conventionally expected or obvious way. The ideology behind the giant iguana coming out of Tyra Banks mouth and eating the contestants completely eludes the expectations of the audience and is one of the many ways that Family Guy creates humor in the shows.
All of these jokes also depend upon presuppositions that we tend to not dwell upon often. For example, the jokes about Mort being afraid of the Hitler scarecrow (or "Scare-Jew" as Peter calls it) are based upon preexisting notions we have about the Holocaust and Jewish stereotypes. Both of these are typically not socially acceptable to make jokes about, yet this is exactly what Family Guy does. Family Guy does this in an extremely unique way by presenting the scenario in such a way that it is outlandish and exaggerated that we cannot help but to chuckle. Laughing at the idea of stereotypes forces us to consider how incorrect and bias the stereotypes actually are. In this way, Family Guy is essentially serving as political commentary.
Related Topics