A summarry of Ann Petry's "Like a winding sheet"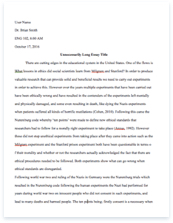 The whole doc is available only for registered users
A limited time offer! Get a custom sample essay written according to your requirements urgent 3h delivery guaranteed
Order Now
Like a Winding Sheet, written by Ann Petry in 1945, is a story that begins with a black man's tough day at work, but takes a twisted turn. Johnson comes home after a hard day planning to kick his feet up and enjoy a relaxing evening at home with his wife, Mae. The bad sense of humour Mae possesses begins to send Johnson over the edge and suddenly, something in him snaps. Johnson brutally beats his wife, quite possibly killing her. This story is very shocking, exposing to us a reality of our society, racism. In this essay I will try to show you that racism, specially in the United-States, can be a source for an imprisonment feeling for individuals, in this case, the black community. I will first show you how Johnson might have felt imprisoned at work, then at the café, and finally I will show you that the general pressure made on John was the reason for his final burst of violence.
First, it is shown in the text that John has difficulty getting up in the morning. Though it is implicit, I think this shows that John has a problem, that he is uncomfortable in the world and knows it will painful to once again go work at his oppressing job. He then gets up and arrives at work late. When his boss notices his being late, he yelled at him and made him feel look nothing. This passage lets us know that John's workplace is very oppressing. The workplace is a very social environment, being black, John must feel oppressed because of the way people act in general with him. Also, being black, he probably has to do more then other white people. John had to live with these inequalities and could not do anything without risking losing his job. He was totally helpless in his workplace and could not contest any of theses injustices, he was imprisoned in a racist workplace.
The outside world represents a lot to people. Although we are mostly at work or at the job, we constantly move trough our world. The experience John lives at the café might not seem that bad when first read, but it is only an example of all the things John has to go trough during a simple day. The waitress clearly shows John absolutely no respect and shows him that many good things are reserved to white people. She sends him an indirect message saying to him that because he is black he does not have the right to enjoy a coffee. This is a prejudice to his liberty and to human equality in general. Again, he cannot do anything about these problems.
That day was like any other for John. He was oppressed and disrespected all day and had to take it all in without a word. This pressure might not have shown many effect in the story but the simple fact that John tightens up his knuckles at each of these stressing events shows us that all the anger he feels is kept inside him. He accumulated it until it reached a maximum point. At this point he lost his mind and let it all out without even thinking about what he was doing. Obviously, this violence took place at John's home, when he beat up his wife to death.
It would be appropriated to end this essay with a good analysis of the title, "Like a winding sheet". The words winding sheet mean "shroud", it could easily be reflected in the story, the shroud worn by John, representing the weight he has to support being black and having to live in a judging society.
Related Topics