A Self-Reflection of My Life Challenges, Motivation, and Persistence to Achieve My Goals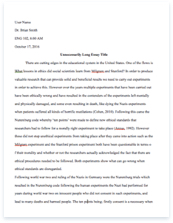 The whole doc is available only for registered users
A limited time offer! Get a custom sample essay written according to your requirements urgent 3h delivery guaranteed
Order Now
My Greatest Challenge: A Self-Reflection
No one really counts the number of obstacles they face in their lives because as the years go by, they just keep piling on endlessly. I chose to only reflect back on the obstacles that have made the biggest impact on my character, such as watching my oldest brother go back and forth between home and a jail cell, my father dying and having an autistic brother. The greatest challenge I have faced so far is trying to support the unstable and fragile men in my life.
I was way too young to understand what an obstacle or challenge was, but when I first saw those handcuff placed on my older brother's wrists. I knew that I would always remember that scene. It started out as a few months, then it escalated to years at a time I wouldn't see him. I soon came to realize that I would have to grow up without my older brother in my life. He was always in some type of pain that was too complex for me to understand. He had given up hope of things getting better therefore he relied heavily on his 'gangster mentality' to keep him alive, however, it only put him into situations that left him shot and in a comma, then eventually back in prison. I was raised by a single mother with public assistance and had relatives that were either on the streets, in jail or worse, dead. This was a tough reality for me but to get by I used to tell myself, 'It could be so much worse than this.'I just learned to start being grateful for the things I did enjoy about my life such as having a home, being able to go to school, being around loving people, etc. Overall, I started to really embody optimism and it helped me get through all the time I was waiting on my brother to get released from prison. By making the most of each day, more opportunities came to me then I ever could have imagined.
However, the years were not always easy on me. The difficulty of trying to live a considerably normal life with a sibling with a disability is more challenging than one would think. He is not only my brother but my twin. His name is Dante and he has a form of autism that makes him unable to speak actual words, most of the time, he responds in sounds. Dante and I were always on two different levels. As the first born, Dante seemed like he could do everything. After several months of being on this Earth, he decided that he could walk, talk and pee in the toilet all by himself. I couldn't walk, barely moved, and was spoon fed often. Then one day around the time when we just had turned two years old, my brother was diagnosed with autism. For years, my mother, my brother, and I lived off his disability check just to have our basic needs and get by on rent each month. His dependence seemed so unfair. One of my biggest goals in life is to be independent and not rely on others to live day to day, especially after seeing it first hand with my own brother. As his challenge is a challenge to me as well, I am nevertheless grateful that I am not the one in his shoes but I can not help but wish there was something I could do to break him out of this mental prison he will be in for life.
Lastly, even though our relationship wasn't as strong as I would of hoped- one of the most difficult periods I have ever endured in my life so far was losing my father before I even made it into middle school. I thought we would have had more time to fix our relationship. He was not the best of dads, but he was definitely not the worst. I didn't know then that depression could kill a person from the inside, out. He was easily irritable, but also constantly saddened. It upset me that I wasn't even enough to make him happy anymore. It's hard to help someone fight when they have already given up. His death led to me to reflect on myself and how I would want to be remembered. I recall one moment where him and I were having one of our 1 conversations.
I knew by the way he looked at me if I was in for another one of his serious talks about life. It was about college and planning out my future while I was still young. He kept telling me how he hoped I would seek a higher education one day, no matter what challenges I might encounter in that process. He begged me to pursue all the positive opportunities I could in life, because sometimes people don't get that many. One of his biggest regrets was never having graduated from high school. My father never wanted to imagine one of his children doing the same thing. He would have been so proud to see that even as I became older, my main focus still stayed on academics. I am trying my hardest now to achieve the things my father and I talked about that day: not just because it would have made him happy, but because it will less regret in life.
I typically try not to think of my challenges too often, but I have concluded that my challenges are what keep me motivated and persistent to accomplish my highest goals. I refuse to let adversity crush me because that would mean that my family and I would have done all this suffering for nothing. I do not live in vain, I live for a purpose and that is to inspire people to be more than what they think they are capable of. No day is promised, but the future is always full of possibilities.
Related Topics