A response to The Swimmer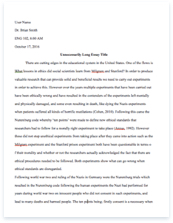 The whole doc is available only for registered users
A limited time offer! Get a custom sample essay written according to your requirements urgent 3h delivery guaranteed
Order Now
The swimmer is a story written by John Cheever, a writer who gives a story about a man who is referred to as Neddy Merrill (the swimmer). Neddy is portrayed as a man who is un-aware of the condition of his family (the four daughters) and prefers to spend the day drinking. An ironic nature of the man is depicted especially when he prefers to swim his way home rather than walking or driving. The author's statement,swimming his way home, could easily mislead the reader to understand that there is a river or channel connecting his present position to his destination. Instead,what is referred to in this story, is that Neddy swims through all the pools of his neighbors before reaching his home (John 2).
According to John Cheever, alcohol is a misleading element in any given society and should not be allowed to ruin our morals and behavior. John seems to believe that alcohol make individuals deviate from their responsibility and also attracts inappropriate behavior practices across all age groups. I highly agree with John's point of view regarding the irresponsibility brought about by drinking alcohol especially among parent. It is evident from the story that Neddy has no idea of his family situation, something that the neighbors have to remind him of, out of the rumors that they have had. I also agree with this point of view for I have experienced situations whereby a friend of mine had parents who used to drink a lot. Those parents often forgot to pay school fees for my friend and even some house bills. The family situation of my friend's homes become worse until the government had to intervene.
My personal experience with having a drinking family member makes me agree with John's perception that drunken members of the society are usually not respected. This is evident in the eleventh paragraph of the story where Neddy is laughed at, jeered at; a beer can was thrown at him, and had no dignity or humor to bring to the situation. From a personal perspective, drunken members of the society are usually considered to be hopeless in like, and, as a result, other members of a society take them for granted. Though alcohol is at times taken for leisure purposes, people should not let their respect and dignity be washed down by alcohol.
To some point I disagree with the author's point of view, that irresponsible people in the society are treated with mercy and concern. I believe that parents like Neddy, who sell their homes and leave their children to suffer are often treated with spite in any given society. A concept that the author portrays to be quite contradictory especially when Mrs. and Mr. Halloran treat Neddy kindly especially having have known what he had done to his family. Ironically the author depicts that Mrs. Halloran was even glad to see him and allowed him to swim in her pool. From my personal experience irresponsibility brought about by an individual's drunken nature is not tolerated in any societal context.
In conclusion, it is realized from John story that shame and misery are the fruits of irresponsibly. This is evident in the third last paragraph of the story where Neddy cries for the first time in his adult life due to his situation (John 11). As a result of this, it is clear that one should not allow alcohol to take control of his/her life.
References
John Cheever. The Swimmer: The Death of Justina. New York, N.Y: Caedmon, 1981. Print.
Related Topics