"A Man Without Words" by Susan Schaller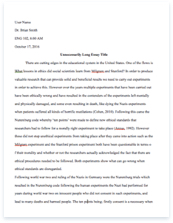 The whole doc is available only for registered users
Pages: 4
Word count: 808
Category: Mind
A limited time offer! Get a custom sample essay written according to your requirements urgent 3h delivery guaranteed
Order Now
In her book, "A Man Without Words," Susan Schaller describes how the eighteenth century French philosophers continually exercised speculation as to how much of human nature was "given" and native, and how much was dependent on language and culture. She encountered Ildefonso, a Mexican Indian who lived in the most unique form of isolation, who was born deaf, and had never been taught even the most basic language. She set herself the challenge to make contact with this man, and introduce him to language. Ildefonso not only lacked any language but lacked any idea of language: he had no conception, at first, of what Schaller was trying to do, yet Ildefonso had a yearning to communicate and to be more than just himself in isolation. Inclusively, this book vividly conveys the challenges, frustrations, and the exhilaration of opening the mind of a congenitally deaf person to the concept of language. I believe the topic that stuck out to me the most was mentorship—the mentoring of a language-less mind, while bringing forth the qualities of patience, persistence, and, eventually, growth in both Schaller and Ildefonso.
The entirety of the text reflected Schaller's predominant efforts of constant and continuous care for Ildefonso's success, no matter how difficult their communication had been between each other. Additionally, through her mentorship, she not only talked about ASL but she also exemplified the hand forms and gestures in which she was teaching Ildefonso; therefore, the reader has an opportunity to learn from Schaller at the same time. This novel was easy and fun to read probably being because I was interested in the topic. Sign language has always been fascinating to me; I even took a class at Grossmont when I was in high school. Being interested in the topic made reading strategies easier to engage in while reading. Some of these strategies I used were asking questions, annotating in the margins of the text, and making connections to my own personal experience. One question I asked myself before Susan Schaller asked in the book was, "Is it even possible to think without language?" I made the connection that animals think without language, so I could not see how people who are deaf could not either.
Furthermore, a personal experience I encountered was when I took a high school class with a girl who was also deaf. Even though she was not exactly like Ildefonso, she opened my eyes to a different world that many people do not understand and do not care to understand. On another note, some of the reading voices I had influenced the way I read at times. For example, sometimes I would read a particular line, such as "I thought Charlie—the retarded man in Flowers for Algernon, and the experiment to make him intelligent (p.58)," and refer back to the time when I read that book and start thinking about how cool it was that Susan mentioned this. Then I would create an elaborative thought of what other things Susan and I may have in common with other related or non-related experiences. Additionally, when I read, "By now he should have learned enough language to answer some of my old and new questions in detail(p.142)," I had suddenly thought of the time back when I was in kindergarten writing out my ABC's. Throughout the whole paragraph of "reading," I was just in one deep thought about what it would be like not being able to match words with thoughts.
These examples were both illustrations of distracting voices. In comparison of reading this novel and the other choice novels, there were definitely similarities and differences in the ways that I read. For example, one similarity among all the novels were the distracting voices, resulting from reading the text and thinking about something else that may have related to the topic or was completely off topic. Conversely, some differences among the novels were reading sentences/ paragraphs over, resulting from lack of understanding. In "A Man Without Words," I did not find myself having to read over very many things, whereas I had to many times in "Flowers for Algernon" and "Black Boy."
Overall, as a result of reading this novel and the other two novels, I have learned in a broad sense that reading gives me the opportunity to actually learn new, familiar, or unfamiliar information that I could potentially benefit from—of course, I can benefit from new knowledge. Reading "A Man Without Words" has given me a better understanding of Deaf culture, and the fierce pride that exists there. Moreover, reading these novels allowed me to think more critically about certain topics, and has created a desire to read more books and therefore continue my learning development along the way. I know this is something that will certainly help me throughout my whole life.
Related Topics