A Distinguished Professor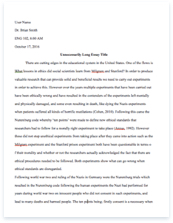 The whole doc is available only for registered users
A limited time offer! Get a custom sample essay written according to your requirements urgent 3h delivery guaranteed
Order Now
University of Pittsburgh provides a prototype of the characteristics of a distinguished professor. It says,
"Such a designation recognizes extraordinary, internationally-recognized, scholarly attainment in an individual discipline or field. The basic performance criteria and expectations for discipline- or field-based…By nature of their appointment as Distinguished Professors, these individuals are expected to make special contributions to the intellectual advancement of their home departments and schools, as well as to the institution as a whole."(UoP)
The above-mentioned qualities manifest the demands of a designation rather than the traits and characteristics attributed to and desired of a "distinguished professor". A distinguished professor is a fine blend of comprehensive and in-depth acquired knowledge, creative and innovative mind, research oriented mental faculties, an inquisitive nature and prowess to transfer the knowledge in the best possible way.
Contrary to general educationalists and professors, a distinguished professor does not believe in the mere transfer of knowledge but he also charges the creative batteries of his students and inculcates a spirit in them to analyze and interpret on their own. His domain of activities does not only include classroom but also outside the sphere of classroom.
            Analytical Thinking is about bringing disciplined analysis to data and situations, to see cause and effect and to use this to make effective decisions. A distinguished professor looks objectively at every side of an idea or situation to ensure that all outcomes are thoroughly assessed before deciding on the appropriate course of action.
A distinguished professor must possess the potential capability to formulate new ideas or to adapt or use existing ideas in a new or unexpected way to solve problems, and to think ahead to spot or create opportunities and maximize them. He also possesses the behavioral competencies of flexibility and self-awareness. Flexibility does not only stand for ability to update and mold his thoughts but it also implies to adapt to a variety of situations, individuals and groups.  It is about being able to think on your feet, and not being disconcerted or stopped by the unexpected.
The distinguished professor does not take self-awareness as mere estimates of one's capabilities like other common professors but according to him self-awareness capacitates the distinguished professor to understand his own emotions and 'triggers' and how they impact on his own behavior and/or the behavior of others.  It is also about understanding your own strengths and limitations. These two competencies are essential features of a distinguished professor personality as it helps in a multicultural educational and research milieu where situations arrive frequently and one has to deal with people with individuals' auras and thoughts.
            Again his intellectual faculties, obsession to inquiry and analytical thinking differs substantially from his ordinary counterparts. His intellectual faculties not only locate the potential horizons of research and study but his obsession to inquire enables him to move ahead pragmatically and yield results. His analytical thing does not reside in the domain of fictitious idealism and hypothetical sphere but he works to get verifies and verifiable result to sustain his idealism or hypothesis. So a distinguished is knitted with the fine fabrics of intellectual curiosity, creative thinking, a dynamic teaching methodology and revered research work.
References
University of Pittsburg. "Policy and Procedure Governing Appointments to Distinguished        Professorships." 20 Oct. 2006 <http://www.pitt.edu/~facaffs/distinguished.html>
Related Topics