When we Were Kings Analysis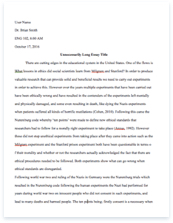 The whole doc is available only for registered users
Pages: 4
Word count: 943
Category: Boxing
A limited time offer! Get a custom sample essay written according to your requirements urgent 3h delivery guaranteed
Order Now
When we were kings directed by Leon Gast is a documentary on the famous "rumble in the jungle" heavy weight championship between George Forman and Muhammad Ali. The fight took place October 30, 1974 in Zaire, Africa.
Rumble in the Jungle was the title match between world Heavyweight champion George Foreman and his challenger the former champion Muhammad Ali. The fight took place in Zaire; where it was promoted by Don King, This event was one of Don King's first big promotions as he got both Ali and Forman to sign separate contracts that would give them $5 million if they win and as well as get some big names to perform in Zaire such as James Brown and B.B. King.
The main themes and ideas of when we were kings are identity, culture and self esteem, these themes a represented through various visual techniques such as camera work and music.
Throughout the film the theme of identity and culture are expressed through camera work, showing a comparison of life styles between Africans and African-Americans, the life style of rich and poor. Ali once describes that there is dignity and freedom is poverty as in America they are spoiled. Muhammad Ali was revered in Zaire, as he was the great African American boxer who stood up against the American Government. The people of Zaire liked that he refused to go to war. Forman was less popular than Ali in Zaire but was the crowed favorite everywhere else. No one thought that Ali can win; Insiders say that in Foreman's dressing room handlers actually prayed he wouldn't kill Ali. Because of these criticisms and his courage Ali, had become a hero. There is a sense of irony in the whole idea of Ali defending the good course and not fighting for himself, as the President in Zaire Mobutu Sese Seko was a dictator.
Muhammad Ali has high self-esteem he is handsome, funny, powerful and a good man. Ali is full of confidence and charisma making him a very likable person. George Foreman had very high self-esteem as well; you could say that his personality is opposite Ali's. He was the man who beat both people that Ali had lost to and unlike Ali who was an agile dancer Foreman relied on brute force and fought by cornering his opponents. Ali and Foreman spent much of their time in Zaire training, Foreman after punching humongous punching bag making the whole room shake he would leave a dent of 'half a watermelon' size. While Foreman was punching the bag Ali would not look at him once, this shows that Ali had no fear and was very confident. The fight between Forman and Ali was sometimes described as Age vs. Youth.
Before the first round, one of the interviewee describes Ali's dressing room as the 'last supper'.
When the fight first started Ali attacked Foreman with right hand jabs this was surprising as Ali is famed for his speed and how he "dances" in the ring. Foreman was enraged at Ali's right hand jabs and started to hit Ali harder. After the first round they saw fear in Ali's eyes for the first time, at that moment Ali realized he could not beat Foreman and decided to do the rope-a-dope. Ali's plan was to let Foreman waste all his energy throwing punches at Ali that would either be dodged or be blocked so that Ali would take little damage. Ali would show little resistance to Foreman's blows, as he would occasionally throw a few jabs at Foreman's face.
Ali would consistently outwrestle Foreman, using tactics such as leaning on him to making him support his weight or holding his head down, these were both disorientating moves, which can increase the chance of a knockout. While doing all this Ali would constantly taunt Foreman, telling him that his not punching hard enough, this made Foreman go berserk, throwing harder punches and getting tired very quickly. Soon their fight became so basic that it was described, "they were like children, not professional heavy weight boxers".
The interviewees describing the moment emphasized the fight and they wasn't much music but the diegetic sound of the crowed and the commentaries.
After several rounds of punching Ali and supporting his weight Foreman began to tire. After the fifth round it was visible that Foreman's stamina was draining from him and the damage caused by Ali's occasional jabs. Finally in the eighth round, Ali had a chance to throw a rock-hard punch straight to Forman's face. Foreman was staggered and started to twirl before he was knocked out, he could not get up on the count down and Ali was crowned the winner.
One of the interviewees describes Ali as a 'sleeping elephant', where you can do anything to the elephant while it's sleeping but once it wakes up it trembles everything. Others describe the moment, how he did it even though the odds were against him. These interviews show how much people loved Ali and how they idolized him.
The ending with the black & white photos and the historic footages show Ali's life, the important events and the people he met. The song 'when we were kings' is playing the background as the footage of Ali meeting some important people at the time such as the Jackson 5, Beetles and the King, Elvis. These footages show us what an important figure he was at the time, how these people had to come meet Ali sometime in their life.
Bibliography:
My own notes(Kevin Nam, Sydney, Australia)P.Nesbitt (carlingford High School)
Related Topics