What the Army Values Mean To Me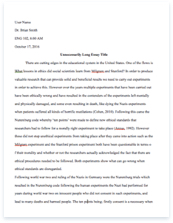 The whole doc is available only for registered users
A limited time offer! Get a custom sample essay written according to your requirements urgent 3h delivery guaranteed
Order Now
Many people know what the words Loyalty, Duty, Respect, Selfless Service, Honor, Integrity, and Personal Courage mean. But you don't see how much these words can affect people's lives as much as they do a soldier's life. As a soldier, I learned these values during basic combat training, and have since applied them to the way I live my life every day. These values are important to me because they create a guideline for me to follow. They help create goals for me to achieve and beliefs to adhere to.
Loyalty means bearing true faith and allegiance to the U.S. Constitution, the Army, your unit and other Soldiers. Bearing true faith and allegiance is a matter of believing in and devoting yourself to something or someone. A loyal Soldier is one who supports the leadership and stands up for fellow Soldiers. By wearing the uniform of the U.S. Army i am expressing my loyalty. And by doing my share, i strive to show my loyalty to my country, my unit, and to my battle buddies to the left and right of me. Duty goes hand in hand with loyalty, because if i failed to fulfill my duty, i would be failing my unit and my battle buddies. I would fail to remain loyal to my country.
Duty means fulfilling your obligations. Doing my duty means more than carrying out my assigned tasks. It means being able to accomplish tasks as part of a team. The work of the U.S. Army is a complex combination of missions, tasks and responsibilities — all in constant motion. Our work entails building one assignment onto another. You fulfill your obligations as a part of your unit every time you resist the temptation to take "shortcuts" that might undermine the integrity of the mission's outcome. Duty, to me, means coming in to work every day and giving my all to any and all tasks that are assigned to me.
Respect means treating people as they should be treated. Every time i recite the Soldier's Code, i pledge to "treat others with dignity and respect while expecting others to do the same." Respect is what allows us to appreciate the best in other people. Respect is trusting that all people have done their jobs and fulfilled their duty. And self-respect is a necessary component within the Army value of respect, which results from knowing you have put forth your best effort. The Army is one team and each of us has something to contribute. Respecting your leaders falls in line with duty, because it is your obligation to take direct orders and accomplish the tasks given. Failing to fulfill the duties given to me shows a direct lack of respect to the superiors appointed over me.
Selfless Service means putting the welfare of the nation, the Army and your subordinates before your own. Selfless service is better than just one person. In serving my country, I am doing my duty loyally without thought of recognition or gain. The basic building block of selfless service is the commitment of each team member to go a little further, endure a little longer, and look a little closer to see how he or she can add to the effort. Without selfless-service, no one person would feel obligated to fulfill their duties to their country and to their loved ones.
Honor means living up to Army values. The nation's highest military award is The Medal of Honor. This award goes to Soldiers who make honor a matter of daily living — Soldiers who develop the habit of being honorable, and solidify that habit with every value choice they make. Honor is a matter of carrying out, acting, and living the values of respect, duty, loyalty, selfless service, integrity and personal courage in everything you do. It is my honor to be able to go to work every day and fulfill my duty, through every task i am assigned.
Integrity means doing what's right, legally and morally. Integrity is a quality you develop by adhering to moral principles. It requires that you do and say nothing that deceives others. As your integrity grows, so does the trust others place in you. The more choices you make based on integrity, the more this highly prized value will affect your relationships with family and friends, and, finally, the fundamental acceptance of yourself. Having the integrity to complete tasks that are assigned requires the willingness to complete your duties.
Personal Courage means to face fear, danger or adversity (physical or moral). Personal courage has long been associated with our Army. With physical courage, it is a matter of enduring physical duress and at times risking personal safety. Facing moral fear or adversity may be a long, slow process of continuing forward on the right path, especially if taking those actions is not popular with others. You can build your personal courage by daily standing up for and acting upon the things that you know are honorable. Duty and personal courage go together because it takes courage to fulfill your duties even when your life is at risk, or even everyday in garrison.
Related Topics