What is Interpersonal Relationship?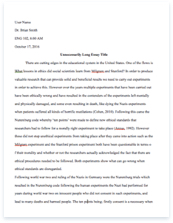 The whole doc is available only for registered users
A limited time offer! Get a custom sample essay written according to your requirements urgent 3h delivery guaranteed
Order Now
The Interpersonal Relationship means a relationship between two or more person in one common goal. I choose theory of Peplau because I believe this theory explain and discuss the goal of nurses in every patient/client they met in providing nursing care. Hildegard Peplau,is born in Reading, Pennsylavania in 1931.She is remembered by nurse as 'the mother of Psychiatric nursing" She made a major contribution to nursing science, professional nursing and ,of course, to psychiatrics nursing specialty through development of the Interpersonal Relationship paradigm, a mid-range theory that has influenced the importance with which the nurse-client relationship is regarded". The essential of nurse-client relationship and its significant as a therapeutic modality operationalized Peplau's scholarship and it provides the basis for both the art and science of nursing practice".
In this theory as a nursing student this can help and guide me in my future nursing practice .Our goal as nurses to our client/patient is to build a new relationship and earned trust in providing health care in any settings. Hildegard Peplau discusses her theory about interpersonal relationship in relations to nursing profession. The main idea of theory is for the nurse to adopt different approach and roles.
Peplau's "focus on Interpersonal process and therapeutic relationship that develop between nurse client includes nurse patients communication, pattern. Integration and role of nurse" (Nursing theories, 2011).This theory also explain the importance of nurse ability and knowledge to understand their own idea and behavior to help other to identify the problem and other health concern. She defines it as "Human relationship between an individual who is sick, or in need of health services" (Peplau, 1988). She also introduced her four phases of therapeutic nurse-client relationship with the following sequential pattern such as" Orientation phase means is the direct the nurse and involves engaging
INTERPERSONAL RELATIONS
The client in treatment providing explanations, informations, and answering questions "the second one is identification phase begins when the client works interdependently with the nurse, express feelings and begins to feel stronger". Third one is exploitation "the client makes full health services offer". And last one is Resolutions phase "client no longer needs professional services and gives up dependent behavior". (Peplau, 1988).she also identify
Sub-concept which is roles of nurses in the therapeutic nurse –client relationship is the primary roles such as. Stranger "receives the client same way one meets a stranger in other life situations. Provides accepting climate that build trust". Teacher who" imparts knowledge in reference to a need or interest" Counselors "helps to understand and integrate the meaning of current life circumstances. Provides guidance and encouragement to make changes". Surrogate "helps to clarify domains and dependence interdependence and independence and acts on the client behalf as an advocate". Leader 'helps client assumes maximum responsibility for meeting treatment goals in a mutual satisfying way" (Nursing theories, 2012).
I choose this theory in relation to my experience in my clinical area because this theory provide an idea to deal with client/patient in my nursing practice in the future.one of example scenario I experienced in my clinical area was elderly clients most of them are diagnose with Alzheimer's and Dementia, dealing with them is very challenging in matter of communication and building a rapport and trust.one good example was during my first day of my duty I consider myself as stranger to everyone in the unit .during the first day of my duty I have to start to know everyone and build a trust to everyone by way of introducing myself, explain my purpose and the reason about my presents, and to provide some informations about myself as a student in that facility .In this phases applied the theory of orientation phase ,I have to establish rapport to build
INTERPERSONAL RELATIONS
Their trust and meet their expectations. In evidence practice of nursing standard "the client needs are the focus of the relationship of inter personal relationship are based on, trust, respect, intimacy and appropriate use of powers" (CNO 2006) the one good example in giving medication as ordered to residents, I need to build trust and earn their respect during the time of administration of medication and any others procedure such as catheterizations I have to learn different approach and behaviors to gain respect and understand every individual ,so that they will feel more secure and comfortable, I experienced in my few more days of my clinical the residents starts to express their feelings and seek assistance about their feelings and complains such as pain and other concern. they allowed me to give medications without any doubt or hesitant, and the thirst phase applied of this theory when my resident already build full trust by simply every time they need help they talk to me about their concern and approach me in many different idea, and also in providing personal care such as toileting and dressing .
I'm also as their Surrogate too I experienced in many ways to assume them that some treatment goals are met. one of my example was when client complained of pain I have to inform my preceptor and to inform the doctor to be able to receive any treatment on his/her behalf as an advocate .and last Resolution phase of this theory applied when my clinical about to end but our relationship presently with my thirty three residents still on going until the end my internship.
INTERPERSONAL RELATIONS
Assumptions
This theory "nurse-client can interact verbal and non- verbal communication," "communication and interviewing skills remain fundamental nursing tools" (Gonzalo, 2011).
In this theory that client/patient who doesn't have any need to have feelings need to communicate to others. Examples: are the patient/client withdrawn are less emphasized". (Gonzalo, 2011).the idea nurse-client relationship is limited to capable of conversing specifically those who are unconscious .Gonzalo,2011).
REFERENCES
College of Nurse of Ontario. (2006).Therapeutic Nurse-Client Relationship retrieved from http://www.cno.orgglobalassests/4learn about standards and practice guidelines/prac/learn/modules/profstsnads/slides/nurse-clientrelationship.
Gonzalo, A. (October, 2011) Application of Interpersonal theory in Nursing Practice, retrieved from http:// current nursing.com/Nursing Theory Peplau's.
Fawcett, J. (2005). Peplau's Theory of Interpersonal Relationship, retrieved from http;//journal.sagepub.com
Related Topics