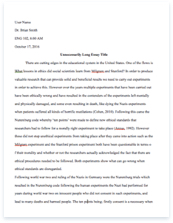 The whole doc is available only for registered users
Pages: 4
Word count: 785
Category: Business
A limited time offer! Get a custom sample essay written according to your requirements urgent 3h delivery guaranteed
Order Now
Wal-Mart and K-Mart are two of the largest and most successful retail outlets in the country. Both retailers have been around for fifty years and made their success out of low cost retailing. In 1990 Wal-Mart surpassed K-Mart as the largest retail outlet in the country. In this paper I will discuss the strategies being used by both firms, the success/failures of these strategies and conclude with a comparison of the two.
Wal-Mart was founded in the early 1960's in Rogers, Arkansas by Sam Walton. Sam Walton wanted to create a store that would provide its customers with quality products at the lowest price possible. Sam Walton told Wal-Mart associates "Customers are the reason why we're in business. And when we exceed their expectations, we're at our best. From the day the doors opened in Rogers, on July 2, 1962, Wal-Mart's culture has been built on a common purpose: saving people money so they can live better." (Duke, 2012 pg. 1) Wal-Mart has adopted a very successful business strategy of being the retail industry's low-cost provider. Because Wal-Mart is the largest retailer in the world it is able to dictate the price it pays for merchandise.
Wal-Mart buys its merchandise in huge volume amounts and because of this, the organization is able to get discount pricing. Wal-Mart is also very successful at cutting cost. The retail giant keeps up with technology and uses this technology to save money. For example, Wal-Mart led the way for establishing the universal bar code system and "became especially good at exploiting the information behind the bar code and is considered a pioneer in developing sophisticated technology to track its inventory and cut the fat out of its supply chain." (Wilbert, 2012 pg.1)
K-Mart was founded in 1962 by Sebastian S. Kresge. K-Mart was the original founder of the low cost provider strategy. K-Mart built its strategy around the concept of high volume with low cost merchandise. For many years K-Mart was the worlds largest retailer. Today, K-Mart is the third largest retailer in the world behind Wal-Mart and Target. K-Marts business strategy has shifted through the years and today its strategy has emerged into a hybrid of two business strategies consisting of Low cost provider and focusing on a narrower market niche. In the February 2009 chairman's letter, Edward Lampert outlined 5 key pillars to K-Marts business strategy: 1. Creating lasting relationships with our customers by empowering them to manage their lives 2. Attaining best in class productivity and efficiency
3. Building our brands
4. Reinventing the company continuously through technology and innovation 5. Reinforcing "The SHC Way" by living our values every day (Lampert, 2012 pg.1) These pillars served as guideline for the company to progress but since then the company has altered its business strategy. Today K-Mart is placing more emphasis on multicultural marketing to appeal to a base of low-income Hispanic consumers in urban populations. "While some urban shoppers are lured to suburban Wal-Mart's for cheap prices, Kmart's advantage is that it has more stores closer to where this population lives in cities. In other words, the one-time king of discounters might evolve into a niche player, if it hasn't already. "They really have become an ethnic discount store, and that could be a successful strategy." (Schultz, 2012 pg. 1)
Whether K-Marts strategy will be successful or not depends on how well they can execute that strategy. As of late, K-Mart has seemed to not have a clear and identifiable business strategy that will keep the once successful retail giant afloat. Wal-Mart's business strategy on the other hand has proven to be very successful and one that many companies across the world try to emulate. Wal-Mart continues to have successful years and is increasing their expansion domestically and across the world. It is very clear that the manner in which Wal-Mart has carried out its business strategy has been more successful than K-mart.
References
Cheng, A. (2012, October 10). Wal-Mart Outlines Strategy – WSJ.com. Business News & Financial News – The Wall Street Journal – Wsj.com. Retrieved December 8, 2012, from http://online.wsj.com/article/SB10000872396390443749204578048842451207454.html Duke, M. T. (2012). 2012 Walmart Annual Report – CEO Letter. Walmart Corporate – We save people money so they can live better. Retrieved December 8, 2012, from http://www.walmartstores.com/sites/annual-report/2012/CEOletter.aspx Lampert, E. S. (2012, November 15). Sears Holdings Investor Information. Sears Holdings Corporation – Corporate Website. Retrieved December 8, 2012, from http://www.searsholdings.com/invest/ Schultz, E. J. (2012, March 19). Update your user profile – Profile – Advertising Age. Advertising Agency & Marketing Industry News – Advertising Age. Retrieved December 8, 2012, from http://adage.com/article/news/kmart-lost-attention-discount-shoppers/233369/ Wilbert, C. (n.d.). HowStuffWorks "How Wal-Mart Works". HowStuffWorks "Business & Money". Retrieved December 8, 2012, from http://money.howstuffworks.com/wal-mart.htm
Related Topics