Volunteering: People of Different Races and Social Status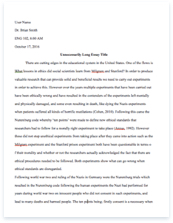 The whole doc is available only for registered users
A limited time offer! Get a custom sample essay written according to your requirements urgent 3h delivery guaranteed
Order Now
My story is far more than what is documented on parchment paper. As I write I find that mere words are not sufficient in expressing my identity. Yet; if the eyes are the window to the soul, then words are the gateway to the mind. Thence, as I continue I hope that I may capture you as I take you along my journey of how I learned not to be the product of success, but the source by acknowledging my education, environment, and circumstances as teaching and learning tools in altering the lives of the vulnerable and misrepresented communities through policy reformation in health care.
As an African American and woman, dating back to when in my mother's womb I had already been marked to be predisposed to America's racial legacies inflicted on people of color that continues to haunt current policies and practices that create unfair disparities between the majority and minority groups in the many studies of health care. Without understanding 'aversive racism' and 'implicit bias' that are difficult to rectify because of their subtle and unnamed nature, it will remain invisible and harmful for the well-being, self-esteem, and standard of living of people of color. Effectively preventing disease and prolonging life calls to effectively identifying and solving the root cause(s) of the problem and then, designing and implanting solutions to oust the root cause of the problem.
The scourge of health inequalities experienced by people of color and Hispanic populations continues to be unbated. I am certain that diseases and suffering will be minimized-if not completely eliminated- by eradicating poverty, ignorance, and corruption through good education and honest and effective governance. At the university level with the exposure to medical publications and courses, I used the knowledge I had acquired to enhance my experience and impact others' lives when devoted myself to research the health of middle school students in Flint, MI. post water scandal in which I saw a situation in where I saw decades of environmental racism and the everyday functioning of capitalism racism.
The immediate problem was not of a polluter cutting costs, but of the abandonment of Flint decades ago of the local state with shrinking services, infrastructure investment, and democratic practices. Volunteering in the surgical unit at Mclaren Greater Lansing Hospital in Lansing, Michigan it was imminent that the 'safety net' hospital whose mission is to provide healthcare for individuals regardless of their insurance status or ability to pay, was not able to reposition themselves in the marketplace as the Affordable Care Act called to achieve near-universal health insurance coverage. This resulted in severe budget shortfalls in staff and clinical services such as the psychiatric care and surgical unit, to name a few. As budget cuts fell, prices rose as I spoke with patients who saw spikes in their monthly co-pays for their medication. What I have experienced while doing both research and volunteering just reiterates that social factors, structural barriers, and structural racism interlock to further social disparities; preventing meaningful and sustainable change in health care.
People of color, Hispanics, indigenous people, and others who are already disadvantaged by belonging to particular social groups are all still at a disproportionate risk in facing barriers in accessing adequate health care due to differential access to health care and treatment modalities that in which are inflicted by systemic racism and social disparities. My mother in April of 2018 scheduled a colonoscopy exam after the news of her sister having colon cancer. During the examination the physician removed masses that had grown in her small intestine, but sent one enlarged mass to a lab for further testing.
Three weeks later my mother received the call that that specific mass was cancerous and that she would be scheduled for an MRI, with surgery to follow weeks after to remove two inches of her small intestine. My mother's health insurance premium plan was able to pay eight hundred dollars of her medical expenses; leaving her with a copayment of two thousand dollars she would pay monthly. As she updated me on her hospital visits and status of bills, I knew her circumstances were possibly in part of the domino effect of hospitals increasing costs of services due to the health insurance companies have quoted premium increases to make up for losses in health insurance exchanges with large private health insurers. As my mother proceeded in the next steps in removing the cancer, with everything in mind I had questions and theories.
Was my mother's premium increase due to her insurer paying higher physician prices, which varies greatly based on area of physician-hospital integration and physician competitiveness? There was not enough evidence to determine whether her having a cancerous mass as her sister was hereditary, that left me to ask could it possibly be the overtime buildup of the composition of food, environmental factors, poor habits, and stress that created this cancerous mass? If so, should we question our environment that is home to disparities as the underlying predecessors for illness? As these, and more were some of my questions. Witnessing my mother persevere through her traumatic experience without a doubt solidified me knowing of my calling to serve others through policy reformation, health management implantation, and research in efforts to better the lives of others.
In particular, to facilitate new and improved health care regimes in the private sector to affect those globally, but specifically target urban and underrepresented communities to decrease diseases and ailments most prevalent within races is not only my passion; but is me being the source of success by administering to underdeveloped and misrepresented communities. Placed to work at the Detroit Health Department under the mayor of Detroit, Mike Duggan, in his summer associates internship program I interned in the communications department in efforts to further optimize the health and quality of life for Detroiters through evidence-based, community-driven solutions.
I was intrigued and inspired by Detroit Health Department director, Dr. Joneigh Khaldun implementation of the programs, SisterFriends Detroit that focuses on reducing Detroit's infant mortality rate by offering mentors 'sisters' and services to mothers and their new born baby up until six months and iDecide Detroit that focuses on reproductive health initiative aimed at reducing the unintended teen pregnancy rate in the City of Detroit, to name a few; while being an emergency physician at Henry Ford Hospital. She exhibits the ability medically and through social reform prevent disease and prolong life. Dr. Joneigh Khaldun possesses the qualities of a true renaissance woman. As I further my knowledge on policy reformation and health management through research I aspire to possess her qualities in my grad and post grad work and achievements.
As I pursue a graduate degree in health management and policy and as an native Detroiter, it is with much respect that I study the publications and work of Dr. Richard L. Lichenstein. To diversify health care through reform is the goal of my passion, with being the co-principal investigator of the Detroit Community-Academic Urban Research Center and former director of the U of M Summer Enrichment Program in health management, Richard L. Lichtenstein contributions to communities in Detroit is aspiring. His contributions to educational leadership in health administration is what I hope that I may in turn do for my city that has helped mold me into the person I am today.
Moreover, dissecting the root problem is key to understanding what is at hand, how to approach the issue, and how to go about making possible changes so that it may not happen again. The factors that make up the root causes of health inequity are diverse, complex, evolving, and interdependent in nature. It is important to understand the underlying causes and conditions of health inequities to inform equally complex and effective interventions to promote health equity. With the magnitude of change I sought to accomplish, I must further my education in understanding health plans and health system design, and too; enhance my knowledge on the most pressing areas of research that lie within health management and policy along with other courses that identifies the challenges of implementation and evaluation. Yet, my quest for learning does not stop there. Outside of the classroom I look forward to interact with diverse peers through organizations and mere conversation.
It leads to greater active thinking, intellectual engagement and motivation. It is not only bettering the campus in being inclusive, but too it creates a confidence in creative problem-solving, a greater understanding of their field of study and increased comprehension in science and technology. I see myself being a part of the Griffith Leadership Conference; partaking a role in supporting excellence in health management and policy leaders. It's mission to improve health management and policy through teaching and practice conforms in my mission in taking a leadership role in understanding and dismantling health injustices.
Hence fore, that is why I am pursuing and MPH in health policy and management to facilitate new and improved health care regimes in the private sector to affect those globally, but specifically target urban and underrepresented communities to decrease diseases and ailments most prevalent within races is not only my passion; but is me being the source of success by administering to underdeveloped and misrepresented communities. I am passionate in my belief that health is a human right.
Related Topics