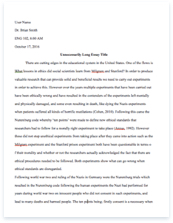 The whole doc is available only for registered users
A limited time offer! Get a custom sample essay written according to your requirements urgent 3h delivery guaranteed
Order Now
The purpose of this paper is to examine the effects of violence in sports. More specifically, the effect of violence in sports towards youth. As Jay Coakley (2009) points out in his book Sports in Society, when athletes engage in violence on or off the field, people see it as evidence that the "moral foundation of society is eroding" (p. 196). The fear from the general public is that young people who see athletes as role models are learning a "warped sense of morality" (Coakley, 2009, p.196). The effect of violence in sports, as this paper will examine, has a lasting effect on young people that often goes unnoticed. In American society, the values we try to promote are believed to be good. Dr. Stanley Eitzen (1996) of Colorado State University thinks "the values are meant to motivate and promote excellence, while making life interesting" (p.182).
We believe that sports participation for children and youth prepares them for success in a competitive society while supplying them a number of positive character traits from participating in sports. A few characteristics include learning to "persevere, to sacrifice, to work hard, to follow orders, to work together with others, and to be self-disciplined" (Eitzen, 1996, p. 182). Looking at the positive effects of sports is an appropriate thing to do most often, as millions of people participate in sports for good reasons. However, learning and obtaining the positive traits listed earlier are not the only things being learned through the sports experience.
The main topic is violence in sports, and this paper will help examine and uncover the ethical dilemmas provided in participating in sports. Before we go any further, what exactly is violence? As defined in his book, Coakley (2009) terms it as, "the use of excessive physical force, which causes or has obvious potential to cause harm or destruction" (p. 196). According to the Merrian-Webster Online Dictionary, it is "great destructive force or energy" (2013). As Paul Palango points out in his article, Child athletes: adult world turns blind eye to the violence, many of today's popular sports encourage player aggression. Sports such as hockey, football, and boxing demand body checking, blocking, and tackling. The article goes on to describe how the culture of these sports can at time go beyond what the sport requires. Coaches, unfortunately, are the ones demanding their players to deliver that extra blow to the opponent, where all they are required to do is simply block or fundamentally tackle them (1985).
The reality is human nature leans to children watching and imitating adults by what they do and what they say. With professional sports being so popular today, and the Entertainment and Sports Programming Network (ESPN) being on many television sets at home, children are watching every move like a hawk. Barry Melrose, an ESPN hockey announcer, described the attitude the hockey coach should have towards, stating "with the smart coach, fighting is a tool…fighting can be used to inspire your team, send a message, change momentum" (Coakley, 2009, p. 207).
Another instance of fighting being promoted in professional sports is the New Orleans Saints "bounty scandal" which started in 2009. The Times-Picayune newspaper detailed the instance report by Katherine Terrell: March 2, 2012 – The NFL announces it has evidence Williams created a bounty program soon after his arrival in 2009. The NFL says the program lasted between 2009-2011 and as many as 22 to 27 players were involved. The NFL also accuses the Saints of putting bounties on Favre, Warner, Green Bay Packers quarterback Aaron Rodgers and Carolina Panthers quarterback Cam Newton. Williams issues a statement later apologizing for his role in the program (2013). Professional football players were being paid behind closed doors to potentially injure professional quarterbacks. These aren't just gladiators like back in the day, these are people who make this their career, their livelihood to provide and support their families. What do you think our youth are processing in their minds as they see this? Yes, the Saints were heavily penalized, but the deed was already done, and the poison has been leaked into the minds of our impressionable youth.
Michael Strahan, one of the best defensive football players of all times, explains in an interview in 2007 his passion for hurting a player on the field: "It's the most perfect feeling in the world to know you've hit a guy just right, that you've maximized the physical pain he can feel…You feel the life just go out of him. You've taken all this man's energy and just dominated him" (Coakley, 2009, p. 194). This is an epidemic, violence in sports, and with each coach, parent, or president against such violence, there are Strahans and hall of famer pitchers like Goose Gossage, who get a rush from the violence sports brings…"I drilled him as good as I can drill him, right in the rib cage. You could hear the air go out of him, and it was beautiful" (Coakley, 2009, p. 195). Where can we start to prevent attitudes just described? As Palango (1985) discusses, the North American sports industry likes to think everything is fine, and specifically with boys, playing sports "makes for better and more virile individuals" (p. 6) In American culture today, we seem to believe that the best way to develop an elite athlete is to train them young and work them diligently, which will in turn keep them busy and out of trouble.
We also seem to have bought in with the idea that with our assertive approach system, the "cream always rises to the top" (Palango, 1985, p. 7). Palango (1985) discovers that "more than 99 percent of child athletes never join the sports elite or become professionals" (p. 13). Some kids find out by age 16 that all the aggression their coach requires them to have and all the pain they endure, isn't worth it to them, and that they aren't disciplined enough and can't meet the physical demands of the sport (Palango, 1985, p. 10).
I will go into greater detail of the role of men and masculinity as it relates to violence and children. An interesting view on violence in sports, is not just the violence on the field, but violence off the field by athletes. In the book Sports Violence, journalist Mike Imren (2013) agrees that violence by athletes has indeed, become epidemic. His opinion is aimed towards the acts of off-the-field violence "perpetrated by athletes from nearly every major sport" (Imren, 2013, p. 50). Coming from sports analysts who commit their time to this topic find it very difficult to make the transition from a playing field filled with violence, to a nonviolent life off the field. In the classroom, teachers aim to teach morals and respect, but in sports such as hockey and football, those morals are contradicted in practices and games. Jesse Armstead, a former linebacker in the NFL, agrees with the confusing morals by stating "during a game we want to kill each other, then we're told to shake hands and drive home safely" (Coakley, 2009, p. 210). John Niland, also a former football player, agrees with this confusion by pointing out that "any athlete who thinks he can be as violent as you can be playing football and leave it all on the field, is kidding himself" (Sports Violence, 2013, p. 45). Further evidence of off-the-field violence is found in a survey constructed by Jeff Benedict and Don Yaeger during the 1996-97 season, which finds that one in five NFL players surveyed had been charged with a serious criminal act. Just in 1997, thirty-eight players in football were arrested for violent crimes.
Analysts also found that in the 2001-02 NBA season, 40 percent of the players had a police record involving a serious crime. These statistics aren't meant to prove a black or white stance that if you play professional sports then you will commit a crime or do bad things. The aim of this research is to show that the emphasis our culture places on professional sports may be creating an epidemic that is not preventing, but rapidly promoting violence (Benedict & Yaeger, 1998, p. 89). If you haven't noticed a theme among football and hockey with violence, it is "almost universally held among football and hockey coaches, their players, and their fans" (Eitzen, 2001, p. 173). The object isn't just to hit, but to injure. The result is a higher injury rate than anyone desires. Going back to the ethical dilemmas created in sports, these behaviors promoted in sports today are unethical. John Underwood from Sports Illustrated supports this claim: Brutality is its own fertilizer. From 'get by with what you can' it is a short hop to the deviations that poison sport…but it is not just the acts that border on criminal that are intolerable, it is the permissive atmosphere they spring from. The 'lesser' evils that are given tacit approval as 'techniques' of the game, even within the rules (Eitzen, 2001, p.174).
These techniques are questionable by nature, and although there are aggressive female sports in society today, the best way to understand all of this is to look at masculinity in culture. Coakley (2009) supports this and believes that, "if we want to understand violence in sports, we must understand gender ideology and issues of masculinity in culture" (p. 200). He claims that young men join sports with differing identities than do young women. His main explanation is that, although "few males truly enjoy hitting and being hit, and that one has to be socialized into participating in much of the violence commonplace in sport, males often view aggression, within the rule-bound structure of sport, as legitimate and 'natural'" (2009, p. 201).
To defend all of the professional athletes that play in these violent-breeding sports, most of them aren't purposely joining to attack or hurt people, instead, they learn to define the acts of injuries as a necessary part of the game. In most societies, playing in power and performance sports has become an important and powerful way to prove masculinity. In America today, competitive sports has such a major impact on everything, and the last thing young kids want to do is become crushed by labels that they don't fit in. I don't believe anyone to be labeled as an outcast. Boys discover if they play these sports and others see them as being able to do violence, they can skip labels such as "pussy, girl, fag, wimp, and sissy." In research on this issue, it is helpful to understand if a boy avoids these violent sports, he risks being cast out from his male peers (Coakley 2009).
Few examples are shown stating the issue we face today with violence in sports. What can be done to prevent this and how can we as educators, coaches, and parents model for our students, athletes, and kids that violence in sports isn't the key to being accepted and in fact can result in isolation in the future and blurriness of morals with facing everyday decisions? The steps one can take could start with setting rules for good behaviors. As a coach, I always have team rules, which I ask athletes to help me set, so they can take ownership of them and think objectively of what is acceptable instead of just doing as they are told.
In the book Successful Coaching, Rainer Martens (2004) suggests adopting the Athletes Character Code as a basis for your team rules. "Team rules create boundaries for acceptable and unacceptable behavior to help develop
character and help you manage your players so that you can be a successful team" (p. 62). He also prefaces his suggestion to use team rules by warning not to use simply this method to prevent violence on and off the field/court, etc. He stresses the importance to explain and discuss moral behavior (Martens, 2004).
Before they are teens, children learn moral values through imitation and practice more than instruction. As they grow older, their moral reasoning increases, given they have been instructed properly on what good morals and values are. At this stage, coaches and parents should take note to provide explanations that justify your request for them to behave ethically. Posting rules is not enough, as Martens (2004) states, for example, "you may have a rule that the team will shake hands with the other team after each game…one of your players may ask why you have the rule…'because you said so', is the wrong explanation" (p. 63). The right way is you could explain that it demonstrates sportsmanship and reflects well on the team and school.
In this paper, I defined the term violence and explained it in terms of context within sports. I examined the examples of athletes approach to sports that implies that violence is unfortunately bread into the fibers of most competitive sports. The conclusion I have to support this paper is that violence will continue, but our attitudes towards teaching our precious youth don't have to. The best approach is to become an example for your students, athletes, and children. Pray that the time and effort you spend to be a moral leader as a coach, parent, or teacher will have a worthy impact on the youth of today.
Citations
Benedict, Jeff & Yaeger, Don. Pros and cons: The criminals who play in the nfl. 89. (1998). Grand Central Publishing.
Coakley, Jay. Sports in society: Issues and controversies. 196-228. (2009). McGraw-Hill
Eitzen, Stanley. Sport in contemporary society: An anthology. 170-175. (2001). McMurry.
Palango, Paul. Child athletes: adult world turns blind eye to the violence. Globe and Mail. (1985). Bell Globemedia Interactive.
Martens, Rainer. Successful Coaching. 3rd Edition. (2004). 25, 62-63. Human Kinetics.
Merriam-Webster Online Dictionary. Violence. (2013). Merriam-Webster Inc. http://www.merriam-webster.com/dictionary/violence.
Terrell, Katherine. New Orleans Saints' bounty scandal timeline as Sean Payton prepares for return. The Times Picayune. (2013). http://www.nola.com/saints/index.ssf/2013/08/new_orleans_saints_bounty_scan_2.html
Unkown Author(s). The Spillover of Sports Violence: Off-the-Field Violence. (2013). 45-57. Sports Violence, Detroit: Lucent Books.
Related Topics