Is using dogs for work ethical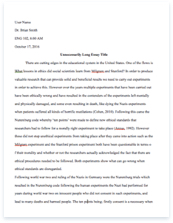 The whole doc is available only for registered users
A limited time offer! Get a custom sample essay written according to your requirements urgent 3h delivery guaranteed
Order Now
There are many ways that animals are connected to our lives. Some of us have them as pets, and even people who don't have a pet still have products (such as medicine) that have been tested on them. According to a website called 'The vegetarian site' very well known companies such as 'Max factor', 'Vaseline' & even 'Kleenex' have products that are animal tested. Some people protest that animal testing is not ethical because of the pain the animals have to endure for our benefit, but others argue that a lot of the medicine we have now wouldn't of existed if it hadn't of been so.
A lot of argument has also gone into the concept of conditioning. We condition animals and even people without noticing we are doing it. Dogs are trained to sniff drugs in an airport and even children have a daily bed time that they are used to. So when J. B Watson sprung a debate about ethics when he conditioned Little Albert (who was just a baby at the time) to be afraid of rats and other things that looked similar, he had opened a controversy. Does there have to be pain to gain? Or will we ever find out if a dog thinks it is ethical for itself to be entered into a race?
We were studying at school the behaviour and characteristics of animals that are similar to those of human beings alongside the ethics to support the current world debates & trends. This particular essay will be surrounding the Canis lupus familiaris- or better known as the dog. I will be investigating the ethics of activities and jobs that dogs are doing, and finding out the result by taking other peoples opinions into account using a questionnaire. Alongside the comparison between dogs and human behaviour, I will also compare the behaviour of a human to other animals.
I will analyze the results and find out if dogs and humans should have similar equalities- whilst using perspective to give both sides of the argument. Or if the emotional and the physical torture of dogs on a racetrack is worth pleasing the fans of this sport? Do the dog race fans think it's ethical? Or do the dogs think it's ethical for themselves? Theory My theory is that the results of my questionnaire will show that most people would believe that using a dog for a position in the work force is ethical. This is because dogs can help with various jobs such as a police dog so dogs can help for the good & can save lives.
A website states that dogs have a sense of smell that is 2000 times better than a human being and that dogs can smell their homes from miles away, and also they can smell blood of a surface that has been washed, so a dogs smelling 'talent' can really help. A way dogs can help in the police force is that they can sniff out drugs & bombs- and this will prevent future hazard such as a drug overdose and a future drug deal (that will result in the drug dealer going to prison). This can also prevent a bomb from injuring or even killing several people.
However, there is also an unethical side to it because the dog has a chance of dying if a bomb goes off and hurts it, but if the dog was able to find the bomb it would supposedly save other human beings or even animals if they approach the bomb as it detonates. So by one dog risking its life to de-activate the bomb it can save maybe five dogs getting injured, so it is a sacrifice. Although it is cruel for a dog to undertake this type of risk & many people will consider this unethical, the consequence of this action will that other living creatures will get a chance to live.
Medicine is very important now and most people take it for granted. These days we can go to school or work with a common cold and just take antibiotics to treat it, but two hundred years ago a common can develop to serious pneumonia- which can kill you if left untreated. Another theory is that most will agree that animal testing would be appropriate. This is because a lot of the medicine we have now wouldn't have been there without the experiments we have on animals. In my opinion the real question is: if you would rather test 'unknown' medicines on animals or humans?
Unfortunately the medicines can poison or even kill an animal, but we will not be able to find cures for diseases without experimenting on a living specie and because the APA (American Psychological Association) had banned experiments on humans that are considered 'unethical' (after the Little Albert investigation lead by J. B. Watson and his partner) we would not be able to experiment on humans. So experimenting on animals would be the only option, and we have to learn how to find facts by trial and error. However, some cosmetics are also tested on animals.
This is thought to be the most controversial side of animal testing according to one website. I believe this is very controversial because medicines that we test on animals can improve our health and save lives whereas make-up is only used because of 'aesthetics' (because people believe that wearing make-up makes them look better). Cosmetics have no benefit to our health, and if anything can damage our skin in the long run. Although testing cosmetics on animals had been banned in the UK since 1998, other countries continue this approach to making humans 'more safer'.
The European Union attempted to ban all cosmetics tested on animals to be sold in Europe, but France (the country which L'Oreal is based) is protesting against the ban. This could be because animal testing can give people reassurance that the product is safe and possibly sales would fall on the cosmetics by this company. L'Oreal could also be against the ban because of the businesses side of the company, for instance, animal testing is cheaper for the company, because they test products on animals for free.
Also, if they test products on human's they would have to pay the people they are experimenting on a lot of money as there would be risks on health (skin can get damaged, for instance it can burn). So by companies experimenting on animals they would save money. On the other hand saving money is not an excuse for animal's to test cosmetics. A cosmetics company that doesn't test on animals can also continue without testing on animals or on humans. This is because they benefit from previous ingredients in cosmetics that have been tested on animals.
They benefit because they can use ingredients that are already known to have no harm, because they have already been tested, thus, no animals could be tested on again for the same ingredients. I can relate this to the ethics of the police dogs that sniff bombs out. This is because, whilst some animals can be harmed during the process of animal testing, and some dogs can be injured during an attempt to deactivate a bomb, more animals and humans can be saved because of this risk or sacrifice.
For instance, animals in the past were tested on for cosmetics- which is thought to be unethical, but because of this previous experiment more companies in the future do not have to test on animals and can benefit by this being completed already. An additional theory is that the questionnaire will show that the activities that dogs have to participate that are un-ethical are most likely to be the racing and gambling. I believe this because none of this benefits a human. For instance, a sniffer dog would help by saving lives from an activated bomb but a racing dog would only entertain the race watchers but tire out the dog.
I think that this is cruel and psychologically wrong to the dog, because from a dog's perspective, it is being forced to run and tire itself out for entertainment purposes. A dog will also believe that it is the sole reason for it to live and will not receive proper unconditional love from the owner. This can also lead to a conditioned dog; this is because a dog will believe that by pushing itself to race well and win the race- that is the way to receive love from its owner or boss.
Also, if it loses the race it will associate the stimulus of losing the race to being physically and verbally abused by its owner/boss and automatically associating the losing- to being sad and disappointed (which is now the conditioned response) even before the dog is abused by its owner. So this is damaging for the dog and is completely unethical in my opinion because it makes the dog feel 'neglected' and 'used' and nothing helpful has came out of this action. Another way racing dogs are sometimes abused is because they have their stomachs emptied before a race, so that they are lighter.
This is very un-ethical because it is intentionally damaging the dog's health for the benefit of the race. It is also un-ethical because the dog doesn't have a say or an opinion when a lot of the nutrition is taken out of its body. So basically a dog that is racing and used for gambling is being abused for other people's pleasure and that is why I think the Questionnaire will come with this response. Now my final theory is that for the questions about dogs sharing similar behaviours and characteristics as humans (also known as 'anthropomorphism'), I think that most people would say that they do.
I think that they would because we both have emotions and the same emotions. For instance, a dog wagging its tail and jumping around means that it is exited, and humans also show when we are excited by smiling and moving more then necessary. Another example is that dogs cry when they are unhappy- the same reaction from humans when we are unhappy. An example for same characteristics is that sometimes the owner's personality is reflected onto their dog. This might be the case because the dog might have been conditioned to act a certain way- which can be called 'manners'.
I believe that if the owner taught their dog (when a puppy) to work hard for treats, it would grow up to be an appreciative dog and would be good in order to get treats/rewards. In my opinion dogs sometimes look like their owners because a clean and nicely groomed dog would usually have an owner who is clean and nicely groomed. Also, a messy looking dog would usually have an owner which is less organized and messy. So people reflect their personality or how they look onto their pets. Examples of Dogs looking like their owners Conditioning The meaning of 'conditioned' is a response that is triggered by a stimulus- or a 'learned' behaviour.
Conditioning is a form of behaviourism, which is based on the idea that any behaviour can be measured, changed & trained. In a way I believe that we all believe in the idea of behaviourism, this is because (like I briefly mentioned in my introduction) a lot of our behaviour is controlled by conditioning and we don't realise it. A conditioned behaviour is like a habit, this is because a habit is a behaviour that we are used to and cannot help repeating it. For instance, some people scream and cover their eyes when a ball is thrown towards them.
This could be because of a habit that they got used to at a young age after a bad experience of a ball being thrown at them. So the natural response in the future would be to protect yourself. At the beginning of the conditioning someone throws a ball at someone else- originally an unconditioned stimulus. The ball heads toward the other person making them scream before it hits them. First, the ball heading towards them is an unconditioned stimulus, now it is a conditioned stimulus. The next time a ball is thrown at them they relate it to the screaming and being hit by it- which was once a neutral stimulus and now a conditioned stimulus.
So every time a ball is thrown at them they naturally relate it to the screaming and being hit- so they scream and protect themselves- because that is their conditioned response following the stimulus. The way to condition animals is by rewarding them. A dog being conditioned to sniff drugs is rewarded every time they find the drugs that are hidden. Every time they find the drugs they must be rewarded and the task to sniff out the drugs will gradually be harder. For example, the first time the dog has to find the drugs it would be exposed to the drugs and then has to find the same substance in a room.
The drugs would be wrapped in something thin at first, and every time the dog finds it, the drugs would be wrapped in something thicker. Eventually the Dog would be able to sniff out drugs in a bag containing lots of other bags with drugs inside. I believe that it is important that dogs are rewarded after finding the drugs because psychologically being rewarded means that you are doing right. It is crucial that the dog is rewarded every time it finds the drugs, this is so the dog can relate the smell of drugs- the stimulus, to the finding of the drugs and then being rewarded- the conditioned response.
Related Topics