Using Dialogic Reading Strategies to Promote Social-Emotional Skills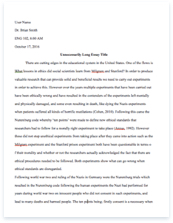 The whole doc is available only for registered users
A limited time offer! Get a custom sample essay written according to your requirements urgent 3h delivery guaranteed
Order Now
This paper is a review of an article by Angel Fettig, Amy L. Cook, Laura Morizio, Kaitlin Gould, and Lauren Brodsky that introduces strategies that teachers can use to help their students acquire social-emotional skills that they will need for the rest of their lives. The three skills that this article focuses on are problem solving, turn-taking, and positive peer feedback. This paper has a brief description of the case study done and the results that were found and an analysis of the article.
The involvement of social-emotional learning (SEL) in the classroom is increasing and for good reason. Studies have found that skills developed during SEL such as turn-taking, problem solving, peer feedback, communication, self awareness and more are important skills that follow the child throughout life and help them in school, work and at home. SEL skills are especially beneficial for students who are at risk for social and behavioral issues. Dialogic reading (DR) is a strategy that promotes SEL by having the students take on an interactive role throughout a story and then participate in activities that help them connect with the story. This allows for the growth of social-emotional skills as well as growth in language and literacy skills. These strategies also work well for children with autism spectrum disorder who have difficulties with social skills.
For this article, a case study was done in an after-school program to find out the impact dialogic reading had on the development of social skills for young children. Four children were chosen from an underperforming school, two kindergarteners and two first graders, in a Northeastern United States urban city to participate in the study. Once a week for 6 weeks, these children met with an interventionist who read them a story using dialogic reading strategies then they participated in an activity relating to the story that would build on the social-emotional skill learned. Then they had supervised play, where the students games with each other and the interventionist would only intervene if the students were doing something that would be harmful to themselves or to the others. Data was collected during the supervised play to see if the lessons learned during the dialogic reading. The three lessons this study mainly focused on were problem-solving, turn-taking, and positive peer feedback. Even though there are many other social-emotional skills students should be introduced to, these were the skills that the books chosen for this study focused on. The researchers who observed the supervised play sessions recorded that by the end of the study, higher success rates in all three of the social-emotional skills than they did when they first started the study. At the end of the study, the parents of the students were interviewed to see if there was any change in behavior at home as well. The parents confirmed that their children's communication skills had improved. Their children were able to verbalize their thoughts and emotions better after the study and they also have developed coping mechanism for anger and frustration. Some parents said their child's overall behavior stayed the same while others saw an improvement.
This article was helpful in describing the benefits of using dialogic reading to teach social-emotional skills to young children. Social-emotional skills are very important skills to have and teaching them should start young. Being able to combine storytime, which is in the classroom already, with learning social-emotional skills is beneficial and doesn't take out time from other subjects and doesn't require many extra resources which is good because a lot of the schools and students who need these skills the most don't have access to the extra resources. This study was only done once a week for six week and there was an improvement in the students social-emotional skills so if this was something that was in the everyday classroom the student would improve even more in these necessary skills. The researchers conducting this study were very careful to take eliminate any biases and were very careful in training the interventionist who was working with the students. They picked students from an area where there was poverty and high social risk factors so these students would benefit from these skills and the coping mechanisms they learned the most.
Related Topics