US History: Sean Wilentz and Democracy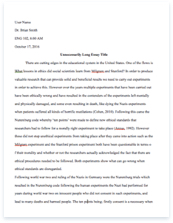 The whole doc is available only for registered users
A limited time offer! Get a custom sample essay written according to your requirements urgent 3h delivery guaranteed
Order Now
Sean Wilentz is one of the nation's prominent figures to this day. Although he hasn't always been the center of attention or even seen the spotlight like others, his books, commentary on music, politics, and the arts have gained a wide reputation for their force, originality, and elegance. His historical scholarship has focused on the political and social history of the United States from the American Revolution to recent times. Neither our superiors such as governmental leaders, nor general citizens, through all knowledge we've so-forth gathered, could know the outcome nor the situation in which it will occur. From what we know, Americans like to feel that our current state of democracy will serve as the sole proprietor of justice. However, that is not that case. Democracy is flawed, as previously mentioned, derived from the views of the privileged and elite. Clearly this is an issue from the standpoint that greater America is neither of those qualities. That being said, citizens like ourselves need to join as one to overthrow the prior opinions of democracy and reform the process to give ourselves a true fight at the hand of justice. Wilentz call to action was that we were not participating appropriately. He goes on to say that we need to work for our democracy and to prosper beyond measure. He wants us to
understand that we cannot have an agenda but to have an open mind and willingness to change our beliefs. Wilentz has made a few strong points on his beliefs of what a true democracy should look like. One thing flawed when he was talking about our democracy and it's one of many things I would change. I would change our election process for President of the United States. I believe everyone's vote should count equally regardless of which state they live in. Campaigning would be in all the states and not just the ones with higher electoral votes. Another idea that struck me was our younger generation. Consisting our popular vote on our younger generation can be a game changer also. This allows many others to voice their opinions on who should be elected not only in the white house but as our Senator, mayor, and the list keeps going on.
It should be up to us as a society to dictate who is in office and I mean this literally when I say they should count every vote in every state. We have to come together as a society and challenge each other. Hold each other accountable to move forward as a nation. Our electoral college votes are corrupt and we need to put it to an end. Balance access and integrity in our elections can strengthen our democracy. By doing this we could recommend states to use the revolution to identify, eligible, unregistered voters and offer them the opportunity to register and improve the accuracy of voters. Ensuring a fair process for drawing congressional districts can be a sensitive subject when involving both the Republican party and Democratic party but getting back to why we should change the way we elect. Representatives should rotate and run in different districts prior to the ones they were already in. This gives them the benefit of a doubt to keep entire state interests in their minds instead of catering to an immediate small group of higher ups.
This will do more for bipartisanship than all speeches and promises combined because a representative elected in a rich suburban district may be running in an intercity or rural district next time. American democracy is an important factor in how the nation functions, therefore American Democracy is something all citizens should be familiar with. Democracy could be interpreted as an argument or internal battle that has yet to come to a conclusion. Naturally as Americans we have our own opinions about the process of democracy, often passed down from our parents, yet in most cases those opinions are backed up with no proven knowledge.Wilentz advises the lack of knowledge used in Americans opinions of democracy show ignorance of a vital part of the history of Democracy.
Ralph Waldo Emerson, observed in one of his essays that "there is properly no history; only biography." In other words, how we interpret the notions of democracy are derived from others views of the past. Biography is then a vital key in the interpretation of democracy's history. Those who avoid the history of democracy prove that there is a distortion in opinion when being observed by the elitist. In conclusion I've given numerous amounts of ideas for us to improve our democracy and to come together as a nation. To one day empower our youth and give them the vision they deserve because they are our future leaders. It's up to us, the people, to make America great again the right way.
Related Topics