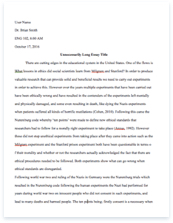 The whole doc is available only for registered users
OPEN DOC
A limited time offer! Get a custom sample essay written according to your requirements urgent 3h delivery guaranteed
Order Now
1. I feel Martha and the Trap-Ease America investors need to do some strategic planning- the process of developing and maintaining a strategic fit between the organization's goals and capabilities and its changing marketing opportunities. This would set the stage for the rest of the planning. I do not think Martha has done enough research into the market to really assess whether the demand for her product would be there. Martha needs to think about her marketing concept, which is a philosophy that holds that achieving organizational goals depends on knowing the needs and wants of target markets and delivering the desired satisfactions better than competitors do. The group's mission statement acts as an "invisible hand" that guides people in the organization. To come up with a mission statement one must answer the following questions: What is our business? Who is the customer? What do consumers value? What should our business be? The group's mission statement would probable read, "To catch the pest, you need the best- Trap-Ease." They seem to be product-oriented instead of market-oriented. A more appropriate mission statement would be, "Continuously working to better serve your pest elimination needs- safely and humanely."
2. I feel Martha's early research was pretty good. She felt targeting women was the best target market for Trap-Ease. Women generally do not like the mess of mousetraps or the risk of poison for the children or animals in the household. The market consists of many types of customers, products, and needs. The marketer must determine which segments offer the best opportunities. Consumers can be grouped and served in various ways based on geographic, demographic, psychographic, and behavioral factors. The process of dividing a market in distinct groups is called market segmentation. As Martha stated her "early" research suggested women were the best target market. As we know, we must adapt and change with our target market. Most women nowadays are not home with the children. They are out in the workforce to help support their families. In some cases it is the father that is home with the kids. There are other markets which Martha could also target, such as animal lovers, college students, businesses, etc. The Trap-Ease mousetrap is great for everyone. The "Big cheese of Mousetraps" has less mess for the squeamish and easily disposable. Animal lovers would enjoy this trap due to the fact that it does not kill the animal like a conventional trap or use poisons.
I added college students to the list because there are many students renting off campus housing that are not always kept "clean". Businesses and restaurants would also benefit from this trap. You never want to see a critter roaming about either of those places, but let's face it, it happens. Families of all varieties would benefit from the Trap-Ease. As it states on the packaging, "Clean, Safe, Easy to Use and It's Humane". 3. I feel Trap-Ease has positioned itself with the chosen market pretty well. The investor group believed in this "once-in-a-lifetime chance" with its innovative mousetrap. Trap-Ease has won the National Hardware Show award, as well as magazine articles, talk show subject and various popular press and trade publications. All these awards were based on the product itself and the idea behind it. Martha needs to focus more on the consumer now and not just let the product speak for itself. Yes, it catches mice, but it is also re-usable which would save the consumer money.
They could try to work that angle a bit more. The packaging is for two traps, which means you are getting more for your money. Perhaps Trap-Ease could lower their price for the initial sales. This way they could get a better understanding of who their targets are and how much they are willing to spend. 4. The marketing mix is the set of tactical marketing tools- product, price, place, and promotion- that the firm blends to produce the response it wants in the target market. Let's start with product. Trap-Ease has one product so far which is the mousetrap. Perhaps they can later make different versions of the trap with color schemes that blend with the surroundings. They could also manufacture different sizes or different models. Next is price. As they stated, their price was somewhat higher than conventional traps however, their traps come with two in a package and are re-usable. Perhaps they could lower the initial price until they find out if they are in a buyer's market. Initially I feel the place the product was being offered was good. However, once the market changes, so must your strategy. Trap-Ease was being distributed through national grocery stores, hardware and drug chains. I feel they could possible branch out to the internet world. I think by going this route you can attract a whole new consumer base. Lastly, there is promotion. I feel this is where Martha went wrong. I do not think Martha budgeted enough of the money for advertising. She was relying on the publicity that was initially generated and a few ads in magazines.
I think she should use less money on traveling expenses and more on advertising and hiring salespeople. Since she has the product in national stores perhaps she should make some national commercials. Also, advertising online would hit more consumers. 5. Trap-Ease has many competitors out there. They range from your conventional trap to the poisons for mice such as d-Con and TomCat. There are also many competitors with humane traps also. For one, there is the Havahart trap. The Kness tip trap is the same as the Trap-Ease, but costs more. Any company that creates mouse traps or the poisons is in competition with Trap-Ease America. Also, some companies have both the traps and the poisons which create a bigger market for them. 6. The first thing that should be done with Trap-Ease's marketing strategy is to organize a marketing team. Marketing strategy is the marketing logic by which the company hopes to create customer value and achieve profitable customer relationships. Martha was trying to do it all on her own and that is just not possible.
It was keeping the costs down, but unfortunately it was also keeping the sales down as well. If you are unable to get the word out to you potential buyers then there is no one to purchase the product. If Martha would have started out with a bigger budget then perhaps things would have gone differently. They had the product all worked out and working great. Now they just need to advertise it. If they had a marketing department then it would contain product and market managers, sales managers and salespeople, market researchers and advertising experts. With all these people in place there would be a greater profit because the word would get out to the consumers. Marketing control measures and evaluates the results of marketing strategies and plans and taking corrective action to ensure that the objectives are achieved. I would establish operating control and strategic control. Operating control involves checking ongoing performance against the annual plan and taking corrective action when necessary. Its purpose is to ensure that the company achieves the sales, profits, and other goals set out in its annual plan. It also involves determining the profitability of different products, territories, markets, and channels. Strategic control involves looking at whether the company's basic strategies are will matched to its opportunities.
Related Topics