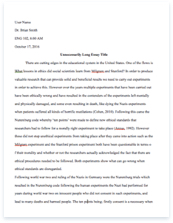 The whole doc is available only for registered users
A limited time offer! Get a custom sample essay written according to your requirements urgent 3h delivery guaranteed
Order Now
It has been a huge transition when writing papers in high school then turning around and writing them on a college level. One of my favorite things about this transition though is getting to have my teachers and more of my classmates actually help me through peer editing and revising my papers. This helps me get a better perspective of what the audience understands when they read my papers and also helps me to develop an even better paper. I went back and revised my paper two assignment to make even more changes. I decided to go back and reevaluate my second paper. In this particular paper I had to relate a poem with a popular text. I chose the poem "Dive for Dreams" by e.e. Cummings and the movie Charlie St. Cloud.
One of the biggest things that help with writing my paper was to get into groups and do peer editing. In most of the papers I write, I tend to always do more summary than analyzing. I was never really great at figuring out my limits on that, but after working with some very helpful classmates, they pointed out areas where I should take out more of the summary of the movie and focus more of my work onto the poem. For an example, when I had my paper revised I learned that since my poem is referred to in the movie multiple times, it is actually called intertextuality. Which in learning this, helped me better understand the story of the movie along with the poem. So instead of rambling about the movie then jumping back and forth from one to the other, on my final copy I intertwined them so that it was not just constant confusion. Another big part I changed was revealing more of the theme of both works. In my first paper before I revised it again, I basically just said stuff like, "it is about moving on", or "moving forward…" not really going into great depth on my paper. I realized that in order to make this paper even better, I need to explain and go more in depth about what both piece where trying to show their audience.
So instead of just those smaller phrases, I tried to become a little lengthier with my sentences and dig deeper. Not only was the poem and movie talking about moving forward, but it was also was a lot about taking risks. It focuses on the past versus the future. The main character is trying to keep both, but realizes that he can finally let go and have a future, but also always remember the past as a simple memory. In doing this, I feel like it made my paper a little more powerful and sentimental. In addition to that, many of the lines from Cummings' poem related to different parts of the movie. I did not realize any of this until after our group revisions and having the read the poem over and over again. Once discovering this I decided to revise my old revision to give more detail and go more in depth with how instead of the movie jus always referring to the poem, to actually being the poem inspiring the motivation for creating the movie. Each time I go back and reread my paper or the texts I decided to compare, I continue to fine more and more I could write about! Revising papers definitely can help you change a lot in the paper you are working on that you never really cared to take a glance at in the beginning. It helps you to see a lot of things you had not noticed before.
I think that each little change in my paper has definitely helped me to improve my writing abilities. Not only does my paper come out better. I think that using the peer editing groups is one of the best methods to help perfect a paper. It really helps when you have several different opinions and thoughts helping you out while writing. I also trust that the group will be honest and critic as much as they can to help. Not only does it help me with my papers, but I always learn a lot from peer editing others papers as well. When I read another paper and find the main purpose and topics of it, it helps me learn how to stay organized and focused on a particular area, rather than rambling on about a million different things.
In conclusion, revision and peer editing are very handy when it comes to writing these papers. Not only are you getting help and ideas from students in class with you, but also the professor plays a large role in helping you create a paper in your own words. I do not necessary think that my papers have become just perfect or anything yet, but I do not understand a little better on how to organize and start my paper off. I have seen some improvement and feel like there is still room for plenty more. The purpose in peer editing and revising is not only to help you become a better writer, but also for you to help others become better writers as well.
Related Topics