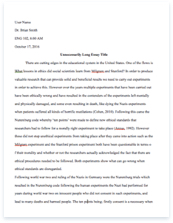 The whole doc is available only for registered users
A limited time offer! Get a custom sample essay written according to your requirements urgent 3h delivery guaranteed
Order Now
Choosing a school is a hard decision for a student and his or her family. It is especially hard when the student is deaf. When choosing a school deaf students have two main options: Attending a local public school alongside hearing students or attending a specialized deaf school surrounded by the deaf community. Education for deaf students has been going on for centuries in the United States. However, education in the deaf world has really evolved and hasn't always been the way it is today. In the 1800s most deaf people were isolated from each other and had limited understanding of what they could do. It wasn't until 1817, when Thomas Hopkins Gallaudet changed the way Americans believed deaf people could be educated. He had opened the first permanent school of deaf children in America. The outcome of this school spread American Sign Language around and many new schools for deaf children opened.
In the hearing world Alexander Graham Bell is seen has a hero but in the deaf world according to Brian Greenwald, "he offers and antagonist perspective because he's like the boogie man. And even though he's a great man in his own right, but he did put forth the idea that life without signing, would be a better life." Bell thought that signing was preventing deaf people from learning how to speak. He believed there was new technology now than in the 1800s to teach the deaf community how to speak and lip read. Because of Bells beliefs oral school were opened in the 1860s where they did not teach sign and did not allow it to be used. By the early twentieth century, oral methods dominated deaf education in the United States. It was a big change in the deaf community since oralism was not considered before. Bell's success in promoting oralism has generated much hostility from the signing deaf community for its impact on their culture that continues today. Deaf education has been successful to many individuals but hopefully in the future there will be less controversy and even more increased success. Question Set #2:
"When you talk to people who can hear and you ask them what do you think it would be like to be a deaf person? Then all of their thinking is well, I couldn't do this. Can't, can't, can't, can't, can't. They would start listing all the things they can't do. And I don't think like that. Deaf people don't think like that. We think about what we can do. " This individuals statement suggest that the common perception about deaf people is that they are different and can not do everything a hearing person can do. Hearing people are so quick to list and think about all the things a non hearing person can't do but never think what they can do. Deaf people like to look at it the opposite way. This statement suggest that deaf people view themselves as just like a hearing person. Deaf people want to be considered normal and not to be looked at like a person with a handicap. A professor of communications, Carol Padden, states, "We sign, we make movies, we do stage performances, we can write books, but we make ourselves understood. " She is saying that deaf people can do anything that a hearing person can and their disability isn't going to stop them.
This quote really stuck out to me. Reading this really made me think about my perception of deaf people. When I thought of what I think it would be like to be a deaf person I was shocked to realize that I was just listing all the things a deaf person couldn't do just like the individual stated. This film really opened my eyes to what its really like to be deaf. Prior to watching this film I didn't know much about the deaf community. Watching the film I was able to put myself in a deaf persons shoes and really see what it like to be deaf. I could really feel that they weren't any different from someone who is hearing. I agree with this individuals opinion that they can do whatever they can do. In the film the talked about the deaf president now movement. Where everyone rallied together to protest why the deaf president was not elected. They did not stop the protest until they won proving their point that a deaf person can do anything a hearing person can do. Question Set #3:
I would considered the deaf community to be an ethnic community. Ethnic can be described as races or large groups of people who have the same customs, religion, origin, etc. Doug Baynton says, " Ethnic groups set up their own schools here; they published newspapers in their native languages. The deaf community too had their own newspapers, their own schools, their own churches; and used a separate language , and so people began to think of deaf people as an ethnic group – a group that should be assimilated into the general population." In the movie many people in the deaf community explained what it was like growing up and being in the deaf community. These stories revealed many shared customs and characteristics that can be seen as an ethnic group. John Schuchman described growing up in a deaf family and how his parents would go to deaf clubs and deaf peoples houses. Another example would be from Lasanders Saunders who described going to a deaf church. The creation of the Deaf community suggest to those outside of the community that deaf people's abilities, desires, and interest are just like everyone else.
Deaf people go to church, school and like to have fun just like hearing people. Many challenges and divisions exist within the deaf community. For example Summer Cider describes her experiences in mainstream schools and then as a student in a school for deaf. She faced the challenge of being different from everyone else. She quit wearing her implants because it was different and because of that her social life suffered. She decided she needed a better social life and made a switch to a school for the deaf. She stated that." Everybody there was just like I was; everybody else had a problem with their hearing, so it was OK. It gave me the opportunity to wear my implant and to feel like I fit in and really take advantage of everything that it had to offer." Just like Summer many other deaf people face similar problems in the deaf community. The deaf community is similar in the fact that they have their own newspaper, deaf churches, deaf schools just like hearing people have their own. They are different because they use a different language and follow different customs. Question Set #4:
Just like in American Society the Deaf community / society had paradoxes exist with regards to socioeconomic conditions. In 1925, after an African American couple tried to attend an NAD convention, the deaf organization explicitly banned Black people from joining. That ban was in place for forty years. Just like all school in the south, deaf schools were segregated for decades. In the movie Carolyn McCaskill describes the cultural differences in deaf communication. The black deaf school were filled with basketball games and dances. When Carolyn moved to a white deaf school she found many differences. "Moving then to a white deaf school, we all used sign language. But the signs that were being used were very different. The White deaf students would fingerspell and then add some signs. As a Black deaf person, they would look at my signing and say that doesn't look like what they did as White deaf students. And so I found myself humiliated. I thought I was inferior and that somehow, our signs were subordinate to the signs that they were using. And so I tried to put away my signs and instead, adopt the signs that were used by the White students."
Related Topics