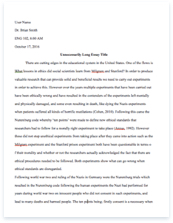 The whole doc is available only for registered users
A limited time offer! Get a custom sample essay written according to your requirements urgent 3h delivery guaranteed
Order Now
In this day and age where phones and electronics are everywhere it's hard to just get away. Our phones are constantly ringing with emails or text messages engulfing all our time. Our lives are hectic being filled with sports, dates, and other events. It's hard to find places to do uninterrupted homework let alone time. Now, I'm not saying it's a bad thing to engage in these activities but often times they lead to unneeded stress and poor performance. I like to make a point weekly if not daily to try and get away from the unnecessary materialistic goods and noise in my life. This is not a noticed tactic by really anyone but its importance to me is surreal. Without these little breaks; the stress of everyday school, track, and relationships could start to take a toll on those things, the things most important to us. The mental stress can start to make you weary and it's not a secret that you don't perform as well when you don't obtain enough sleep.
This may lead to worse grades in the classroom for me, worse times on the track, and unhealthy relationships because I'm simply exhausted. Besides that it's important to me, it's nice to get away from the emotional and physical stressors of everyday life. Without being able to just lay down and think it or do some homework in a quiet room it would be much tougher for me to perform at a high level. I take pride in everything I do and to do that I need to get away. It's like a mini-vacation where i can sort things out and figure out how I'm going to tackle a situation. Not being bothered by sometimes meaningless texts or phone calls is a lost art of my generation.
Many people including myself become distracted by their phone or other electronics during homework which takes away your focus and may cause frustration, and inevitably underachievement follows. This is why I take my "mini vacations" from my phone and life in general to just relax or get some homework done uninterrupted. It's important to me to maintain healthy relationships, do well in my sports, and most importantly to do well in school and to do that I need some unnoticed get away.
Related Topics