Things about Homeopathic Medicine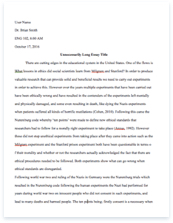 The whole doc is available only for registered users
A limited time offer! Get a custom sample essay written according to your requirements urgent 3h delivery guaranteed
Order Now
" Homeopathy is so well trusted that 300 million patients in more than 80 nations use it." (Westein) Homeopathic medicine works for a lot of people. People need to know that homeopathic medicine does works and over 80 nations use it because doctors had said it works as long as used correctly and that it helps with in everyday life. People need to know that homeopathic medicine works for a lot of things for people, over 80 nations use it. "By some estimate, about a third of Americans use some form of alternative medicine, including homeopathic remedies."(Homeopathic medicine under FDA Scrutiny) This connects because it's telling you that lots of people/americans use homeopathic medicine. In countries such as U.K., Brazil, parts of India, Mexico and Cuba, homeopathy is integrated into health system and public health insurance." (Wehrstein) This connects because its saying lots of people use the medicine and that its in health system so it's obviously ok with doctors and etc. "Homeopathy is arguably the fastest-growing system of medicine in the world. In March 2011 that India's market for homeopathy medicine was worth approximately $5.35-billion, and growing by about 30%." (Wehrstein) People are saying this is so helpful for everyone because it grows fast and it's worth a lot in different places so it must be good if it cost so much. Lots of people from countries thinks it's great because they heard what others say or they take it, and some people assume that it must be good because it cost so much in different places.
However americans can buy homeopathic medicine about anywhere and there things you probably didn't know helped and its most polarizing forms. "Boston- For common dermatology conditions such as acne, warts, and eczema, classical individualized homeopathic medicine can provide a safe; inexpensive and nontoxic alternative or adjunctive treatment, said Robert J. Signore, D.D., at the 2012 American Academy of dermatology summer Academy meeting."(Jesitus, PP. 34,37) This connects because it's something people probably didn't know like how it can help acne and ect. "Homeopathy is one of the most polarizing forms of complementary and alternative medicine in part because its based on principles that defy the laws of chemistry and physics."(Deardorff, PP. 1.4) Even chemistry is saying its good and works. "Homeopathy medicine is often sold next to dietary supplements, the food and drugs administration regulates them differently."(Dossett, PP. 743-745) Homeopathy medicine is almost everywhere and helps people a lot if they need it and take it right and they don't have to go to the doctor to buy it they can go to other stores. This medicine is literally about anywhere in stores, and there's so much to know about the medicine but if your not sure about it ask a doctor not just look it up because it might not tell the truth. Homeopathy medicine doesn't work because it isn't scientifically known to work nad most doctors don't recommend it.
"England's chief medical officer, Dame Sally Davis, recently joined the throng saying homeopathic remedies were 'rubbish' and didnt work, they don't serve as anything more than placebos."(Houghton) The research is fairly clear. A number of researchers have found that homeopathic remedies are better than Placebo, agreed Dr. Edward Leyton, a Kingston, Ont, Psychotherapist who in his former family practice prescribed homeopathic products; for patients with chronic conditions when the medical model had failed them. "Homeopathy will not cure acne or cancer anymore than magic. 'Healing crystals' will cure your hayfever or indigestion."(Houghton) Boston for common dermatologic conditions such as acne, warts, and eczema, classical individualized homeopathic medicine can provide a safe and non toxic alternative. "Regarding homeopathic medicines mechanism of action, we honestly don't know how it works and it works. Side effects high level of dilution."(Jesitus, pp.34, 37) A popular homeopathic flu remedy boast that it comes with no side effects, no drug interactions and don't make you drowsy. People think that homeopathic medicines don't work but a lot of other people think it does.
People claim that homeopathic medicine does work and over 80 nations consume it because doctors say it work if used correctly and it supports other things, that people used assist with. Homeopathic medicine works for multiple things that people might not known of and can get this medicine about anywhere and how lost of people in the world use/take it. Homeopathy medicine doesn't always work because it isn't scientifically known to work and some doctors don't recommend. But some doctors disagree and recommend because it helps with different problems, and lots of psychotherapist recommend it to help your problems and etc. "Homeopathy is so well trusted that 300 million patients and more than 80 nations use it. In countries such as U.k., Brazil, parts of India, Mexico and Cuba, homeopathy is integrated into the health system and covered by public health insurance." 
Related Topics