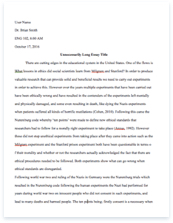 The whole doc is available only for registered users
Pages: 3
Word count: 531
Category: Politics
A limited time offer! Get a custom sample essay written according to your requirements urgent 3h delivery guaranteed
Order Now
POLITICAL THEATRE: measured drama pitting a character with a conservative point of view against a character with a liberal viewpoint. It can be passionate advocacy of one idea and ardent attack on anyone who opposes that idea. And it can be a drama that falls anywhere between these two types. PERFORMANCE ART: is one recent form that poses these questions and then some. What is considered performance art has undergone several transformations in recent decades. It often means a single artist who artist who presents material that is autobiographical, sometimes in an environment that is innovative or unusual. AVANT-GRADE & EXPERIMENTAL THEATRE: theatre that breaks away from the mainstream tradition- avant-garde and experimental theatre- has been a part of the landscape for most of the past 100 years. Among theatre movements of this kind is multimedia theatre, which incorporates theatre, dance, painting, and video into a single art form.
CROSSOVER THEATRE: plays or productions from groups with a special perspective have often crossed over into a wider arena of American theatre. COLLECTIVE MIND: a theatre crowd is distinct from any of these. In spite of being different, however, the theatre audience shares with all such groups the special characteristics of the collective mind. Becoming part of a group is a crucial element of the theatre experience. For a time, we share a common undertaking, focused on one activity. We also sense intangible communion with those around us. When a collection of individuals respond more or less in unison to what is occurring onstage, their relationship to one another is reaffirmed. For a moment we are part of a group sharing an experience; and our sorrow or joy, which we thought might be ours alone, is found to be part of a board human response.
AESTHETIC DISTANCE: in theatre spectators must be separated from the performance in order to see and hear what is happening onstage and thus absorb the experience. AUGUSTO BOAL: born in Brazil and study in Columbia University. Directed conventional dramatic works and develop his philosophy of theatre. He concluded that, conventional theatre oppressed ordinary citizens, specially the underprivileged. He establishes a partnership between them, and he left strongly that a way must be found for them to become performers, and a part of the action. FLASHBACK: we accept rapid movements back forth in time. Are abrupt movements from the present to the past and back again. SYMBOL: exert incredible emotional power. It is a sign, token, or emblem that signifies something else. METAPHORES: announce that one thing is another, in order to describe it or point up its meaning more clearly. SOLILOQUY: a solitary character speaks to the audience, expressing in words a hidden thought.
THEATRE OF FACT: in recent years there have been attempts to make theatre less remote from our daily lives. For example, plays have been presented that were largely transcripts of court trials or congressional hearings. This was part of a movement called theatre of facts, which involved reenactments of material gathered from actual events. REPERTORY: companies that perform several plays on alternate nights, rather than presenting a single play night after night for the length of its run.
Related Topics