The wellbeing of children and young people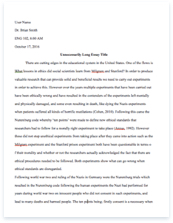 The whole doc is available only for registered users
A limited time offer! Get a custom sample essay written according to your requirements urgent 3h delivery guaranteed
Order Now
1)Explain the factors that influence the wellbeing of children and young people. At least five different factors should be included in your answer. Economic wellbeing can have a positive impact on children/young people and families. It gives them more opportunities and more choices. Eg: If there is a school trip that cost certain amount of money a young person from a more wealthy back ground will be able to go and enjoy the visit learning new things, sharing experiences with their peers. A y.p who is not in a financial position to go will not get to enjoy and learn the benefits and is excluded from the group. A young person who is financially stable has the choice to from a variety of hobbies and interests which they may want to explore and possibly achieve in. This gives them the opportunity to feel good about themselves and the chance to develop new skills and to develop themselves. As well as the chance to meet new people.
Their personal hygiene will be better of someone who is in a better financial position. They can afford body sprays, soaps and detergents. They can afford to have their hair cut which will develop their confidence and self- esteem. They will have clean teeth and generally well groomed as they would have had the money to buy these items and will want to maintain a good image. If the y.p eats a well-balanced diet then their overall appearance will be better, better hair, skin and teeth. The general environment will give them the opportunity to use the facilities such as libraries, centres, leisure centres because they wouldn't have been vandalised or shut down. The y.p will feel part of the community if they can access it and contribute towards it. They won't feel isolated or fear of going out in case of trouble. If they feel as though they 'fit in' because they are wearing nice clothes and looking good then they will feel accepted.
Poor diet It is unlikely that the y.p will be eating a well-balanced. This will increase health issue such as obesity, bad teeth, diabetes etc because they are not receiving any goodness etc They will feel sluggish and will have little energy so they may not want to mix with their peers or have any social interaction. It is very possible they will having a poor physical appearance they may have poor skin and hair bad breath this could make them have very low self esteem and be the target of bullying and generally not fitting in with social groups and peers. The y.p could be less knowledgeable about healthy eating etc as they have less opportunity to read books or go on the internet.
Poor housing conditions.
Poor housing can has an a negative effect on health, and can cause respitarty disease and depression , They may have no or little heating the property could have damp which in turn can lead to health issues which can have a negative effect on their school work if they are not turning up for school or not completing home work. Overcrowding this can lead to noise, sleepiness nights, having to share a bedroom with siblings, This can cause y.p to have very little space for themselves to do homework which will have a knock on effect with the school, or nowhere to bring friends home which then could lead to isolation, or personal space. If the y.p if feeling isolated due to poor housing g conditions and the fact they may not want to bring their friends round this could lead to potential bullying. Discrimination and racism.
The effects of Discrimination and racism can lead to many issues such as low self-esteem but also can lead to issues with some of them housing and school segregation, which in turn can limit a person's social network and overall choices as they can feel isolated and have low self-esteem as they may have been a victim of bullying, Their employment opportunities may be effected because again they could face low self esteem and self worth and develop a self-fulfilling prophecy. They may have faced discrimination at school which may have effected their education and employment choices. Their health could be effected because they could face depression and anxiety. Y.p who have developed cognitive skills, are exposed to racial discrimination, they may perceive their own ethnic group negatively due to constant discrimination and stereo type they may become self-conscious, and develop low self-esteem and symptoms of depression. Low self-esteem.
Low Self-esteem can have a very negative effect on a y.ps wellbeing and can affect many aspects of their life. Someone with low self-esteem will generally think they are no good at things which can make them not want to try new thing or give up on existing things. Quite often they think don't deserve love or support and will think that any situation won't work out. Y.p with low self-esteem can preserve themselves as ugly, stupid, unlikeable etc. They can lack confidence which in turn may stop them from applying for jobs or college, making friends and socialising. This can make y.p feel as though they don't want to take an interest in their appearance and life in general as they may have 'what's the point' attitude. They can become isolated and withdrawn from society.
Related Topics