The Vice President, the product manager and the misunderstanding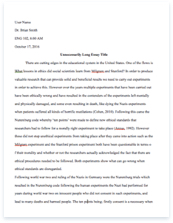 The whole doc is available only for registered users
A limited time offer! Get a custom sample essay written according to your requirements urgent 3h delivery guaranteed
Order Now
Mr. Brewster as being the Misunderstanding in the case was promoted to a position as the Assistant Product Manager which he was relatively unfamiliar. He wasn't given enough time to know more of his field. And shortly a meeting was called by the Vice President (Mr. Smith) to all product managers to discuss marketing strategies. Since his immediate superior, the Product Manager (Mr. Reynolds) can't attend the said meeting, he was asked to represent and for him to gain more knowledge to his job. But, Mr. Smith had no idea or forgotten even, due to brief introduction of Mr. Brewster by his immediate superior that he was new to his job and that he was only asked to represent the meeting. And during the meeting when asked for updates by Mr. Smith, that's where the misunderstanding happen, that also hurt Mr. Brewster's self-worth. Mr. Smith was annoyed to the feedback he got from Mr. Brewster that he was visibly unprepared. Mr. Smith known for his bluntness got no control, announced to them as Mr. Brewster as the example of sloppy staff work. On the other hand, the VP innocently humiliated Mr. Brewster on that matter for he assumed that everyone should be prepared with their reports.
OBJECTIVE/S
To make everyone know or give updates of the current status of each department first before proceeding into more strategies.
AREAS OF CONSIDERATION
VP- Nick Smith
– a crusty veteran with a reputation of bluntness
– misjudged Brewster of the lack of knowledge to his job
– humiliated Brewster during the meeting
– quoted "inadequate planning" of the marketing department in general
– aware of his roughness to Brewster by asking Reynolds after the meeting, regarding his inappropriate and unfair treatment but eventually accepted his mistakes
– after realizing his mistakes, called immediately Brewster to ask an apology and point that he had forgotten that Brewster was new to his job – advised Brewster not to allow himself to be misjudged
Director of Marketing – Jeff Reynolds
invited Mr. Brewster to attend the meeting and shortly introduced him to the VP – would somehow interrupt Smith to correct his judgement but think it might embarrass both his superior and his subordinate – honestly told his superior the attitude or character he showed to Brewster
Product Manager
– can't attend the meeting
Assistant Product Manager – Tom Brewster as The Misunderstanding – promoted to his first head quarters assignment, relatively unfamiliar with the products represented the meeting in the absence of his immediate superior for him to gain more knowledge in his new assignment – expressed mixed anger and dismay
ALTERNATIVE COURSES OF ACTION
1. Mr. Brewster should have interrupted the VP by defending himself in letting the VP aware of his current status. His sentence shouldn't have stopped there just by telling "I don't know Sir".
2. Knowing the fact that the VP had this reputation of being blunt, Mr. Reynolds should have told him or even let him aware the current status of Mr. Brewster's new job.
3. The VP should not say things that would humiliate someone especially in front of a crowd even if he is the VP of the company.
CONCLUSION AND RECOMMENDATION
It is therefore concluded to take action on number 3, that the VP should not say things that would humiliate someone especially in front of many people. If only the VP (Mr. Smith) didn't utter those words to the crowd, Mr. Brewster should have not been humiliated. They said to watch our mouth before we speak for us not to hurt feelings of other people. The VP should have reserved his outrage reaction in his mind first and call the attention of Mr. Brewster right after the meeting. Because in this way, no one will get humiliated. There will be respect with one another. And maintain professionalism. Fear will not be created also among other managers in times they had lapses in their end. By maintaining professionalism and respect, it will also bring harmony in the organization and will also inspire the rest of the group to produce more in their department. Communication plays a vital role in all aspects of our lives. If only, Mr. Reynolds took the time introducing Mr. Brewster to Mr. Smith and Mr. Smith spare the time with it, then Mr. Smith wouldn't have such reaction after all.
Related Topics