The Trump Administration's Rhetoric Towards Immigrants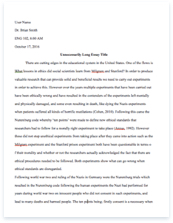 The whole doc is available only for registered users
A limited time offer! Get a custom sample essay written according to your requirements urgent 3h delivery guaranteed
Order Now
Similarly, the requirements of the T-Visa often end up excluding many women from actually receiving the benefits of the T-Visa. Trafficking victims are "required to assist law enforcement in an investigation or prosecution of human trafficking, comply with any reasonable request from a law enforcement agency for assistance in the investigation or prosecution of human trafficking, demonstrate that you would suffer extreme hardship involving unusual and severe harm if you were removed from the United States, and are admissible to the United States." Often times trafficking leads to crimes such as prostitution which could render an immigrant inadmissible and not eligible for a T-Visa.
The current administration has been vocal on its views towards immigration. Starting on the campaign trail, Donald Trump made it clear that he was not an ally for immigrants. In his first two years as president, Donald Trump attempted to get rid of Deferred Acton for Childhood Arrivals (DACA) , enacted a travel ban (known as the Muslim ban) , ended temporary protected status for immigrants from certain countries that are plagued with civil unrest , and has stated that he will shut down the government if he does not receive funding for the border wall. He has gone on television calling Mexican immigrants "bad hombres" , African countries sending refugees were "shit-hole countries" , stated that immigrants from central America are "they are animals not people" and called Mexican immigrants rapist . Advocates warned that this rhetoric would have a chilling effect on immigrants reporting crimes, and so far, it seems that they were right.
Since Trump took office, hate crimes towards immigrants have gone up . These statements and action push immigrants into the shadows, forcing them to tolerate treatment, including domestic violence, because they feel the government will not protect them. "The decline in domestic violence reports among Latinos in several cities is far steeper than overall declines in reporting of those crimes." A recent report found that anti-immigrant rhetoric has the following impacts: "Immigration enforcement practices and attitudes about U visas that are inconsistent with Congressional goals of the Violence Against Women Act, the U Visa Program and the Trafficking Victims Protection Act" "Immigration raids, immigration enforcement, and state and local law enforcement involvement with immigration enforcement resulted in: "Frightened immigrant victims who would not call the police for help when they suffered domestic violence, sexual assault, stalking, human trafficking, or other U visa covered crime"
"Victims believing that if they called police for help, police would ask about the victim's immigration status and turn the victim in to DHS for deportation"  "Fear that if the reported crimes to law enforcement the perpetrator would retaliate by calling DHS or local police to have the victim deported" "Misunderstanding about the Department of Homeland Security's victim protection priorities and the misinformation about U visa". Jeff Sessions, President Trumps Attorney General until November 2018, assigned himself a case in which he decided that domestic violence should not be a viable claim for asylum . In his decision, he overturned legal precedent which allowed for immigrants fleeing extreme domestic violence to seek asylum in the U.S. Sessions decision curbed asylum for immigrant victims of domestic violence . Although this does not have a direct impact on immigrants who experience domestic violence in the U.S. this advances the understanding that immigrants are not protected by U.S. law.
Some cities have renounced this administrations rhetoric and refused to allow their police departments to collaborate with Ice. These cities are known as sanctuary cities. While Trump has launched attacks on sanctuary cities and threatened to cut federal funding to those cities, sanctuary cities show how advancing immigrant's trust in the government can lead to more effective policing. Sanctuary cities offer a real-time example of how governments rhetoric towards immigrants impacts reporting of crime and restore trust in government's ability to protect its constituents.
By enacting the Violence Against Women's Act and other legislation aimed at protecting domestic violence survivors, Congress has made large strides in the right directions. However, some survivors experience more challenges when trying to leave violent relationships and these laws do not account for all survivors equally. Culture, language, and the current administration's rhetoric about immigrants are all factors that impact immigrant survivor's ability to escape domestic violence. In order to protect immigrant survivors of domestic violence, as a country, we must enact legislation that takes these factors into consideration and ensure that political rhetoric does not go against the stated purpose of congressional action or the protections provided by current and future legislation aimed at protecting survivors of domestic violence.
Related Topics