The Strength Of A Person's Character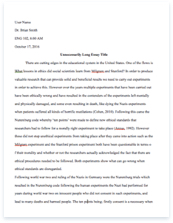 The whole doc is available only for registered users
A limited time offer! Get a custom sample essay written according to your requirements urgent 3h delivery guaranteed
Order Now
"Strength does not come from winning. Your struggles develop your strength. When you go through hardships and decide not to surrender, that is strength"- Arnold Schwarzenegger. Strength is a simple seven-letter word yet has a strong meaning which can define a person's character. How? Strength can define all your hard work, self-esteem and success. Remember the world will judge you based on how you judge yourself. Low self-esteem will drop a person day by day. Moreover, it builds up negativity which can destroy a person. Consequences of low self-esteem include depression and suicide. While a high self-esteem will build up your strength and will help make you positive. Working hard is important but self-esteem is even more important. Working hard with low self-esteem will still not give you the confidence that working hard with high self-esteem could do.
Remind yourself you are beautiful and you can do anything you want. Don't stop believing in yourself no matter what happens. A dream doesn't become reality through magic; it takes sweat, determination and hardwork to make it possible. There is a key in life that leads to a prosperous life, which is hard work. Have you ever seen a lemonade without a lemon? No, right! So how can you imagine a better life without hardwork. Determination plays an important role too because if someone is not determined, they would never work to achieve their dreams. People do see dreams but only few of them are able to achieve it. Always put your best in everything and let destiny do its work.
"If you dream it, you can achieve it." I always believe this statement because dreams have a special power which can motivate you to do anything to achieve it. Success doesn't come easy. It all depends on how bad a person desires it. For example, if a person is poor and dreams to be a doctor and does everything he/she can and go beyond his/her strength then, nothing in this universe can stop him/her from becoming a doctor. The recipe for success in life is quite hard but if you follow the directions you can achieve it.
The best combination of self-esteem, hard work and success is an Indian idol named Dr. APJ Abdul Kalam. He is not only a great example of hard work and success, he is a man with a golden heart. He was born in a poor family, but his dreams were rich; he wanted to be a scientist. Unfortunately, he couldn't afford to go to college, but his determination was strong. He worked really hard for it, and he received a scholarship which not only opened his doors for college but also his dreams. He did achieve his dream and not only became a scientist but also the eleventh president of India. Dr. Abdul Kalam inspires every Indian. I'm really inspired by him because he gives me hope that if you work hard for your dreams one day you will definitely achieve it. "Dream is not what you see in sleep. The dream is a thing which doesn't let you sleep." – Dr. APJ Abdul Kalam.
Related Topics