The Role of Ethics and Social Responsibility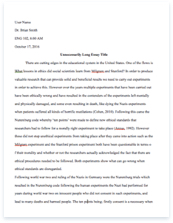 The whole doc is available only for registered users
A limited time offer! Get a custom sample essay written according to your requirements urgent 3h delivery guaranteed
Order Now
Business ethics are becomingly more effective in the modern world of business, yet ethics and social responsibility are concerns misunderstood today. Organization's when confronted with issues that become more significant as the organization grows have more of an impact on the lives of other people in ways management can only imagine. Ethics can be a personal topic, containing an important role in the success of the business and the social responsibility will surely maintain integrity and honesty for the organizations future. In regard to the role of ethics a social responsibility in developing a strategic plan, there will be discussion and consideration with the part of stakeholder's needs and agendas.
ETHICS AND SOCIAL RESPONSIBILITY
Ethics is an important subject, people may refer to as the, 'golden rule' and in business ethics can guidelines imposed by law. Ethics can be best understood as, "the rules of conduct recognized in respect to a particular class of human actions or a particular group, culture, etc" (Dictionary.com, 2011). In regard to business ethics, "ethics that refer to the moral rules and regulations governing the business world" (LoveToKnow, 2010) as a whole cannot tackle every circumstances in which ethical dilemmas may arise.
The importances of decision making not only helps it function properly but also can define the reputation of the organization. Decision making should not be unethical to meet such requirements, "ethical responsibilities of an organization's management are to follow the generally held beliefs about behavior in society" (Wheelen & Hunger, p. 58).
When an organization's values and ethics support its strategy, it is courtesy to stakeholders and the community to inform of any changes in the organization this enhances the company's success and stability. Customers, suppliers, employees, and shareholders each have their own interest in the performance and success of the organization because each can benefit or be harmed by the decision making management makes. This act of sharing with the community and stakeholders better puts the reputation of the organization in good standing with future consumers and investors. This is social responsibility where an organization informs the community, were making profit is not as important as how the effects of a disastrous change of events can have on the communities that rely on the business for their services and products, "affected people can get very upset if an organization's management fails to act according to generally prevailing ethical values (Wheelen & Hunger, p. 58).
MONSANTO UNETHICAL BOUNDARIES
Accused of suing small farmers frequently and unfairly for patent infringement, Monsanto Co. has been named the most unethical company in the world. A case back in 2002, Gary Rinehart, a small business owner in a small town of Eagleville, Missouri, was accused of planting genetically modified soybeans, "Rinehart knew of Monsanto's fierce reputation for enforcing its patents and suing anyone who allegedly violated them" (Barlett, 2011). Rinehart puzzled about his situation; he wasn't a farmer or a seed dealer. Scenes like this have Monsanto going after anyone who may have infringed its patents or genetically modified seeds. Monsanto focuses on increasing crop productivity known for its genetically engineered seeds and chemicals for crops.
Monsanto is one of many corporations that continues to disregard ethical boundaries, using patent seeds to produce bigger crops and profits for farmers, "it is smaller farmers the seeds have created a host of problems" (CBS News, 2008). In 2005, David Runyon, a small farmer out of Indian almost lost everything one day over a genetically engineered seed him and his wife say they never planted. Monsanto went as far as to get a citing agreement from the Indiana Department of Agriculture giving Monsanto the right to come onto Runyon's land and test for seed contamination.
Having an outside, unrelated agency to take care of the ethical and social responsibilities of a corporation is a great solution to preventing unethical behavior. An agency that can exclude any stakeholders who can gain from corporate activities, check and document any legal actions that the corporation has been involved in addressing any patterns of unethical behaviors. Addressing the importance of ethics and remaining consistent in not wavering the values of the corporation will instill the importance of ethics and social responsibility the corporation has to itself as well as to all members of society.
CONCLUSION
It is difficult to say what the best way is for a corporation to elect the best decision. Many factors include so many people that are directly affected by the decisions made by organizations, both internal and external factors that can harm the community and the future of the company. The best strategy to follow is one that will keep the behavioral and moral of the organization ethical. Such outside factors that influence the functions of a business should never force an organization or employee to perform illegal and unethical practices.
Reference:
Wheelen, T.L., & Hunger, D. (2008). _Concepts in Strategic Management and Business Policy_ (11th ed.). Upper Saddle River, NJ: Prentice Hall.
Dictionary.com (2011). _Ethics_. Retrieved from http://dictionary.reference.com/browse/ethics
LoveToKnow. (2010). _Business ethics_. Retrieved from http://www.yourdictionary.com/dictionary-articles/Define-Ethics.html
CBS News. (2008). _Agricultural Giant Battles Small Farmers_. Retrieved from http://www.cbsnews.com/stories/2008/04/26/eveningnews/main4048288.shtml
Barlett, D.L. (2011). _Monsanto's Harvest of Fear_. Vanity Fair. Retrieved from http://www.vanityfair.com/politics/features/2008/05/monsanto200805
Related Topics