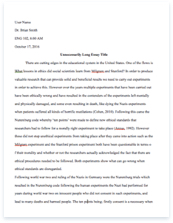 The whole doc is available only for registered users
A limited time offer! Get a custom sample essay written according to your requirements urgent 3h delivery guaranteed
Order Now
1. Identify and analyze three of the core skills that were at play in the case of the reluctant workers, referencing the ten skills described in Chapter 4.
In the Reluctant Workers case study there were three core skills directly related to proficiency in effective program management at play: Team Building, Conflict Resolution and Leadership. I will discuss these three core skills along with an analysis of the way Tim Aston the young project manager exercised his effectiveness skills. Will also discuss the degree of support the company provided the project manager and to what extent he received it. And the order for both the senior execution and the project manager to become effective leaders recommendations will be made relative to personnel and resource allocation.
Team Building
A project managers has a lot of different responsibilities such as team management, conflict resolution, scheduling, planning. Tim Aston, a young newly hired Project Manager arrived on the job excited about his new position. Tim wanted to be the best project manager this company had ever hired. After Tim was on the job for a while, he was unable to motivate his employees and decided to meet with the Director of Project Management to address this issue and other concerns.
Kerzner (2009) has described in detail that to be effective, the program manager must provide an atmosphere conducive to team work. He must nurture a climate with the following characteristics: Team members committed to the program, Good interpersonal relations and team spirit, The necessary expertise and resources, Clearly defined goals and program objectives, Involved and supportive top management, good program leadership, open communication among team members and support organizations and a low degree of detrimental interpersonal and intergroup conflict.
Kerzner (2009) goes on to say that the three major considerations involved in all of the factors are: effective communications, sincere interest in the professional growth of team members and commitment to the project. Communication is vital in project management and good communication skills are one of the most important qualities a project manager must possess.
Effective communication in project management delivers clarity, essential information and inspiration. Although Tim was still concerned that his employees did not come to him with problems, he wanted a better line of communication and in turn, this could help team building. To be a more effective manager Tim rescheduled the late afternoon team meetings to morning meetings. The outcome of doing this is to motivate employees and motivated employees feel empowered and able to accomplish the task set before them without the Project Manager interfering.
Conflict Resolution
The second core skill is conflict resolution. Managing conflict on project teams usually involves establishing policies and procedures. When the following conflicts distracted team members from achieving project milestones, Tim wanted to step in and rectify the situation. During his meeting with the Director of Project Management, he identified the following issues: non cooperative bosses, employees leaving exactly at 4:30 every day, employees walking out of his late afternoon meetings, communication issues and conflicting schedules.
Tim believed these conflicts distracted team members from achieving project success. He informed the Director that he had met a gentleman in the accounting department whom he thought would be a great project manager, however, his boss refused to release him. Tim wanted his employees to stay later than 4:30 pm to continue working on projects. People walking out of his meetings to meet car pools also bothered him. Tim even wanted employees to postpone their programmed vacations due to conflicting test scheduling.
Kerzner (2009) wrote that the accomplished manager needs a "sixth sense" to indicate when conflict is desirable, what kind of conflict will be useful, and how much conflict is optimal for a given situation. In the final analysis, Tim has the sole responsibility for his program and how conflict will contribute to its success of failure. Tim being the effective project manager took the time to complete a stakeholder analysis that identified the business need for projects by setting goals and establishing requirements to avoid conflict in the future.
Leadership
The third core skill at play was Leadership. Expertise in leadership skills is surely a success in any organization. Tim was being effective as a project leader because he had a vision of where he wanted his team to go. He appeared to be a visionary who thrived on change and wanting to drive new boundaries. The Director of Project Manager did not have the same vision as Tim because he told him that "this is essentially how we operate in this company; people think they come first and the project comes second; this is the way of life in this organization; most people are set in their ways and have reached the top of their pay grade and have no place to go". He instructed Tim to do some reading on human behavior. Tim is a young project manager and he will find out that leadership is only learned by doing; it will not be easy, can be very complex and is hard work.
Recommendations
There are several recommendations that can be made to both the senior executive and the project manager to become more effective in their positions. The Project Manager can do the following: define the problems and assess the amount of time and effort that needs to go into fixing it, set up feedback agents to help assess the communication such as focus groups, a professional communication specialist's assessment and surveys, set standards for conduct, get employees involved to agree to the nature of the problems, work on improving your meeting management habits, reduce the number of status meetings and reduce their scheduled time, and always re-publish an agenda and stay on task and develop adequate communication management plans.
For the executive leadership, recommendations are: set in and act as a mediator to resolve the conflicts among the team, assist in evening disputes between the project manager and team members, avoid smoothing over issues that will eventually come back again and create a recognition and rewards system which can help motivate individuals and the collective group for providing incentive for harder work.
Projects need to be managed, and people need to be led. Conflict obviously absorbs the team in delaying activities and robs motivation. The best way for a Project Manager to motivate his people and make them most effective is to create an environment in which they can motivate themselves. When communication is effective, every aspect of the project knows how to accomplish its task and therefore can complete work on time. Effective Team Building, Conflict Resolution and Leadership Skills in project management also provide the project manager with respect and trust from his workers. These skills will also be able to clarify a solid procedure for reasonably and rationally achieving solutions to any problems that may arise.
References
Kerzner, H. (2009). Project Management: A systems approach to planning, scheduling,
and controlling (10th ed.) Hoboken, NJ: John Wiley &Sons, Inc.
Related Topics