The Racism, Prejudice, Or Xenophobia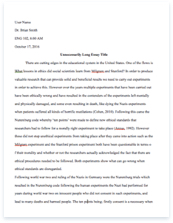 The whole doc is available only for registered users
A limited time offer! Get a custom sample essay written according to your requirements urgent 3h delivery guaranteed
Order Now
Are words homogeneous to an ongoing complication our population has faced for over thousands of years. The ideology underlying these racist practices often includes the idea that humans can be subdivided into distinct groups that are different due to their social behavior and their innate capacities as well as the idea that they can be ranked as inferior or superior. When looking at a branch of racism, Institutional racism or the pattern of social and political systems discriminating against a group of people based on race, it is prevalent that racism is still transpiring today. In the play, A Raisin in the Sun, an African American family of five is living during a time of complicated racial equality. Throughout the story, institutional racism is exhibited through conflicts concerning where the family resides, their job occupation and . This form of prejudice generates frustration, hopelessness and desperation within the family proving the damage of the cruel act.
When focusing in on the occupations of the family it is clear that each adult is working for a white serperior power. Due to institutional racism, there is a clear lack of opportunity for people of color. These inferior roles generate a sense of unworthiness to the characters. Walter Lee, the oldest man in the house, works as a chauffeur for a white family. He describes his job as, " I open and close car doors all day long. I drive a man around in his limousine and I say, "yes, sir; no, sir; very good sir; shall I take the Drive, sir?"" Walters frustration in his role is apparent when he says that his job " ain't nothing at all." He longs to do something of his interest, something empowering and something where a white man will not tower over him. Constant discrimination towards African Americans made this dream of Walters almost impossible. Ruth, Walter wife, feels very worthless and replaceable within her occupation as a "housewife" for the wealthy white families. Ruth's job is necessarily difficult because not only is she working under well off white people, but she is working even harder for her own family. All these roles serve as constant reminders to the family of their inferiority and contribute to lots of problems within the household.
Institutional racism is also apparent concerning where the family will reside. For many years, the family has squeezed into a small, run down house but regarding the big check Lena, or Mama, has decided to purchase a new house for the family. But with a small drawback being the house resides in an all white neighborhood. After the family expressed their concerns Lena mentions, " Them houses they put up for colored in them areas way out all seem to cost twice as much as other houses. I did the best I could." In efforts to prevent African Americans from living in quarters alongside white people, laws would be enacted challenging the affluence of colored families. Industrialized racism today is disguised by laws, but making something illegal does not make it go away. Because racial discrimination is unconstitutional, recently supremacists are turning towards mass incarceration of African Americans to segregate. According to Washington Post, an African American child is six times more likely to have a parent who was incarnated. This statistic often leads to an increase in the possibility of those children becoming criminals and further continuing the ongoing cycle of racial discrimination.
Related Topics