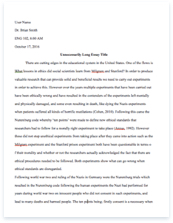 The whole doc is available only for registered users
A limited time offer! Get a custom sample essay written according to your requirements urgent 3h delivery guaranteed
Order Now
I hate fish. No matter what kind of fish, I will avoid eating it at all costs. But that early afternoon in a tiny town named Zacapuato, Jalisco, Mexico, I learned to eat every crumb on my plate, even if it is fish. Our hosts were generous, heart-warming people who had offered my grandparents, my sister, and I a place to stay for about 5 days during our 3-week trip. My sister and I had the opportunity to take a trip down to Mexico with our grandparents to become fluent in Spanish. Over and over, these people showed us acts of kindness during our stay. These experiences have led me to believe that everyone is affected by the power of kindness, no matter how small or seemingly insignificant. That scorching Tuesday afternoon was one I will never forget. Because of the temperatures, we walked around barefoot in the house on the cold floor. As I walked across the tile streaked with dirt to the kitchen table, I felt my stomach grumbling. I was looking forward to having a good meal after our 10 hour drive from Mexico City. Although it was still March, the sun was reminding us summer was coming fast. I sat down at the little wooden table, trying to get used to how small everything was compared to America.
"Oh great," I whispered to Elisa, "We are having fish for lunch." The custom in that part of Mexico is to serve the guests first, while the hosts stand by and eat afterwards. So, it was only our family served at the table. We managed to finish most of the fish on our plate, which was served complete with bones, eyes, and the whole works. When our meal was finished, Elisa and I jumped up to help clear the table and do the dishes. As I turned the corner to go into the kitchen, I caught our hostess, a thin, worn-out, middle-aged woman, scraping every last crumb off of our plates into a small, homemade clay bowl. The realization that I had just eaten their food hit me like a ton of bricks. I was embarrassed and speechless. In what little Spanish I had, I managed to say "Gracias, Señora, por todo" before I ran outside. I really was thankful for everything they had done for us. I've never forgotten what sacrifices that family made for us. It has made me realize people can be profoundly affected by the power of kindness. After lunch, my grandparents and I walked to the local street market and explore the town. Upon our return, our hosts showed us the room we would be staying in for the next five days. All the homes we had been in previously on this trip were tiny, usually with one cot in it.
My sister would sleep on the bed one night, I would sleep on the floor, and then we would switch the next night. We were wondering what this bedroom would be like, half hoping it would be bigger and better, but still thankful that we got a bed anyway. The hosts took us up a creaky stairway and turned right into the first bedroom. We entered the bedroom and I grinned at Elisa as if to say, "This room is going to be great." We put our suitcases in the closet, and hurried downstairs to play some games. The evening went by fairly quickly, and soon it was time to say goodnight. We were all exhausted from traveling and ready to turn in. I noticed a pile of blankets and pillows sitting on the floor by the kitchen table, but thought nothing of it. I was walking up the creaky old stairs when I heard Elisa comment that there sure were a lot of pictures of our hosts together for just a guest room. I thought the same thing, but didn't dwell on it.
The next morning when I woke up, I opened the closet to not only my suitcase, but also a closet full of clothes and shoes. It dawned on me finally that this was their master bedroom. I was amazed at how these people could keep giving and giving just to make us feel welcome. When I have guests in my home I like to make them comfortable, but not at my own expense. I rushed downstairs in my pajamas and saw our hosts sleeping on the hard tile floor of the kitchen. Again, I was speechless and embarrassed. Mark Twain once said, "Kindness is a language that the deaf can hear, and the blind can see." I will always remember the moment when I realized the depths and power of kindness. There was nothing I could do that would come even close to repaying them. Human nature tends to be selfish, keeping what is ours and sharing only a little of what we have. My experience in Mexico has moved me to try to do at least one kind deed for someone every day. I can never repay our friends, but I can pay it forward, by being kind to someone else.
Related Topics