The Neglect Of The Elderly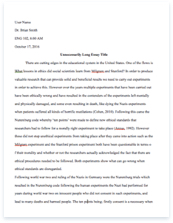 The whole doc is available only for registered users
A limited time offer! Get a custom sample essay written according to your requirements urgent 3h delivery guaranteed
Order Now
There she lays in a nursing home bed, unable to care for herself. She has no family or friends to help or support her, in her time of need. For the first time in her life, she is unsure if she will be treated with dignity and compassion. Her name is Mary. She was placed in this facility after she turned 85. The duties of her caregiving became too much for her loved ones to bear. Unable to cry out to a family member or to anyone who she would trust would offer help, Mary is suddenly at the mercy of perfect strangers. In many cases, once the elderly are placed in nursing homes, they are forgotten about by the people who once cared for and loved them. This story is played out on a daily basis throughout the world. Each year, thousands of seniors are neglected or abused by family members and caretakers. This happens to elderly people who cannot meet their own basic needs; and are mostly, or totally dependent on the help of others for the most routine aspects of life. Neglect and abuse of the elderly can take many forms. It can be disturbing to witness how caretakers, both familial and paid, choose not to provide proper safety to seniors with limited or no mobility or motor skills. Some caretakers are also guilty of not providing for their patients' physical and/or psychological needs (Robinson, Saisan, Segal, 2014).
Physical neglect is the most obvious and common type of neglect the elderly endure. This includes failing to provide proper: medication or therapy, hygiene, and living conditions (Robinson, Saisan, Segal, 2014). An astounding 50% of all elder abuse cases are the result of neglect (Robinson, Saisan, Segal, 2014). A few years ago, I read a story in the local newspaper about a couple who befriended an elderly man. After regularly interacting with him for a while, the couple gradually began to obtain big-ticket items, including a new party boat and a new car. Seeing this, neighbors of the elderly man became suspicious and reported the unusual activity. The ensuing police investigation revealed that the couple was paying for their new toys with money from the old man's savings account, including many ATM withdrawals. Scams like this one are excellent examples of elder abuse via financial exploitation (Robinson, Saisan, Segal, 2014). Not only are the elderly preyed upon financially by con artists, but the healthcare industry is also guilty of keeping its hand in their pockets.
They are often doubled-billed for the same medical services or devices (Robinson, Saisan, Segal, 2014). It's obvious that the lure of money supersedes the care of human beings for the greedy. As I mentioned earlier, the list of different types of elder abuse is extensive. However, acts of sexual abuse troubled me the most. I didn't even know that there was such a thing, until my research revealed this issue. I could not imaging that someone could stoop so low. Signs of sexual abuse of the elderly includes: bruises around the breasts or genitals; unexplained venereal diseases or infections; unexplained vaginal or anal bleeding; torn or bloody underwear. Abusers may also force their victims to watch pornographic material and/or sex acts (Robinson, Saisan, Segal, 2014). This shows that sexual predators are the ultimate opportunists. Elderly people also endure emotional abuse at the hands of caregivers who allow them to move into their homes. Taking on this responsibility is a difficult task, which often leads to frustration due to the lifestyle changes necessary to provide the appropriate care. The victims often endure verbal intimidation, yelling, threats, humiliation, ridicule and blaming (Robinson, Saisan, Segal, 2014).
Non-verbal forms of intimidation consist of: ignoring; isolating the elderly from friends or activities; and invoking fear or terrorizing them (Robinson, Saisan, Segal, 2014). I have described different ways in which the elderly are abused and neglected. So, what can we – as a society — do to prevent this from happening? A good start would be to implement these three simple practices: listen to seniors and their caregivers; don't hesitate to intervene if you suspect abuse; and teach others how to recognize and report elder abuse (Robinson, Saisan, Segal, 2014). If you are a concerned family member or friend, it is important to monitor your loved one for signs of abuse. If you suspect it, report it. Other ways to keep tabs on their well-being include: making sure their medications are current; if possible, monitoring their financial accounts for unauthorized transactions; and calling or visiting as often as possible (Robinson, Saisan, Segal, 2014). By doing these things, you can ensure that your loved one is safe and secure.
References:
Robinson, L., Saisan, J., & Segal, J. (2014). Elder abuse and neglect. Retrieved from Http://www.helguide.org/articles/abuse/elder-abuse-and/neglect
Related Topics