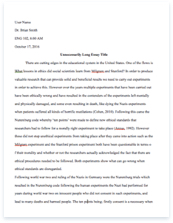 The whole doc is available only for registered users
A limited time offer! Get a custom sample essay written according to your requirements urgent 3h delivery guaranteed
Order Now
When Dr. Maria Montessori became the director of a school for mentally-handicapped children, she exposed them to an environment that was highly conducive to learning. After two years, the children, who had formerly been labeled _uneducable_, were able to pass a test with normal children. This dramatic success led her to study how normal children learn. She reasoned that if mentally disabled children could be brought up to the level of normal, then normal children could excel. Following a two-year study of anthropology and psychology, she took over a school in the slums of Rome, where her use of materials and resources led to optimal self-learning on the part of the children. She hired an assistant who was directed not to _teach_, but instead to demonstrate use of the materials to children who were interested and to show them how to keep their schoolroom clean and orderly. What Dr. Montessori called _auto-education_ (the natural way children learn) gained world attention because of its spectacular results.
The Montessori Method is based on the idea that every child has a natural way of learning. If encouraged and nurtured, the child will flourish and become an educated person:
"Supposing I said there was a planet without schools or teachers, where study was unknown, and yet the inhabitants-doing nothing but living and walking about-came to know all things, to carry in their minds the whole of learning; would you not think I was romancing? Well, just this, which seems so fanciful as to be nothing but the invention of a fertile imagination, is a reality. It is the child's way of learning. This is the path he follows. He learns everything without knowing he is learning it, and in doing so he passes little by little from the unconscious to the conscious, treading always in the paths of joy and love" (Montessori, 1912).
In this essay we will compare Montessori schools to public schools and argue that a Montessori school is a superior place for children to learn. Unlike most children in public schools, children in Montessori schools become eager learners who do not need to be rewarded or punished for their efforts.
Goals for the students in Montessori are to grow personally, to explore and appreciate life, to live by principles, and to become life long learners. A primary goal is to help children develop into _whole persons_ who will live out their potentials as human beings, be responsible members of the community, and stewards of the environment. Unlike public schools, which place a great emphasis on standardized test scores as their primary measure of success, Montessori schools take little interest in standardized testing. Roemer (1998) did a study, which examined and compared learning outcomes as developed by public schools and Montessori schools. She points out that "Many [public] school programs today were originally designed for the 19th century, and it is recognized that they are incapable of teaching students how to solve many contemporary and future problems" (p. 38). Because the new information based society calls for new skills, reformers are examining what students need to know for life in a technological society.
Learning outcomes are "the demonstration of what you have learned rather than reiterating facts and formulas learned from a textbook to earn a score of grade" (p. 39). Thirty states have identified learning outcomes they desire for their students. Montessori learning outcomes have been identified and are found in a document used by schools seeking accreditation, _The Authentic American Montessori School_ by Nancy Rambusch. The researcher looked at sample groups of learner outcome statements. She found that public schools place the highest value on cognitive skills, while Montessori schools stress personal skills as most important. At first glance, this could be disturbing. But Montessori aims at improving the individual in order to improve society and points out that for adolescents to develop fully and live in the real world, it is essential that they grow into people with both heads and hands. Likewise, children who feel loved, secure, and appreciated develop self-discipline which is required for learning, good citizenship, and a meaningful life.
Mindfulness, or living consciously, also contributes to self-discipline (Celeste et al, 2003). Teachers in public schools did not rank achievement as their top priority, but 57% ranked self-discipline highest. Success in Montessori schools includes academic prowess as well as academic follow-through. Self-discipline is defined, not simply as non-disruptive behavior, but as independence, self-direction, and perseverance; personal integrity-self-knowledge and moral fortitude. Success also requires responsible citizenship with appreciation of diversity and positive contributions to the community and _enjoyment_ of work, intrinsic motivation, purposefulness, and sharing with others. Celeste et al concluded that "the Montessori community expects and measures results as a gauge of the learning process; however, the outcomes for students are far more balanced and far more inclusive than in traditional settings" (p. 47).
It is precisely this holistic focus of Montessori schools that makes them superior. Academic achievement is but one part of true education. Because the teacher is trained to teach only one child at a time, observations of the child are made and recorded, and the teacher studies what is going on in order to guide the child further in his or her development. Only a rare teacher in public school could do this. In a Montessori school all subjects are interwoven, unlike public schools where children study one subject for a limited period of time and then move on to something else, usually unrelated.
There is _coherence_ to the learning in the Montessori school. What a child learns leads naturally to the next thing he or she will learn. And children who are learning are not interrupted or subject to time constraints. Evaluation of a child's work is usually by portfolio, the teacher's observation, and record keeping rather than grades as in the public school. Montessori teachers feel that the real test for whether or not a system is working, is in the children's accomplishments and behavior, "their happiness, maturity, kindness, and love of learning, concentration, and work" (Olaf, 2004).
The Montessori method involves "seeing children as they really are and creating an environment that fosters fulfillment of their highest potential-spiritual, emotional, physical, and intellectual-as members of a family, the world community and the Cosmos" (Montessori web site, 2006). A Montessori school celebrates the unique individuality of each child and recognizes that children are not like adults and do not learn as adults do. Public schools are not able to concern themselves with the whole person in the way that Montessori schools are. Teachers must be specially trained to address the whole personality instead of merely teaching a specific body of knowledge as public schools do. Teachers do not lecture in Montessori schools. They ask Socratic questions instead.
Montessori schools claim a high level of academic achievement. Students in 6-12, for example, are ready for levels of work not usually presented until much later in public schools. This high level is believed to be a natural outcome of a supportive learning environment. Children work at their own level of ability in a self-directed manner toward thinking, writing, reading, science, math, and cultural awareness. Mixed-age groups that the children work in are more like real life in society than classrooms in public schools offer where all the children are the same age (Montessori web site, 2006) and expected to learn the same things.
In a Montessori school there is a defined awareness of sensitive periods of development, which informs the focus of class work. Lessons are appropriate, stimulating, and motivating to the child. Children are viewed as competent beings who can make decisions, both large and small. They are expected to choose what they want to learn about from the variety of learning materials that are provided. Ongoing curriculum development evolves on the basis of observing the individual child in the environment and presenting materials that help the child's skill development. The school uses child-sized furniture and a child-sized environment so that children can run their world themselves. Young children are seen as limitlessly motivated to learn. They have "absorbent minds" and are able to perfect their skills and understandings in a natural way within each sensitive period (Wikipedia, 2005).
Lessons are presented methodically so that each step leads directly to a new level of learning or a broadened concept. Playing is learning and preparation for later concepts. Repetition is needed for the learning process, so children are encouraged to repeat activities until they are tired of them. A hands-on approach encourages young children to develop their observational skills. The five senses are part of these learning activities with kinetic movement, spatial refinement, small and large motor skill coordination, and concrete knowledge that leads to abstraction later. The teacher acts as a guide and facilitator rather than a dictator or a director. In this environment children are free to explore, touch, and learn without fear.
In an article titled "Counting or Playing?" a Montessori teacher wrote about receiving a phone call from a parent who was concerned because her daughter had come home from school and said that she and her friend had played with beads all day. The mother thought her daughter should do something more challenging. The teacher explained that the daughter had looked around for work to choose and gone to the math shelf to see the materials there. "Deciding on a work that is a little more difficult, she invites Susan, who just walked by, and they work together. They roll out their rugs, lay out the materials, and begin. During this time, they learn that 5,491 is not simply 'five thousand four hundred and ninety-one' but actually 5 thousands, 4 hundreds, 9 tens, and 1 unit. They begin to understand that as you get 10 units, you can exchange the units for another 10, and as you get 10 tens, you can exchange them for 1 hundred. After about 20 minutes, the girls put their work away. Eventually, it is time to go home, and when her mother asks, 'What did you do in school today?' her simple answer is 'Susan and I played with beads all day on a rug."
Although the two students had learned important math concepts, they didn't think of it as work. They had fun. But "playing with beads" helped them prepare for more abstract work later. It gave them what they needed to know in order to truly understand a 10, 100, or a 1000 in comparison to a single unit (Bronsil, 2005). This is a far cry from the student who comes home from public school and in reply to the same question says, "Nothin'. It was boring." As Dr. Montessori put it, "We know only too well the sorry spectacle of the teacher who, in the ordinary schoolroom, must pour certain cut and dried facts into the heads of the scholars. In order to succeed in this barren task, she finds it necessary to discipline her pupils into immobility and to force their attention. Prizes and punishments are ever-ready and efficient aids to the master who must force into a given attitude of mind and body those who are condemned to be his listeners" (Montessori, 1912). Montessori schools encourage children to love learning.
References
Bronsil, M. (2005). Counting or playing? _Montessori Life_, 17 (3), 48-49.
Celeste, N., DeAubrey, D., Freilino, M., McDurham, R., Noel, A., and Smith, L. (2003). Identifying priorities for success in the Montessori Middle School. _Montessori Life_, 15 (3), 45-47.
Montessori, M. (1912). _The Montessori Method_. Trans. By Anne Everett George. New York: Frederick A. Stokes Company. Full text available online: http://digital.library.upenn.edu/women/montessori/method/method-I.html.
Olaf, M. (2004). An introduction to Montessori philosophy and practice. _Child of the World: Essential Montessori for Age three to twelve._ Accessed 6/30/07: http://www.michaelolaf.net/1CW312MI.html.
Roemer, K. (1998). Outcome based education and Montessori schools.
_Montessori Life_, 10 (4), 38-41.
Wikipedia online encyclopedia. Montessori method. Accessed 7/1/07: http://en.wikipedia.org/wiki/Montessori_method.
Related Topics