The Mental Health Of Our Youth Today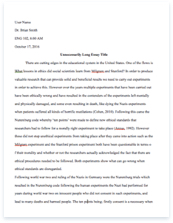 The whole doc is available only for registered users
A limited time offer! Get a custom sample essay written according to your requirements urgent 3h delivery guaranteed
Order Now
Suicide, mass shootings, substance abuse and behavioral problems appear on our schools at growing rates. People judge, criticize and place blame on the parents for the actions of their children. Often parents don't have the tools to recognize the signs when it is time to take a stand and advocate for a child struggling with mental illness. There are many factors that one might say has fueled the increase in the numbers of children and teenagers facing mental illness and attempting suicide. Mental illness can be inherited, brought on by trauma, medication and injury. Today's pressure with social media and bullying adds to the already difficult time every child and teenager goes through within their families, social circles and class that they are born into. A suicide attempt and mental illness effected my family due to a combination of trauma, genetics and the pressures of high school.
At the time my young man was 15 years old, who had a love for playing sports. Football, baseball and his social life consumed his days. He was and still is a social butterfly and has many friends and a calendar full of sweet 16 courts, dances and football games. My son struggled with his behavior issues since the first year he was in preschool. We had him evaluated for Attention Deficit Hyperactivity Disorder a few times, although the doctors never made the diagnosis. During a 10th grade football practice, he denied telling us the fact that he had a concussion to avoid missing two weeks of football, for concussion protocol. His temperament became more irrational, exhausted and irritable, but we just assumed it was normal teenage hormones. His long struggle with behavior, possible undiagnosed ADHD and the concussion created the perfect storm. I soon learned, this was not the normal teenage behavior for my son. Children and teens with trauma, may exhibit anxiety, depression, agitation, aggression, defiance or learning difficulties.
Bright lights shined through my window at 1:00 am, and officers asking for my son. He had posted on social media that he had taken pills, in attempt to commit suicide. That moment my life changed forever, and I felt a huge responsibility to be open about my experience, so that maybe our story and experience could help another family. At the beginning of this school year there was a group of suicides amongst our young people here in Rancho Cucamonga. According to the Daily Bulletin there were four Rancho Cucamonga students commit suicide at 4 different schools. "Sometimes contagion or clusters don't begin with suicide, it's a car crash or another loss,". Suicide is the leading cause of death for teenagers fifteen to nineteen, the prefrontal cortex is not fully functional until the early twenties, young people are more likely to act on their impulses. Mental health diseases do not affect one social stratification and pass on others, it can become a part of any family or class. The schools immediately implemented programs to help the other students cope with the news going on around them, and so close to home. Risk factors go up when there are a lot of kids who have suicidal ideation, when they are talking and sharing ideas. In talking with my boys, I learned of this game that was reaching young people called the Momo Challenge.
It is not fact, but speculation that one student at least had been playing this game. It is a game that has kids do things that will eventually lead up to the game asking them to commit suicide. "Various studies have shown that the internet usage does influence suicidal behavior, particularly among isolated and vulnerable adolescents". Bullying is another area to look at when considering the correlation between mental health issues such as suicide and school violence. A child or teen could get picked on because of being overweight, a disability, race, ethnocentrism or even for being too good at something. "Bullying is intentional, persistent, humiliating mistreatment between peers, dished out by those more powerful than their targets by size, age, numbers, status, money, race, or other characteristics. It's an act of aggression intended to do harm". When using the sociological imagination, it would appear that bullying is an individual issue and something that would be looked at within one home or one school, but it becomes a sociological public issue. This helps explain the increase in numbers of kids affected because there is a greater amount of influence by the society that surrounds them, as this public issue continues to grow.
Young people are vulnerable and may take drastic measures to get away from bullying and microaggressions happening on campuses and online. "In several cases teens reportedly committed suicide to escape the intense and unrelenting bullying they endured, giving rise to the term 'bullycide'. Kids will not always look for help out of embarrassment or fear of further retaliation. Teenagers naturally hide many things from their parents and peers, this becomes a very difficult time when evaluating mental health in teens. This makes it difficult to provide care and get them the help that they might need. In our communities and in our home's it is crucial that we recognize signs of those being bullied. It is important to teach our kids to be there for eachother as well. I would have never known that my son had taken pills if his friend hadn't called the police to notify them. The socialization that happens in our homes may need to be broadened, so our children are more open to the differences amongst them.
There has been an increase in school shootings over the past decade. The gunmen at the school shooting at Columbine is the one I am going to explore. Eric Harris and Dylan Kleboid were the two teenagers who had been planning this shooting at their school for one year before they acted on the campus that fateful day. Research paints a picture of the two boys state of mental health, Dylan Kleboid was suicidal, angry and depressed. Eric Harris was more put together and kind but also brutal and lacked the empathy most other teens have. He was also found to be a sociopath, grandiosity with large feelings of superiority and contempt. Some Psychiatrists guess what could have happened to Dylan Kleboid if he would have gotten the help he needed and never partnered with Eric Harris. If Dylan would have been accepted by his peers, the consensus is the shootings at Columbine would not have happened. He would have never continued with the mass shooting by himself. He had a chance at a successful life if he had the support and interventions to heal his mental health.
It is common for our culture to deny a mental health diagnosis in fear of the stigma that surrounds it. In my experience, I was in denial and in shock and could not begin to comprehend the journey ahead. The treatment consisted of counseling, taking anti-depressants and inpatient and outpatient programs. "Studies show that American teens prescribed antidepressants has gone up 50% since 1998". The program was extreme in nature including individual and group counseling sessions three time every day, firm routines and specified family visits and phone calls. Going to see my son there was by far one of the most difficult times I have ever experienced. I am sure that without the support and guidance of the in-patient program staff, I would have been lost. My son would not have started his recovery, and we most likely would have been back to the ER. The facility also had therapy for the families and guidance for the parents. Once released from the in-patient program, we went 4 days a week for 8 weeks. It has been a year now since the night he went in to the hospital and he is off of his medication's, but he still attends therapy weekly and meets with a psychiatrist monthly.
The therapy available to aid in prevention and healing for our children and teenagers is out there and should be used more often. Unfortunately, it is very costly even with insurance. To maintain the amount of counseling it really takes to recover and prevent future mental illness, the cost of meds and weekly visits is not realistic for some people. Studies have showed the greatest levels of mental distress is in the economically deprived areas, where this level of treatment is not available or affordable. Research suggests that students from low socioeconomic backgrounds are overrepresented among those identified at the seriously emotionally disturbed. This public issue will affect our societies economy and future as whole. More children suffer from mental illness than from leukemia, diabetes and Aids combined. Still, it is taking our children's lives and minimal steps are being taken to help our community. Less than 42% of students that are seriously emotionally disturbed graduate high school. As a society more needs to be done to aid in the rising incidences of mental illness amongst our young and most vulnerable.
"A serious national commitment to providing community based mental health services and coordinated systems of care is needed and realizing that goal is beyond the capacity,". There has been a 48% increase in children receiving services under the handicapped program at the elementary level. There is still a stigma surrounding mental health and shame that people feel when having depression or being a family member of someone who is struggling with mental illness. It is necessary to break this stigma to move forward with young people, so they feel open to speaking about sensitive subjects that they are experiencing. I believe another important step moving forward is to bring attention to what is happening in our schools and to our young people, that did not necessarily happen at such an alarming rate even 10 years ago. We need to bring discussions of suicide, bullying, mass shootings and behavior problems to our sociological imagination so that we as a society can move forward to understand the rise of these events in our young generation and advocate for this to be seen as a disease. Prevention and seeing the signs early will help those struggling to evolve to have a more satisfying and productive life.
Related Topics