The Life of a Surgical Technologist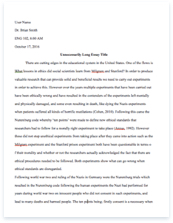 The whole doc is available only for registered users
A limited time offer! Get a custom sample essay written according to your requirements urgent 3h delivery guaranteed
Order Now
Surgical Technologist, also known as Operating Room Technicians, are part of the surgical team. They assist in surgical operations under the supervision of surgeons, Registered Nurses, and other surgical personnel. One most important aspects of many surgical technologists is learning how to prepare operating rooms so they are sterile, which helps lower the rate of infection in patients. Before surgery, Surgical Technologist helps prepare or setting up surgical instruments and equipment, sterile drapes, sterile solutions, assemble both sterile and non- sterile equipment. They may get ready for surgery by washing, shaving, and disinfecting incision sites, transport patients to the operating room, observe vital signs, help surgical team on sterile gown and gloves. During surgery, they pass instrument and other sterile supplies to surgeons and surgical assistants. Surgical technologists work in clean, well-lighted, cool environments.
They must stand for long periods and remain alert during operations. At times, they may be exposed to communicable diseases and unpleasant sights, odors, and materials. Most surgical technologists work a regular 40-hour week, although they may be on call or work nights, weekends, and holidays on a rotating basis. Surgical Techs were originally performed by nurses. The succession of World War I and II, Korean War, and the Vietnam War made a huge need for health care and physicians. Medical technicians started serving the role of a "scrub tech" in the operating room. During the time of the Korean War, physicians started using medical technicians as assistant instead of nurses over the years  Hospital- based programs were developed for surgical techs in the late 60s, which required 3- 6 months of on- the- job training. In the 70s, the education for surgical techs became formalized and community colleges began to offer programs.
During this time the Association of Surgical Technologist was organized. Training programs may vary from eight months to two years. The curriculum may include courses in medical terminology, anatomy and physiology, introduction to surgical technology, surgical specialties, surgical techniques, sterile techniques, pharmacology and anesthesia, psychology, biology, microbiology, computing, medical law and robics Hospitals are the number one place for surgical technologists. According to Bureau of Labor statistics, about seventy percent of surgical technologists work in a hospital setting. The second place that you may find surgical technologist employment are outpatient surgery center clinics also.
Related Topics