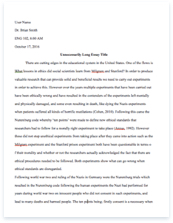 The whole doc is available only for registered users
A limited time offer! Get a custom sample essay written according to your requirements urgent 3h delivery guaranteed
Order Now
Baldoz said Even while the implementing rules and regulations (IRR) on the recently enacted Kasambahay Law is being completed, Secretary of Labor and Employment Rosalinda Dimapilis-Baldoz yesterday has already urged household service workers (HSWs) and employers to prepare themselves for a paradigm shift that will professionalize domestic workers in the Philippines and abroad, at the same time advocating the use of the Department of Labor and Employment's (DOLE)'s Career Information Pamphlet as a guide. "The Kasambahay Law is a landmark piece of labor and social legislation that recognizes for the first-time domestic workers as similar to those in the formal sector.
It, at the same time, strengthens respect, protection, and promotion of the rights and welfare of domestic workers," "This is the paradigm shift that we speak of; and part of our strategy in raising the level of public knowledge and understanding, aside from online posting of the government's version of the IRR and public consultations through social media, is the release of information, education and communication materials (IECs) like the career information pamphlet on HSWs," she added. According to the pamphlet, an HSW is internationally defined as someone who does a variety of household maintenance. Typically living in his/her employer's residence, an HSW is usually in charge of preparation of meals, cleaning the dishes, doing laundry, providing care for employer's children, and general house helping chores.
Conrado de Quiros Said Some news reports say that the new Kasambahay Law (Republic Act 10361, "An Act Instituting Policies for the Protection and Welfare of Domestic Workers" was signed into law on 18 January 2013) will have the unintended consequence of making many people unemployed. Families who could not afford to pay P 2500/month (in Metro Manila) to their kasambahays are expected to lay them off en masse. There are two kinds of families who pay their kasambahays too little. First, there are those whose income is high enough, but who pay their kasambahays too little because they think that is all they deserve. These families would be forced to pay a decent living wage to their kasambahays. They may have to forego some very minor luxuries to do this. Then, there are the families whose income is barely enough to support the family plus a kasambahay. If such families cannot afford to pay P2500/month to a kasambahay, they should simply not hire one. Very often, such families do not objectively need a kasambahay.
They could easily divide household tasks among the members of the family. For these families, having a kasambahay is more a matter of prestige than an objective need. They want to underline the fact that their social status has risen by having a kasambahay. Family members then think it would be beneath them to do household chores. But when they do hire a kasambahay, they could not afford to pay them properly, and the working conditions would often be bad (e.g. cramped sleeping quarters, bad food, long work hours). When a family hires a kasambahay they are making a choice not to spend for some other things instead. Rationally, a family would hire a kasambahay when it is able to become more productive (and thus earn more money) as a result. This is the case when both partners work. But hiring a kasambahay may not always be the optimum solution. There are (theoretically) other choices open to them. If they need help in specific tasks e.g. cooking, laundry, gardening, cleaning or taking care of children, there are options other than hiring a live-in kasambahay. Cooking could be done by sharing the task among all household members, or they could bring home cooked food. Children could go to day-care centers, and a good schedule of play-dates could be made for the other days.
They could hire a labandera to come once a week, or bring their clothes to a laundry service; they could hire someone to clean the house or to work the garden once a week. These steps would probably be cheaper than hiring a live-in kasambahay. Quierosaber Said For one reason or another they decide to gamble their fate and go to foreign places not knowing what awaits them. Even college graduates, unable to find a job here, are forced to leave to try their luck in other countries. Some find jobs in hospitable homes where their employers treat them humanely. Others seem to be ill-fated, getting employed in a household that would be the cause of their unending pain and misery inflicted by mean, inconsiderate, exploitative and conscienceless employer. It is domestic helpers from the latter classification that we always hear, time and again, returning home with severe bruises and/or scars on their body, emaciated, disfigured, and almost always crazed – all victims of traumatic experience.
The sad thing about all these is that there is not much that our government can do in terms of prosecuting the offenders. This is why it is with great relief that the Domestic Workers Act of 2012 or better known as the 'Kasambahay bill' is being fast-tracked by no less than the Senate President Juan Ponce Enrile and Senate Pro Tempore Jinggoy Estrada so it could start protecting and uplifting the lives of domestic helpers in the country, now reportedly totaling somewhere between 600,000 and 2.5 million. Nicole J. Sayres Said Domestic work is one of the most important sources of employment for Philippine women both in the country and abroad. About one-quarter of the Philippine workers deployed overseas every year enter domestic service. Concern for their safety and protection from abuse is particularly strong in the Philippines in the aftermath of the execution of Flor Contemplacion, a Philippine domestic worker in Singapore in 1995. Indeed, the hidden nature of domestic work within the private sphere of the employers' household and the informal employment arrangements often practiced, make domestic workers particularly vulnerable to exploitation, and in some circumstances, to forced labour and trafficking. Theo Rigby & Kate McLean Said This Op-Doc video explores the relationship between an immigrant caretaker and an elderly woman in the last months of her life.
Joesy, a Fijian immigrant, works long hours providing live-in care for 95-year-old Haru Tsurumoto in Sonoma County, Calif. Through intimate and quiet scenes, we explore Joesy's complex relationship with Haru. The two respect each other in part because each has experienced being an outsider in the United States — Joesy as an undocumented immigrant who fears she could be sent back to Fiji, and Haru as a Japanese-American who was sent to an internment camp during the Second World War. Alyaa Alhadjri said A proposal from the Indonesian government to stop sending its citizens to work as domestic workers abroad in five years' time will only work on paper as it does not match market demand from employers, said a Jakarta-based migrant rights group. Indonesia Labour Association head Retno Dewi said while the intention behind the plan is to protect migrant workers from potential abuse, its implementation must be backed with corresponding legislation from receiving countries such as Malaysia Louisa Mitchell, the author of "Gender equality in Hong Kong comes at the expense of foreign domestic workers", points out that Hong Kong women's "progress" towards gender equality is nevertheless built on the work of an army of foreign women. The earnings equality between Hong Kong's men and women has been achieved almost entirely at the expense of these workers. Hong Kong, as a society, still undervalues "women's work".
Professor Judy Fudge Said Women who cross national borders in order to work in the households of other peoples' families are very vulnerable to exploitation.Their precarious work situation is a function both of their precarious migrant status – typically they are admitted to the country in which they work on visas that tie their 'rights' to work and to reside in that country to an on-going employment relationship with a specific employer – and their employment within private homes. Employment agencies, which recruit and place domestic workers across national boundaries, are crucial actors in the construction, maintenance and reproduction of global care chains, in which women from the South migrate to the North or to contiguous countries in the South in order to provide domestic work. Employment agencies have long been associated with abusive practices, such as charging fees to workers and fraud, in the recruitment and placement of domestic workers.
They also draw upon and contribute to an on-going process of racialising domestic work. IDWN sent a letter on 19 Nov 2012 to Mark Harper, Immigration Minister of United Kingdom, to show our concerns and worries about the effects of changes of the visa system for migrant domestic workers. We urged the UK government not just to consult, but to enter into negotiations with the domestic workers representatives, to address the many problems of the lack of rights, protection and regulation of domestic workers. A month later, a reply letter came. IDWN is disappointed with the reply from the UK government. It denies the fact that the change of visa system, including the restrictions of change of employers and length of stay to 6 months will increase the vulnerability of domestic workers to abuse. The government also rejects to ratify ILO C189.
From January last year to September this year, Tenaganita handled close to 200 cases of domestic worker abuse incidents. Based on these cases, the top five violations faced by the workers were: withholding of passport by employer (100% of cases), no contract signed between worker and employer (100%), no paid day off (100%), unpaid wages (76%) and physical abuse (60%). Other violations included overwork, insufficient food or deprivation of food, doing double jobs (at home and at the employer's business), poor living conditions, and sexual assault or rape. Each case typically involved a combination of seven or eight different violations. Many employers do not realise that under the Anti-Trafficking In Persons and Anti-Smuggling of Migrants Act 2007, abusers can be fined up to RM1mil or imprisoned up to 20 years.
Related Topics