The Influence of Parents on the Formation of the Child's Values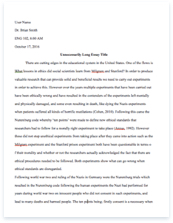 The whole doc is available only for registered users
A limited time offer! Get a custom sample essay written according to your requirements urgent 3h delivery guaranteed
Order Now
Parents are almost always one of the most influential people in a person's life. They are often the ones who contribute the most to their children's lives by shaping them into individuals who share the same beliefs and values as them. Through this rather harsh letter of advice given to his son traveling far from home, Lord Chesterfield reveals his own values, attempting to pass them on to his son by incorporating various uses of diction and rhetorical questions to remind his son of the responsibilities he must carry, highlighting the importance of his education.
Chesterfield starts off his letter by assuring his son that he is only aiming to give advice, acknowledging that his son may not be willing to lend an ear to what he wants to say. Keeping this in mind, Chesterfield integrates the phrase 'I know' in order to try to sympathize with his son while simultaneously implying that he expects that the advice that he is about to offer will be put into consideration. Chesterfield uses familiar diction to create an inviting tone by assuring that he only intends to 'advise as a friend', portraying that he wants to come across as a companion rather than an authoritative figure in order to convince his son to listen to him. However, Chesterfield's diction abruptly shifts to a more disciplinary tone in which he suggests his son to take advantage of the opportunities presented to him. Chesterfield blatantly states, 'I do not… hint to you, how absolutely dependent you are upon me', his shift in tone revealing his true intentions; he believes that his son should feel obligated to follow his advice. Chesterfield's friendly and welcoming diction catches his son's attention, which he then uses to incorporate his knowledge from personal experience to create a more controlling tone in order to highlight his son's priorities. Such use of diction reveals Chesterfield's true values and serves to guide his son towards a more promising future.
By abruptly switching his tone in the letter, Chesterfield establishes his position of authority over his son after falsely reassuring him that he would not approach the letter in this way, although it is apparent that his intentions were not what he claimed they would be. Chesterfield urges his son to have 'attention and application' to everything he learns in life, indicating that commitment is an important value to him, asking his son, 'For can there be a greater pleasure… to excel those of one's own age and manner of life?', emphasizing the importance of achieving excellence. Chesterfield then warns his son of the negative consequences of half-heartedly taking on challenges, reminding him that as someone who was born into such a high position in society, failing to take advantage of the numerous opportunities presented to him would inevitably result in disgrace and shame not only to himself, but his father as well, stating that 'one may as well not know a thing' rather than attempt to learn something and only attain some knowledge from it. Chesterfield's integration of rhetorical questions allows his son to reflect upon his past decisions and quite possibly reconsider his values.
Lord Chesterfield's letter to his son consists of his expectations of him that are to be met without any excuses; he exhibits a sense of superiority over his son based on his own achievements, which influences him to criticize his son's aspirations in life that could potentially ruin his reputation. By including rhetorical questions as well as forceful diction, Lord Chesterfield demonstrates his concern for the success of his son, who may soon take his place in the upcoming future.
Related Topics