The Importance of Rapport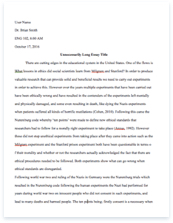 The whole doc is available only for registered users
Pages: 8
Word count: 1979
Category: Therapy
A limited time offer! Get a custom sample essay written according to your requirements urgent 3h delivery guaranteed
Order Now
Rapport is everywhere; it is how we are with ourselves and others it is vital as part of our communication and behaviours in everyday life. I was listening to the news this morning, a piece was highlighting how, within the NHS it has been found that personnel caring for patients are simply not saying "hello" and furthermore not introducing themselves. Food for thought – a reminder that without appropriate rapport; the desired outcomes and in this example how a patient feels and thrives during their treatments will be detrimental. It was highlighting that patient's were not 'doing so well' if no basic rapport measures were being met and delivered. Rapport comes from an old French proverb 'rapporter' and means to carry something back. Upon reading articles and relevant books, it appears that rapport is a relationship, whether in groups or individual and with rapport there is a deeper understanding, congruence and bond. Further to these elements, the outcomes are trust and safety. My two favourite books relevant to these initial phases of this course are a very much loved and old Client – Centred Therapy [1] and Ericksonian Approaches [2].
These books, the former in particular are gentle and comprehensible and have much of the content based on 'how we are with our clients. Rapport appears to be the foundations of all we do with our clients. It is cited in [2] as "unconditional positive regard "and therefore creating an environment both mentally and physically of our clients feeling they have our undivided attention. Working with my two practice clients and having their honest feedback as been vital for me improving my skills as a therapist; and there appears to be a common thread amongst all written and said from them – that I make them feel safe and they have pure and unadulterated 1:1 nurture time. They have feedback they feel they can trust in all said and that they feel a positive and neutral connection. We have found since the start of treatments, that we have continued to have a professional empathetic relationship, however they have both started to 'let go' of their hidden issues and we are making wonderful progress.
To start at the beginning of when rapport begins – that time of first meeting. Vital seconds on the Hypnotherapists part to gain that instant connection and the start of the building blocks of rapport and how this will affect the therapy. A smile, engaging eyes, the appropriate environment, active listening. Referring back to my Module 2 Journal, the Therapist should be using all the communication skills to tune in to the client. Initially the needs are not paramount, as it is about creating a mutual connection and allowing a client to feel at ease. The Notation form is a beginning and part of this initial connection between client and Therapist; however it the Therapist should bear in mind certain environmental and physical barriers that can occur during information gathering. Reflecting back to when I was a Practice Nurse and most patients would have a 10 minutes appointment; it's key that upon walking into my treatment room I created an instance and mutual connection to allow them to feel at ease with sharing their need.
I found it best to have a choice of chair and sat to the side of my desk which would allow me to sit with the patient without the barrier of the desk and in addition not being too much in their personal space. The first 5 minutes would be me listening and observing, the other 5 minutes the advice/treatment. Of course in a realistic world, this was not ever practised as such, patients come with very different needs and time is a poor given. However, working with clients who choose to see a Hypnotherapist, time is a little kinder on both sides and therefore rapport is easier to achieve and maintain. And so, the notation form, vital assessment and data. I feel it should be kept clean and precise with questions, and in tune with the clients' initial presentation.
If a client appears extremely anxious or emotional, the notation needs to be gently managed and relevant information asked only at that time. I feel the information required should be facilitated by the Therapist and should be used as the start of the relationship with the client. I have started compiling a notation form and have researched different formats. I must say some examples are quite long winded and almost suffocating in the questions asked. In my experience, whether it be visiting the dentist or going to the hairdressers, long winded assessment/data forms are quite intimidating. So far, my notation has as follows: Basic personal details
GP name and contact if known
What the client would like to be known as – preferred name Best contact
numbers/email
Current/past Medication – dose, when taken, general compliance, how did you feel on this medication? Mental/physical history – past and present
The primary reason for today's consultation/visit?
Previous therapy/counselling?
Interests/hobbies
Likes and dislikes – any current phobias?
To end the notation I have the statement of confidentiality and having to share information in the case of safeguarding the client's needs. I feel this notation should be thought of as the start to the therapy; it may take a client some weeks before the reason for seeing the therapist actually is shared or discovered. It should be the start to making the client feel safe and understood and is progressive. To sit in front of a client/person and ask questions upon questions and the therapist not actively engaging would potentially be detrimental to the client/therapist relationship and may never be recovered. I know from experience and others, that to walk into a shop or any service area and have the person sit head down and not engage within a minute may start to make one feel doubt, insecure and intimidated. To emulate this experience within a client/therapist relationship, will not be positive and could deter the client from seeing the therapist. To continue on from the Notation and discussing Rapport I would like to explore rapport deeper and what it is.
Referring back to Carl Rogers, who spent a lot of time understanding communication and observing the impact of therapists' behaviours, it appears we need to be constantly aware of our attitudes and orientations. Rogers, discusses this at large in his book – Client-Centred Therapy. He appeared to start to understand and model how therapy can be successful with the simplest of measure applied when interacting with clients. It appears he amongst others of that time and same mindset, started a revolution in Therapy and hypnosis to date, and upon reading articles the following examples are core to starting and maintaining rapport. 1. Unconscious communication – vital with hypnosis. To show a client that you understand them and their unconscious mind, will in turn start to work with the unconscious mind. This will awaken the unconscious/belief section of the brain and open up to suggestion. An example noted from reading and my own practice is to use the breathing technique and tune into the clients breathing and create synchronised breathing patterns. 2. Physical and spoken mirroring – to create a common wavelength in communication. Paraphrasing and relating back to the client. 3. Tone and modality
4. Appropriate eye contact
5. Open questioning as appropriate with the therapy session
6. EMPATHY!
7. If you have to challenge/disagree, giving a sound and good reason as to why. In turn, if the therapist agrees with a statement, answer why and be specific. 8. Honesty –
9. Open and mirroring body language – gesturing, seating position, leading 10. Consistency – too many variables can lead to reduced compliance and confidence Karle and Boys [3] outline in their book the importance and value of the 'The First Interview'. The whole chapter breaks the first interview down into recognisable stages, highlighting each time that is part process and engagement to guide the client to feeling at ease and acceptance of treatment. In one of their example scripts as follows I especially like to way it is giving choice, control yet allowing the client to open their views: "I find commonly that it can be very useful, with this sort of difficulty, to use hypnosis. I do not know at this stage whether that will be most appropriate form of treatment for you, but many people find it helpful. I wonder what the word 'hypnosis' means to you?" [4] This reference is a wonderful and gentle guide and a start of rapport and then furthering positive engagement for hypnosis. It appears to strike a good balance.
With hypnotherapy, rapport in particular is so important. For a client to feel safe and in control with being in a vulnerable position mentally, the hypnotherapist must show they are trustworthy and non judgmental. The initial rapport setting, based around the first interview/assessment is the start of the client accepting and therefore able to engage going forward. To gather the information, not too much but enough is a fine art and am sure it takes many sessions before it starts to flow, or maybe some hypnotherapists just have that inbuilt something that is a true gift. Battino and South [5] discuss that the initial interview should be no more than 10 to thirty minutes and this be a discussion based level of conversation and should be a brief as safe regarding taking personal details, yet leaving a half page for "why are you here, and what would you like me to do?".
I would feel that this would create less anxiety and the rapport would start to build. Numerous questions and information requests from the Hypnotherapist would in my opinion build a barrier between them and the client, and after all, the person mainly doing the talking should be the client surely? Giving your client time to discuss their need and exploring hypnotherapy is then when the Therapist uses their eyes and ears to observe and take notes. This in turn will show the client they are being heard, understood and listened to – someone cares, just for them. Ideally I feel, this is when the true rapport will begin. One of my practice clients, made it clear to me this week, as she was thanking me for in her words "completely changing her life's perspective and allowing her to feel free and breathe" she followed on by saying – this only happened because I listened and made her feel safe enough to talk about all she had suppressed since the age of 11.
My client over the last few weeks had felt the rapport had broadened for her as she suffers with trust and guilt issues and she felt she could start to open up about matters she had never discussed with anyone. The professional relationship however, has still maintained and the empathy and non judgemental approach never wavered. In turn her hypnosis time has improved and the outcomes – in this example reducing anxiety and increases self belief is remarkable for my client. So in summary, rapport is a vital concept and especially within the field of hypnotherapy. I have appreciated that instant rapport can lead to initial ease and engagement for a client and from this the rapport building blocks will continue to a more harmonious relationship with the client.
In turn I also feel that has rapport continues to build and improve, that there be a definite effectiveness on the outcomes of the chosen therapy. Without the fundamental components of rapport being facilitated by the Hypnotherapist, it will therefore create barriers to treatment and the client will not engage. The notation is a wonderful guide and framework to the start of rapport is used well, and can be a way of gaining information gently without breaking the bond or connection between client and hypnotherapist.
Related Topics