The Importance Of Online Privacy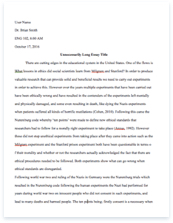 The whole doc is available only for registered users
A limited time offer! Get a custom sample essay written according to your requirements urgent 3h delivery guaranteed
Order Now
Have you ever Google'd yourself? What did you find? Have you read your "Rate My Professor" reviews? What if one of your students wrote a review that was dishonest, or worse, depicted you in a negative light? Have you ever wondered what happens to Yelp reviews? Do they remain online forever? What if the review was written by a troll who had never been to the restaurant? Should it be upheld under the protection of free speech? On a more serious note, what about the "amateur" girls on pornographic websites? Did all of them consent to being filmed, or are they displayed on the site as the result of a vindictive ex-lover? These are questions we must consider in order to understand the importance of internet privacy. In the digital age, information is available within seconds to anyone with internet access. Bad Yelp reviews, criminal allegations, revenge porn and the like are all easily accessible to the public in the United States without any means of erasure should this information negatively impact you.
While it is important to ensure freedom of information, there are reasonable concerns that lead one to conclude that personal data should be protected under certain circumstances. Revenge-porn is another harmful phenomenon that can be remedied if this amendment went into effect. While there are currently laws in place to prevent what specialists' term "non-consensual pornography," many don't believe they do enough to protect victims. The procedure of removal and punishment of the perpetrators are borderline impossible to implement due to the high cost of legal fees. The process of suing can take months, even years. The laws are lacking in other ways too. Aaron Minc, an attorney who specializes in internet defamation, educates readers on the shortcomings of U.S. laws, stating that "the laws (do) not cover "selfies," only images taken by others. Furthermore, the law does nothing to help remove the images from revenge porn websites.
It only serves to punish the person who submitted or posted the content." For any kind of pornographic material that was not consented to, at some point in time, through a written contract or some other form of consideration where legal value is exchanged to obtain authorization for the information to be published on the internet or otherwise authorized by the person depicted in the image, there would need to be an inexpensive, fast, and permanent means of removal from the internet. Search engines which support the websites who publish such data would need to comply with the removal of search results. Allowing victims of non-consensual pornography to appeal through the legal processes of this amendment would improve the lives of many. In Europe, they have codified the legislation concerning the right to be forgotten. An initial case of first impression took place in 2014 under the Court of Justice of the European Union.
Spanish national Mario Costeja González filed a complaint against a Spanish newspaper publisher (La Vangaurdia) and Google Spain after both parties refused to remove his sensitive financial information from their pages. Concerned that his right to privacy was in violation, González requested that first, La Vangaurdia be required to either alter or remove the pages in question so that his personal data would no longer be displayed. He then requested that the data no longer be displayed in Google search engine results. The Court ruled in favor of González, applying an EU directive that allows "data subjects" such as himself to bring matters before the competent authorities in order to request the removal of personal data listings in search engine results ("Press Release").
To clarify, this does not mean that the data will become inaccessible, but will rather, become more difficult to obtain. "The Spanish citizens' data is still accessible but is no longer ubiquitous. This is enough for the citizen's privacy to be respected" ("Fact Sheet"). In part, the EU Court reasons that as time passes, the importance of information accessible to the public by way of search engines decreases. The Ruling also specifies that the "right to be forgotten" applies where the information listed is either inaccurate, inadequate, irrelevant, or excessive. Furthermore, the burden of proof is on the company- not the individual. The company must defend the relevance of the information in order to dispute its removal. Requests by individuals for the removal of information will be assessed on a case-by-case basis
Related Topics