The Hostile Work Environment and Sexual Harassment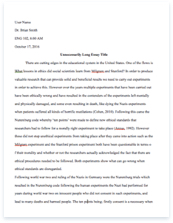 The whole doc is available only for registered users
A limited time offer! Get a custom sample essay written according to your requirements urgent 3h delivery guaranteed
Order Now
Sexual Harassment creates a hostile work environment for the individuals, mostly women, who are subjected to this type of aggressive treatment in the workplace. This type of treatment can be categorized into two larger social phenomena, exclusion and oppression. This paper will deal with both these issues in the context of harassment to illustrate the similarities and differences between oppression and exclusion.
Firstly, sexual harassment is known as mostly a part of the lives of working women, where harassment in its more general form can be perpetrated on any individual, when a person attempts to exclude another person from the status quo or mainstream. Secondly, oppression is conducted from a much larger set of persons or institutions, from one group toward another, so this points to a larger problem in society and not in individual behavior.
Finally, the major issue with sexual harassment, itself, is that it comes in both contexts of oppression and exclusion, therefore causing an individual to feel both alienated by their exclusion and accepting in their oppression, because it is so common within the gender. Harassment serves the individual perpetrating it in a way that excludes another person, usually this is from an underlying fear of the difference in the victim.
Women, who are sexually harassed feel an individual sense of shame in what is happening to them while their perpetrators benefit from the collective approval of putting individual woman in a lower status group. While harassment done to people outside of sexual harassment is intended to exclude people from an environment totally, by causing him or her to quit or leave, when it happens to women in the form of sexual harassment, it is intended to exclude them from a higher status. Oppression is a larger form of exclusion that alienates not only an individual, but a whole group of like individuals.
It is perpetrated in a greater magnitude to infect individuals in one group to oppress those in another group. Though, exclusion is part of this equation, oppression is not equated with the acts of one person while exclusion can be. When an individual is excluded, they may air their grievances to another individual or committee. When a person is part of an oppressed group and they voice their issues, they can be further stigmatized by oppressive labels like "emotional", "incompetent", "lazy", etc…
In the case of sexual harassment, it may be said that all women really like or deserve the treatment they receive due to the oppressive groupthink that the men harassing them are taught to internalize. Sexual harassment then, is both perpetuated and accepted both by men and women, unfortunately due to both oppression and exclusion. Women and men both internalize traits of acceptance toward gender norms and myths. Sexual harassment could be ameliorated if it were only an issue of exclusion on an individual by individual basis.
But, when this is compounded by the overall system of institutionalized oppression, it is harder to fight and more easy for men to continue it and women to accept it. In conclusion, sexual harassment is compounded by the effects of exclusion, which causes alienation of women and it is effected by the overall system of oppression women experience in all aspects of society. These problems are not mutually exclusive, they operate together in both similar and different ways to create a hostile work environment for all involved.
Related Topics