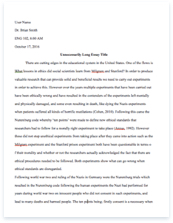 The whole doc is available only for registered users
A limited time offer! Get a custom sample essay written according to your requirements urgent 3h delivery guaranteed
Order Now
The Holocaust was the almost complete destruction of Jews in Europe by Nazi Germany, and its collaborates during WWII. The leadership of Germany's Nazi party ordered the extermination of million of Jews. The Holocaust also lead to the establishment of international laws against human rights violations. During Nazi rule, Jewish rights were violated religiously and economically.
Adolph Hitler was born in Austria in 1889. When Hitler lived in Vienna he knew that Austrian Germans were a minority, but they felt superior to Jews, and other ethnic groups. Hitler soon developed the financial anti-Semitism that would later play a major role in his rise to power. After Hitler was released from prison after a failed attempt to seize power in Munich, he found enthusiastic followers among veterans and lower-middle-class people who felt frustrated about the future. The Great Depression played into Hitler's hands. As unemployment rose, Nazi membership grew to almost a million. Hitler's program appealed to workers and business people alike. He promoted to end reparations, create jobs and re-arm Germany. He soon started to believe more in prejudice and anti-Semitism. This was only the beginning of Hitler's rein of terror.
One way that Jewish human rights were violated was in religion. Adolph Hitler deprived Christianity as "week" and "flabby." He sought to replace religion with his racial creed. In attempt to control the churches, the Nazi combined all protestant sects into a single. Nazis closed all catholic schools and got rid of the clergy in an attempt to erase Christianity.
A second way in which Jewish rights were violated was economically. Hitler set out to drive Jews from Germany. In 1935, the Nuremberg laws placed severe restrictions on Jews. Jews were prohibited from marrying non-Jews, attending of teaching at German schools or universities, holding government jobs, practicing law of medicine, or publishing books. Nazis beat and robbed Jews, and convinced mobs to do the same. Many Jews were forced from their homes, separated from their families, and sent to death camps. This took away their pride and dignity. Two ways in which Jewish rights were violated were religiously and economically.
There have been many ways in which many people, Jewish and non-Jewish have attempted to restore order and stop the violation of Jewish rights. Many Jews attempted to resist the death camps, but their efforts did not succeed. To ensure that something like this would not happen again war criminals were tried for their crimes. This took place mostly in Germany at Nuremberg. Twenty two top nazis received death sentences. Including, Otto Ohlendorf. Others were imprisoned. Similar trials showed that political and military leaders could be held accountable for their actions in war time.
During the twentieth century Hitler violated Jewish rights religiously and economically. Hitler did not let Jews practice Christianity in an attempt to stop the spread of it. Hitler drove innocent men, women, and children from their homes because of their nationality. Hitler also put them in concentration camps and exterminated them. Hopefully, the war crime trials put an end to anti-Semitism, and events during the twentieth century will never occur again
Related Topics