The History Of Injury As A Result Of Car Accident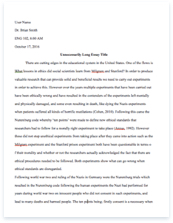 The whole doc is available only for registered users
A limited time offer! Get a custom sample essay written according to your requirements urgent 3h delivery guaranteed
Order Now
According to the case study, Robbie J. a is a 19-year-old white male who suffered from a significant brain injury as a result of an alcohol-related car accident. The brain damage significantly decreased his physical and mental health functioning. Robbie's injuries had a significant impact on his life which required intensive rehabilitation. Before the accident, Robbie had a very active and social lifestyle. He was a popular student-athlete and had a history of academic achievement. As the family was unaware of any alcohol abuse they purchased Robbie a car prior to the accident. Shortly after the accident the parents discovered that Robbie had a problem with alcohol abuse. Robbie's comes from a stable supportive home. His mother spends most of her time taking care of him, while the father is working long hours. Robbie's peers were supportive at first but have become less supportive since the accident. Robbie is struggling to adjust with all the life changes associated with his brain injury. He is unsure of his future after the traumatic changes in his life. Since his injury, he has become dependent on his parents which causes him frustration.
Despite all the problems caused by alcohol, Robbie continues to drink alcohol and has not complied with his treatment regimen. Identify the problems and issues that are arising in Robbie's case (e.g., What has gone wrong in this situation?" and "What needs to be addressed to improve the situation?) There are many problems in this case. Robbie's alcohol abuse is the main concern in this case. The accident was alcohol-related, and the damage has greatly affected his life. Despite the negative consequences of drinking, Robbie continues to drink which could result in additional health issues and poor judgment. Robbie also needs to acknowledge his problem with alcohol and learn there are more effective ways to cope with the situation than through drinking alcohol. This could be accomplished through counseling and participation in a self-help organization such as Alateen which is similar to Alcoholic Anonymous. Robbie's family is also facing many challenges due to Robbie condition. The father is spending less time with Robbie and most of his time at work to avoid dealing with the situation. The father needs help developing healthy coping skills to deal with accepting Robbie's condition.The father should also be encouraged to spend more quality time with Robbie as he needs more support during this time in his life. Robbie's family could definitely benefit from support groups and family counseling to help cope and adjust to the changes in Robbie's life. Another issue in this case is the lack of support from his peers.
The case notes that his friends are less supportive since the accident. This may be causing Robbie to feel a sense of rejection and loneliness which may have resulted in him hanging out with the wrong crowd. Robbie may have also turned to drinking again to feel accepted by this group of peers who have a negative influence in his life. Robbie's emotional state is another issue of concern as the case notes that he is on an 'emotional rollercoaster'. Robbie has turned to drink again as he is troubled by feelings of low self-esteem due to his current condition. Robbie's statements about himself, indicates that he may be feeling helpless as he stated his parents are "treating him like a baby". He also seems to be unsure about his future after the brain injury. Robbie needs individual counseling and could benefit from a support group to help him deal with the missing aspects of his life that has contributed to the depression and alcoholism. The last problem that needs to be addressed is Robbie's noncompliance with his treatment regimen. Robbie suffers from many physical and mental limitations due to the accident which requires extensive medical and mental health treatment.
Robbie needs to understand the importance of treatment compliance and how it is connected to improving his current condition. His noncompliance should be addressed by his family, medical and mental health professionals. 3. Identify the positive and strengths aspects of the situation (e.g. "What has gone right so far?" and "What positive elements exist in this situation?") There are many positive aspects of Robbie's situation. First, Robbie survived the accident and can use his story to help educate other young people about the dangers of drunk driving. He also has a good support system as both parents seemed to be concerned about his wellbeing. Second, Robbie's mother is actively involved in his recovery and seems to have adjusted to his condition. The mother also appears to be a great caretaker and has dedicated most of her time to caring for Robbie. Third, the parents can also provide support to each other as they deal with the changes in their life associated with Robbie's injury. Fourth, Robbie has received rehabilitation services for his brain injury and the family has the financial resources to pay for high-quality treatment. The last positive aspect noted in this case is the fact that the family has participated in counseling and has addressed some of the issues presented in this case.
Related Topics