The Historically Underutilized Business Zone (HUBZone) Act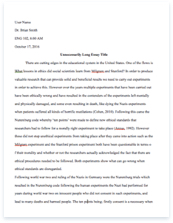 The whole doc is available only for registered users
A limited time offer! Get a custom sample essay written according to your requirements urgent 3h delivery guaranteed
Order Now
1. Determine how the federal government encourages small businesses and how passing of " The Historical Underutilized Businesses Zone (BUBZone) Act, 15 U.S.C. 631 of 1997, increase the chances of landing a government contract. The Historically Underutilized Business Zone (HUBZone) Empowerment Contracting program, which was enacted into law as part of the Small Business Reauthorization Act of 1997, provides federal contracting assistance and opportunities for qualified small located in distressed historically, known as "HUBZones" Among other things, it allows small firms located in many urban or urban areas to qualify for sole-source and other types of federal contract benefits. The underlying purpose of the program is to encourage economic development and increase employment opportunities.
The HUBZone program falls under the auspices of the Small Business Administration (SBA), which is responsible foe implementing the program and determining which businesses are eligible to receive HUBZone contract. SBA maintains a listing of qualified HUBZone small businesses that federal agencies can use to locate vendors and also adjudicates protests of eligibility to receive HUBZone contracts. SBA is responsible for reporting to Congress on the program's impact on employment and investments in the HUBZone areas. There are four types of contracts benefits that HUBZone certified business can qualify for: A competitive HUBZone contract can be awarded if the Contracting Officer has a reasonable expectation that at least two qualified HUBZone small businesses will submit offers and that the contract can be awarded at a fair market price.
A sole-source HUBZone contract can be awarded if the Contracting Officer does not have a reasonable expectation that two or more qualified HUBZone small businesses will submit offers, determines that the qualified HUBZone small business is responsible, and determines that the contract can be awarded at a fair price. The government estimate cannot exceed $5 million for manufacturing purchases or $3 million for all other requirements. A full and open competition contract can be awarded with a price evaluation preference. The offer of the HUBZone small Business will be considered lower than the offer of a non-HUBZone/non small business, providing that the offer of the HUBZone small business is not more the than 10% higher than that of the non-HUBZone business. A subcontract could be awarded by a large prime contractor, Federal rulers requires these contractors to include HUBZone contracting goals. Contract benefits, certified HubZone firms can qualify for higher SBA-guaranteed surety bonds on construction and service contract bids. To qualify for the HUBZone program, a business must meet four requirements: It must be a small business.
It must be owned and controlled only by U.S. citizens
The Principal office of the business must be located in a "Historically Underutilized Business Zone" At least 35% of the employees must reside in a HUBZone. Existing businesses that choose to move to qualified areas are eligible. To fulfill the 35% requirement, employees must live in a primary residence within that area for at least 180 days or be a currently registered voter in that area.
2. Determine how SmartPay and similar programs electronic contracting will assist the small-businesses owner in obtaining more contracting. In 1988 the General Service Administration (GSA) established a commercial card program called smartpay. The program was designed to simplify micro purchase payments. Now it the most dominant method of payment within the Federal Government and is used regularly for small and medium-size purchases. By using Smartpay, Government buyers have successfully achieved expedited payments to sellers, reduced paperwork and reduced costs per payment. This electronic purchase program has been considered very effective, has been enhanced significantly, and is now called Smatpay2 (SP2). (Hearn, 2011)
There are many methods available to businesses who want to sell to the federal government, from acquisitions, as subcontracting, blanket purchase agreements, customized technology contracts as well as specific contract set-asides for specific categories of small businesses. GSA and the federal government also provide tools to research open business opportunities. Set-aside opportunities for small businesses make it possible for specific socioeconomic categories to get their fair share of government contracts. Categories includes: woman-owned, HUBZone, Veteran-owner small business.
Related Topics