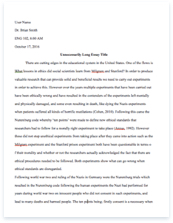 The whole doc is available only for registered users
A limited time offer! Get a custom sample essay written according to your requirements urgent 3h delivery guaranteed
Order Now
I remember my first job (internship) interview. I was young and very stressed. It was stressful for me because I really wanted this internship in this fashion firm. However, it is normal things to be stressed when it is your first important job interview. I went to the company, did my interview and succeeded. Job interview or meetings take important part in your business life. Sometimes with huge impact in your life. But we can have a reflection about showing our emotions or not during a meeting or a job interview. Does showing emotions have a good impact on our success during meetings or job interview ? I am going to substantiate this with two stands of argumentations. First, it has a great impact and secondly, it has not a good impact.
According to Winston S. Churchill 'Success is not final; failure is not fatal : It is the courage to continue that counts'. I am agree with this quotation. I think that you need to be yourself and this is, sometimes, a proof of courage. If you are happy, angry or stressed during a meeting or job interview you can show it. You are not a robot. You are human. Naturally, it is human to have emotions. On the other hand, showing emotions during meeting or job interview can have, sometimes, bad impacts on your success. To make great negotiations for instance, showing your emotions can be a bad think for you. It is the same when you are playing poker. Sometimes business it is 'poker face'.
To sum up, about emotions during a meeting or job interview, I want to give you me point of view about this. I think it is acceptable to show emotions. You are human and people in front of you are human too. Moreover, everyone has already experienced this situation. If you are stressed, like me during my first important job interview, you can just say it. Then people in front of you understand. After that, you will be more confortable and confident.
In doing that you show you are human and you assume your state of mind. You are brave. And like Churchill said, brave people are successful people. To conclude about this, during my last internship, the company where I was worked had a powerful philosophy express by this quotation 'entre possible et impossible : deux lettres et un état d'esprit' (between possible and impossible : two lettres and a state of mind). A quotation of Charles de Gaulle. This quotation represent for me a strong state of mind and a great philoshophy of mind. Be confident and you will can surpass yourself and do everything. Nothing is impossible. Just believe it and be natural. Be human and show your emotions.
Related Topics